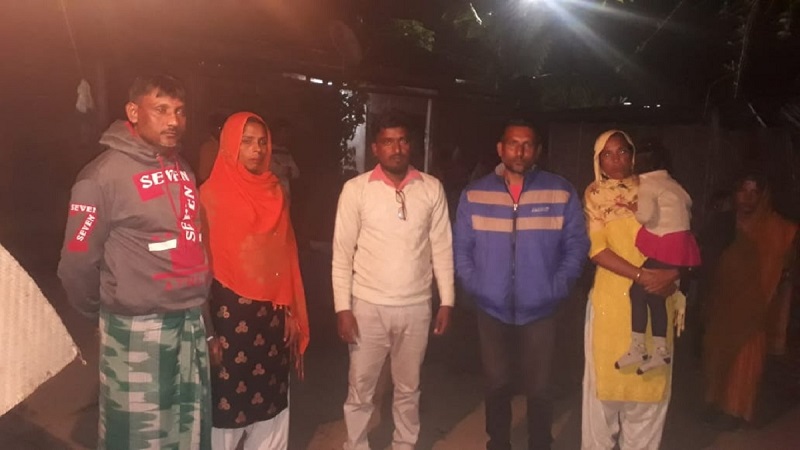 For the team at Citizens for Justice and Peace, our mission in Assam to protect and defend the rights of all Indians, also has another important goal… that of reuniting families. In this endeavour we have another tradition of honouring the bond of brothers.
In March 2020, we helped secure the release of brothers Abdur Rashid and Shamsul Ali Hoque from the Goalpara Detention Centre. Now, we have helped brothers Mahiruddin (40) and Mainuddin (45) walk out of the Tezpur detention centre.
"I had heard about CJP helping people, now I have experienced it myself. I am very grateful," said Mainuddin after his release.
Brief background
The brothers hail from Dalgaon Khuti village, which falls under the jurisdiction of Dalgaon police station in Darrang district of Assam. They have two children each and used to drive rickshaws to put food on the table with their meager incomes. But they were served notice and declared foreigners within a year of each other and sent to the Tezpur Detention Camp.
While Mahiruddin ended up spending one year, ten months and eight days behind bars without due process, Mainuddin spent four months and seven days behind bars, before CJP came to their rescue.
"We found their names in a list of detainees provided by authorities, and learnt about the hardships faced by their wives in providing for the family," says CJP Assam state team in-charge Nanda Ghosh.
"Both women took up work in a local factory, but the family still lived hand-to-mouth. They had so little money that they couldn't even afford bus fare to go visit their husbands in jail," says District Volunteer Motivator (DVM) Joinal Abedin who has been working to get the brothers released since August 1, 2021.
CJP steps in
On August 12, 2021 the CJP team comprising Ghosh, Abedin, Advocate Abhijeet Chaudhury, Dhubri District DVM Habibul Bepari and Driver Ashiqul Ali went to Tezpur Detention camp along with the brothers' wives. They were meeting their husbands after a long time and took along with them some food, clothes and money.
"'We found that the family had moved a bail application before the Gauhati High Court, but it was stuck due to a few minor errors. So CJP helped them with the bail process. Finally, bail was granted to them by the Gauhati High Court on November 16. But we also had to arrange for bailors and ensure their documents were verified and in order. This took some time," explains Nanda Ghosh.
After this, we started the paperwork required to be submitted before the Border Police. On November 29, 2021, Ghost, Abedin and legal team member Advocate Siddik Ali went to the office of the Superintendent of Police, Darrang (Border Branch) and completed various formalities. But the authorities put the application on hold. But on December 8, 2021 they called us saying they would bring the men from the detention camp and our team could receive them at the police station. So, Abedin, accompanied by the wives of both men, went to the police station to bring the brothers back home.
After release Mumtaz, wife of Muhuruddin expressed her gratitude for CJP saying, "It is very difficult for an unlettered person like me to understand the complicated paperwork and process required for bail. I thank CJP for helping get my husband released."
Related:
CJP in Action: Two men released from detention camp after CJP intervention
CJP in Action: Three of a family released from Assam detention camp after four years!
Victory! Mojibor Sheikh released from Assam Detention Centre with CJP's help