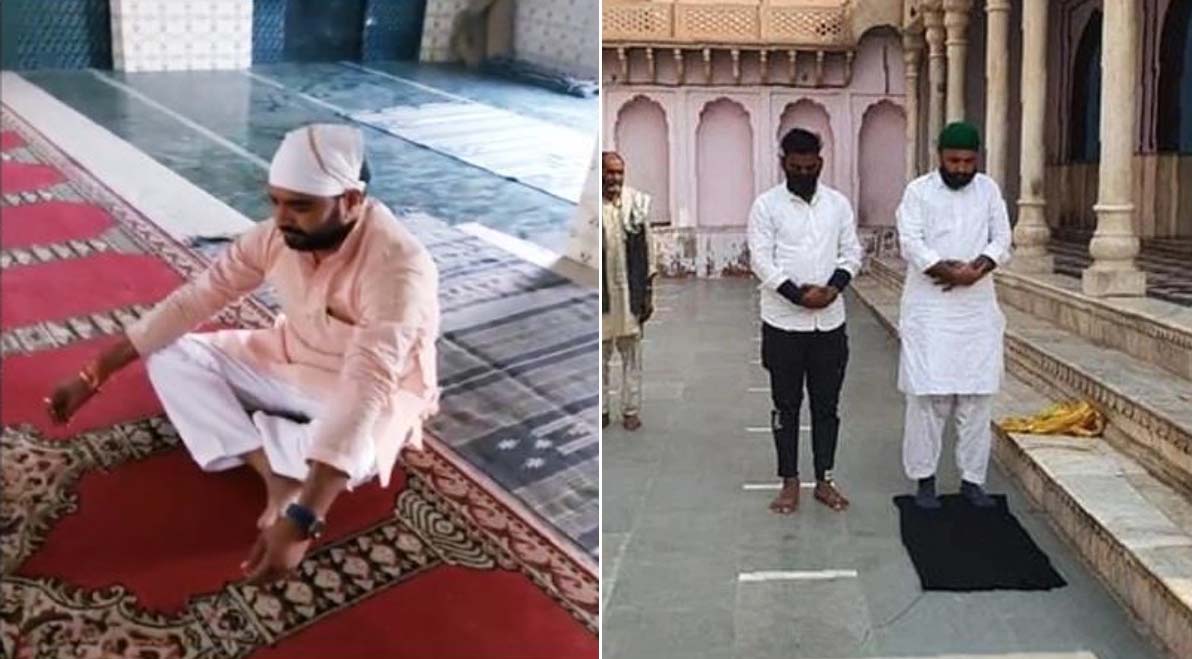 God, in whatever form individually accepted and revered by followers of different faiths, must also be confused at the way the faithful who pray to it are treated. Peace activist Faisal Khan who says he offered the Muslim prayer 'Namaz' after being invied to do so in the temple he was visiting, is now behind bars. In the same Uttar Pradesh, a politician from the Bharatiya Janata Party (BJP), which is in power in the state, who has recited the Hindu prayers Gayatri Mantra and Hanuman Chalisa in a mosque is being hailed as a champion of interfaith brotherhood.
Manupal Bansal, a member of the BJP district working committee, has also said that he recited the prayers Gayatri Mantra and Hanuman Chalisa "to promote amity and brotherhood" after seeking permission from the cleric Hassan. According to a news report in The Indian Express, the incident occured in the Baghpat area of Uttar Pradesh where Bansal went and recited the Gayatri Mantra and Hanuman Chalisa in a mosque. He said he sought permission from the local cleric before doing so. He even live-streamed the event on his Facebook page on Monday November 3.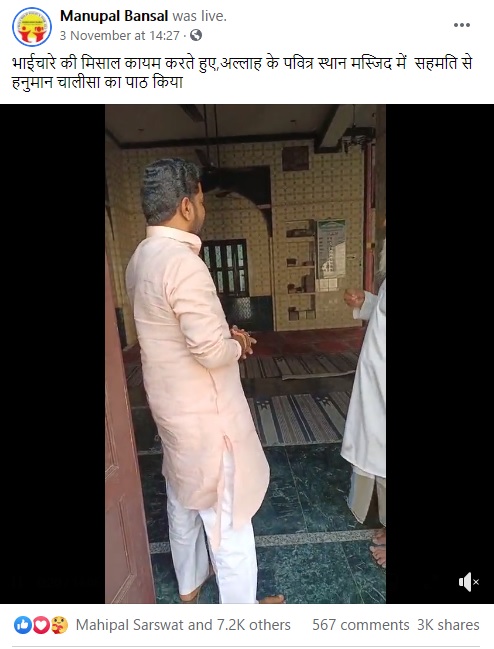 In the video, Bansal, enters on cue, and a cleric, identified as Hassan, is seen welcoming Bansal into the mosque's main prayer hall, saying this was a place of Allah, Bhagwan (god), and was open to all to pray as they wished, ask for blessings, talk to god, in any language they wanted. "This is the darbar (court/ abode/home of god, you can pray however you want. This durbar is open to all, hindus muslims, everyone. You can pray in any language, Arabic, Urdu, Sanskrit, any language at all," said the old cleric. Bansal then covers his head with a handkerchief and chants his prayers.
According to Uttar Pradesh Police said no FIR was registered as it was done with "mutual consent". That was what the video uploaded by Faisal Khan had also shown, a consensual warm conversation, prasad being offered and accepted, and a lunch invite. When he offered his Namaaz in the open courtyard of the temple, there were people around. He, and his companions have maintained that they had done so when allowed and invited by the temple priests/ authorities themselves. However, instead of being applauded for spreading love and respect between communities Khudai Khidmatgar convener Faisal Khan has been arrested and sent to 14-day judicial custody. The arrest has been condemned across the country, many organisations have issued statements of solidarity and demanded that all peace activists be released immediately.
Faizal Khan was arrested for allegedly offering namaz in the compound of Nand Baba temple in Barsana on October 29. Khan had returned to Delhi the same night, the Uttar Pradesh police arrested Khan on November 2, charged him under section 153A (promoting enmity between different groups on grounds of religion), 295 (defiling place of worship with intent to insult the religion of any class) and 505 (public mischief) of the Indian Penal Code. The FIR, which was registered on November 1 with the Barsana police station in Mathura, names has been registered against Faisal Khan, Chand Mohammad, Aalok Ratan and Nilesh Gupta. Khan was arrested from his home in the Okhla area of Delhi on Monday, handed over to the Uttar Pradesh police. The FIR stated that: "Faizal Khan and Chand Mohammad offered namaz within the temple premises without the permission of the priests and hurt the sentiments of the Hindus. Their associates clicked their photos and made them viral on social media. They might be receiving foreign funding and it might be an attempt to create communal tension in the region."
Pawan Yadav, spokesperson Khudai Khidmatgar those present at the temple allowed Khan to offer namaz in the temple compound itself. He stated that the temple priest and others told Khan, "You are already in the home of God so why do you need to go anywhere else?" After Faisal Khan completed his prayers they stayed on and accepted the lunch invite in the same temple.
Meanwhile, four men were held for 'reading Hanuman Chalisa' at Mathura eidgah, on Tuesday. The accused – Saurabh Lambardar, Kanha, Raghav, and Krishna Thakur – reportedly did this in response to Faisal Khan's namaz at the Nand Baba temple. Superintendent of Police, Rural Mathura, Shirish Chandra was quoted by IE saying, "While it was claimed that the act was to promote peace, it was done in a wrongful manner. The four have been issued challans under Section 151 of CrPC. No complaint has been received against them." The news report added that in neighboring Agra district, unidentified people defaced gates of three mosques in the city. Local police filed FIRs against unknown persons and have been in the process of identifying the accused. Another man was arrested in Balrampur district on Monday for allegedly posting objectionable contents against Hindu deities on his Twitter handle, police said on Tuesday.
Related
Khudai Khidmatgar convener Faisal Khan sent to 14-day judicial custody
Faisal Khan's commitment to communal harmony and peace is exemplary
We stand with Faisal Khan and his work for love and harmony: ANHAD
Faisal Khan was asked to offer namaz in the temple: Khudai Khidmatgar