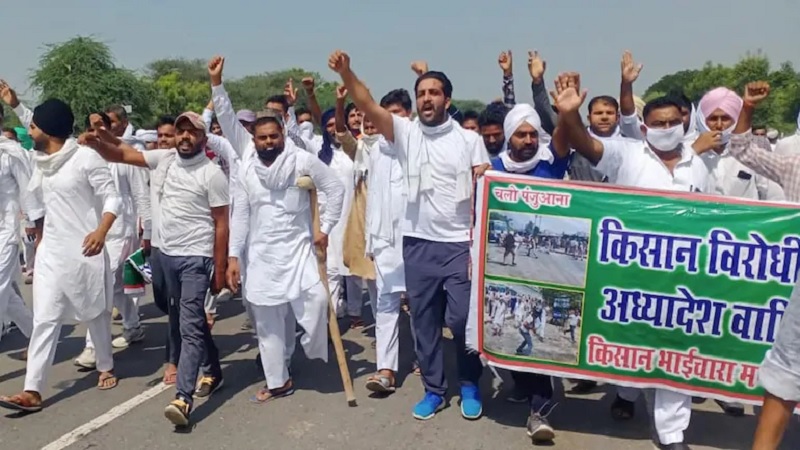 Image Courtesy:indiatoday.in
Two MLAs who are part of the BJP-led ruling coalition in Haryana participated in farmers' protests on September 20 that condemned the Centre's agriculture Bills passed by Parliament, reproted Indian Express.
This decision of the Jannayak Janata Party's (JJP) Jogi Ram Sihag and Ram Karan Kala was at odds with their party leader's statement that accused the Congress of misleading farmers. Yet Sihag and Kala attended the farmers' road blockade protests organised by the Bharatiya Kisan Union and other farmer outfits at Barwala in Hisar and Shahabad in Kurukshetra respectively.
Sihag said he would resign if his constituents including many farmers feel their interests have been compromised. He also said that the farm reforms will only result in big corporates exploiting farmers. Similarly, Kala said he participated in the protest because he felt farmers' voices should be heard.
Meanwhile, Haryana Deputy Chief Minister and JJP leader Dushyant Chautala asserted that there is no question of abolishing the Minimum Support Price (MSP) mechanism in either of the three farmers Bills. The three legislations in question are the Farmers Produce Trade and Commerce (Promotion and Facilitation) Bill, the Farmers (Empowerment and Protection) Agreement on Price Assurance and Farm Services and the Essential Commodities (Amendment) Bill.
The great-grandson of late Deputy Prime Minister Devi Lal said that he came from a farmer's family and would do anything to ensure farmers' welfare. He also said he would quit his post if farmers do not get the MSP for their crops. Instead, Chautala said the new reforms would allow them to sell their crops even outside local markets if they receive higher rates.
Asserting that the MSP mechanism will be there to stay, Chautala said the Centre's farm reforms will open new avenues of progress. Chief Minister ML Khattar too called the passing of the three Bills a "historic occasion."
Haryana Agriculture Minister J P Dalal asserted that the farm reforms will play an important role in fulfilling Prime Minister Narendra Modi's aim of doubling the farmers' income by 2022. He said that some politicians had become used to petty politics and failed to properly read the Bills before issuing their statements.
Related:
Harsimrat Kaur Badal's resignation, a public warning from Punjab farmers?
Agricultural Bills passed sans votes! Nation-wide, farmers rise in anger, Oppn United
The end of Parliament Democracy: Farmers' Unions decry passage of Agri Bills in RS
We stand in solidarity: Trade Unions oppose Centre's anti-people laws