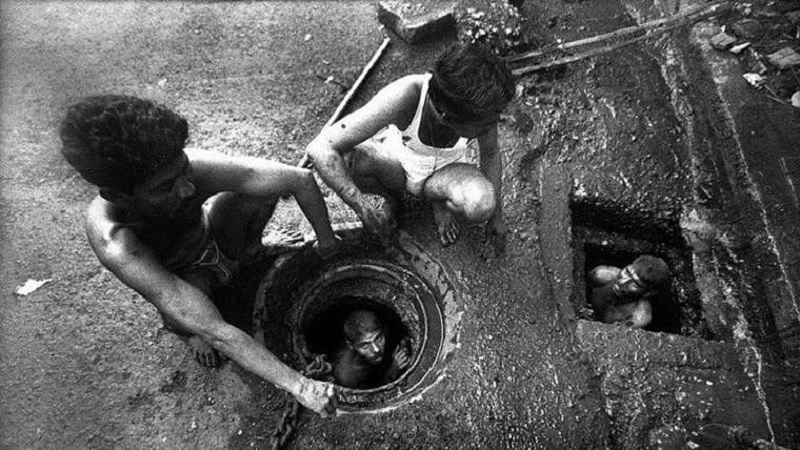 Image Courtesy:freepressjournal.in
Two people died of asphyxiation on February 26, 2021 while cleaning a sewage tank in Chennai, reported The Hindu. This brings the total death toll due to manual scavenging to six in just this month in Tamil Nadu.
According to local police, the sewage was pumped to a tank at the MES Army office in the Tamil Nadu Secretariat complex on Flag Staff Road. The cleaning contract was given to a private contractor from Srital Systems in Madhavaram, who was booked under the Prohibition of Employment as Manual Scavengers and their Rehabilitation Act and for causing death by negligence.
The accused engaged five men from Sathya Nagar all of whom entered the tank for cleaning. However, around 11 AM, 35-year-old K. Santhosh collapsed inside the tank. His colleague, 40-year-old K. Raja tried to rescue him but also fell unconscious. They were declared dead due to asphyxiation at the Rajiv Gandhi Government General Hospital. Other workers, Venkatesh, Panneerselvam and Manivannan, managed to get out of the tank alive.
Earlier, on February 14, three persons died in Kancheepuram district due to the same reason, followed by yet another death of a worker cleaning sewage from a 30-feet deep well in Chennai on February 17, reported NewsClick.
As per central government records, Tamil Nadu ranks second in terms of number of people dying because of manual scavenging. The Union government data states that 43 people died due to manual scavenging in the last five years. However, NGO Safai Karamchari Andolan (SKA) stated that on-ground reports show that the fatality number is 69 deaths. This means that as per SKA data, Tamil Nadu ranks number one in the list of manual scavenging deaths followed by Uttar Pradesh that records 55 deaths in the NGO's report.
Accordingly, the SKA website states that in Tamil Nadu, as many as 2,03,134 people are engaged in cleaning dry latrines, 334 people are engaged in sewage cleaning while 73 deaths have been reported.
Related:
Consider issuing directions for implementing Manual Scavenging Rules: K'taka HC
Lackluster Budget from Dalit-Adivasi perspective
Manual Scavengers: 340 deaths, yet Centre has no intention to make stricter laws!
Karnataka: Two manual scavengers choke to death in a manhole
Safai Karamchari Andolan campaigns against dry latrines