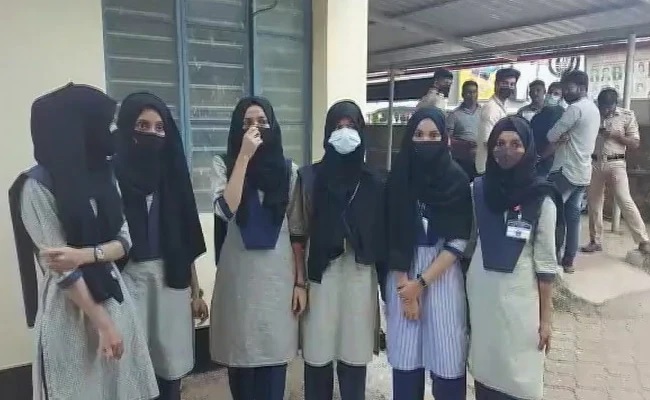 Far from resolving the hijab controversy, Karnataka reported more incidents of student aggressions against the garb in Kundapura, Udupi and Bhadravathi, Shivmogga on February 2, 2022.
The controversy around girl students wearing hijabs in classrooms surfaced in December 2021, when a teacher in a government pre-university college told six girls not to wear hijabs in the classroom. When the girls tried to attend classes despite this, members of the Akhil Bharatiya Vidyarthi Parishad (ABVP) gathered wearing saffron scarves and protested against the veil. Similar protests broke out in Chikamagaluru and Mangaluru.
Now the controversy returns to Udupi, as boys wearing saffron, studying at a government pre-university college in Kundapura, demonstrated against Muslim girls' right to wear a hijab. They demanded that the 27 or so Muslim girls remove their hijab before attending classes.
However, unlike the previous district incident where college authorities resolved to ban any form of religious garb, the government college in Kundapura decided to disallow hijab within the campus. This takes place months before children prepare for their Class 12 final exams. Agitated students condemned the college for making such decisions amidst exam pressure.
#Update:#HijabisOurRight Principal of the #Kundapura college didn't allow #Muslim girl students wearing #Hijab inside campus.Students argued- is it fair to do this two months before the exams? Why are you ruining your future? These rules should have been made earlier. Why now? pic.twitter.com/I1I7bfyLiJ

— Imran Khan (@KeypadGuerilla) February 3, 2022
Including the Shivmogga incident that followed the same sequence of incidents, Karnataka has reported five instances of hijab controversies within a period of around two months. While most colleges tried to resolve the issue by instructing students to wear only the school uniform, not a single Muslim girl in any of these instances has been allowed to wear the veil.
According to the People's Union of Civil Liberties (PUCL) Karnataka Chapter, this violates Article 12 and Article 21 of the Constitution – the right to equality and to live with dignity. For this reason, one of the six girls from the first incident approached the High Court on February 1, urging that Muslim girls be allowed to wear their hijabs inside classrooms, said NDTV.
The petitioner cited Articles 14 (equality before law) and 25 (freedom to practise any religion). It argued that hijab is an essential practice of Islam, said NDTV.
Related:
Karnataka Veil Issue: Should Muslims Choose the Veil Over Education?
Hijab controversy takes an ugly turn in Karnataka
Hijabs and saffron scarves a no-no in this Karnataka college
Hate as a State project is not a new phenomenon: Survivors