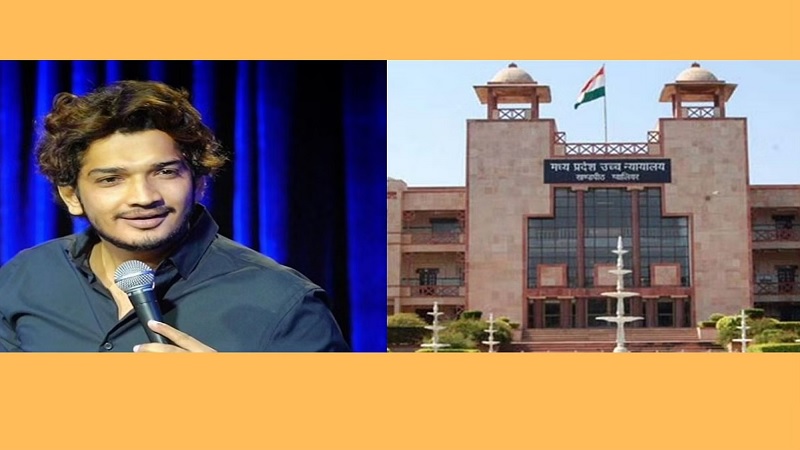 Image Courtesy:nationalheraldindia.com
Multiple Indian and international citizens, writers, artists filmmakers, sattirrists and organisations, have come together in solidarity with indian artists Munawar Faruqui, Nalin Yadav, Prakhar Vyas, Edwin Anthony, and Sadakat Khan, and called for the dismissal of all charges against them. The statement came in on Friday, just as news broke that two artists who were co-accused with Faruqui have been granted bail, however two others still remain in jail.
According to Indian Express, the Madhya Pradesh High Court on Friday granted interim bail to Prakhar Vyas and Edwin Anthony, who had been arrested along with stand-up comedian Munawar Faruqui. They were all arrested for allegedly "hurting religious sentiments" during a show earlier this year. Munawar and Priyam Vyas were recently released on bail, Nalin Yadav and Sadaqat Khan, the other accused in the case, are still in jail. The IE reported that Sadaqat's bail plea was rejected, for the second time, by the Indore district court on Tuesday, while Faruqui was able to walk out of Indore jail on Saturday but only after the Chief Judicial Magistrate of Indore received a "call from a judge of the Supreme Court", urging them to check the website for the apex court's order that had put a stay on Munawar's production warrant and granted him ad-interim bail." Priyam Vyas was earlier granted bail by the juvenile court.
Citizens groups, artists and writers groups, across the country, and from different parts of the world are following the case and have expressed "deep concerns around the rights to liberty and freedom of speech in India." They have held online shows, solidarity meetings, and signed public statements demanding that the trumped up charges against the performers be dropped.
Comedy is not a crime
Artists from India, and and from around the world have issued a joint statement, reaffirming that they stood on solidarity with Munawar Faruqui, saying, "A young Muslim stand-up comic arrested in India for a joke he did not crack." The global community of stand-up comics, artists, political satirists, writers, musicians, actors, entertainers, and concerned individuals, stated they were "alarmed at what is happening in India, a country where laughter and irreverence has been part of traditions across religions and communities, and humour has been deployed by artists through centuries."
They added that Munawar has had to go all the way to the Supreme Court of India "just for interim bail, which was his legal right. He has now been released on bail, but the charges against him in the states of Madhya Pradesh and Uttar Pradesh remain. We call for the dropping or dismissal of these trumped-up charges for all six individuals."
Munawar faces criminal charges of "uttering words with deliberate intent to wound religious feelings" among other sections of India's penal code, for jokes he never cracked, in a performance that did not take place. These absurd but serious charges carry jail time. The state of Uttar Pradesh has also sought Munawar's arrest on equally absurd charges. The institutions of a changing India appear to be colluding to give out a message—humour threatens the powerful. And humour by a Muslim man in India will not be tolerated by Hindu supremacists."
The artists said, "Munawar took risks that all artists take. But the stakes are higher for him. He comes from a humble background. His family lost their home during the large-scale 2002 violence in Gujarat, and moved to Mumbai where Munawar sold utensils and did other odd jobs during the day and studied at night. He started stand-up comedy just two years ago, quickly garnering some success. As artists and concerned individuals, we are alarmed that in a country that claims to be the world's largest democracy, a stand-up artist was imprisoned for over a month, and faces serious criminal charges, for no crime." They have all "called for an end to this persecution of Munawar Faruqui, his associates, and all other performers, who must have the right in any real democracy to use their art to comment on their times".
Even more solidarity has come from diasporic Indian groups such as Progressive India Collective in partnership with PEN America's Artists at Risk Connection, Freemuse, and Reclaiming India. PEN America's membership of over 7500 novelists, journalists and writing professionals makes it the largest of over 100 centres of the PEN International network, and its Artists at Risk Connection is an online collaboration of more than 600 global organisations that provide life-saving resources to artists worldwide who face oppression, persecution, arrest, and violence for their creative work. Freemuse advocates internationally for freedom of artistic expression and cultural diversity, and has UN Special Consultative Status to the Economic and Social Council (UN-ECOSOC) and UNESCO. Reclaiming India is a joint initiative of the global Indian diaspora comprising Dalit Solidarity Forum, the Global Indian Progressive Alliance, Hindus for Human Rights, India Civil Watch International, Indian American Muslim Council, and Students Against Hindutva Ideology.
According to the collective statement issued, director of PEN America's Artists at Risk Connection, Julie Trébault, said, "Comedy and satire are necessary to ensure a healthy democracy, as they facilitate the free communication of new ideas and critical thinking. The arrest of Munawar Faruqui, his friends and associates, on arbitrary and unfounded grounds is nothing short of a violation of their fundamental right to free speech and expression. We condemn the arbitrary arrests of these artists and call for their immediate release, as well as dropping all charges that have been made against them."
Reclaiming India, has also released a statement during its South Asian American stand-up comedy special in support of Munawar, saying, "Faruqui is one individual, but a young, outspoken Muslim comedian. His case encapsulates so much of what is happening in India in recent years. We are seeing rising discrimination and violence toward Muslims and other minorities, towards artists and members of the media, and towards any public figure who dares to dissent against the government. That is why we, as young South Asian Americans, are taking a stand in solidarity with Faruqui, and South Asia's numerous others prisoners of conscience."
Freemuse executive director Dr. Srirak Plipat, said, "The right to freedom of expression is a human right guaranteed by human rights instruments including Article 19 of the ICCPR. Arresting comedian Munawar Faruqui under the allegation of hurting religious sentiments for his stand-up performance is in clear violation of that right. Freemuse stands with Munawar Faruqui and his associates and calls for the Indian authorities to release the detainees and drop all charges against them."
Related
Breaking: SC grants ad interim bail to comedian Munawar Faruqui
BREAKING: Madhya Pradesh HC rejects comedian Munawar Faruqui's bail plea
Such people must not be spared: MP HC on Munawar Faruqui's bail plea
Sessions court denies bail to stand-up comic held for 'insulting' Hindu deities