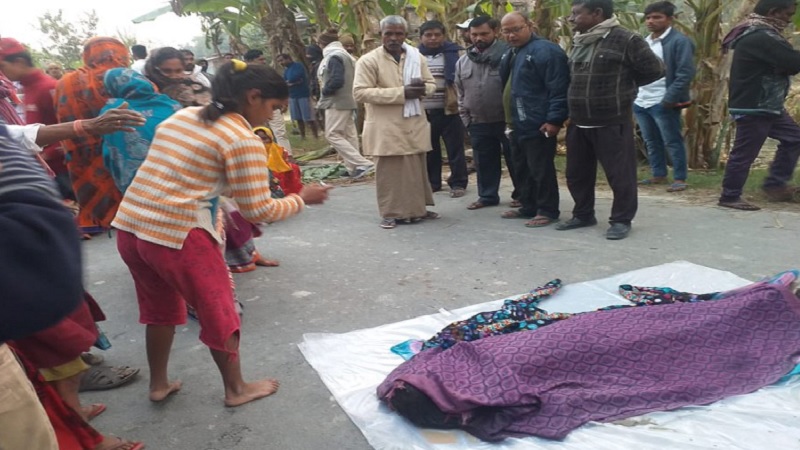 Image Courtesy:twitter.com
Yet another young Dalit woman's life was snuffed out, allegedly by "upper caste" men according to her family, and the silence around this case is deafening. According to a report in The Shudra, the shocking incident took place in Vaishali, Bihar.
The 20-year-old Dalit girl had reportedly gone missing in Shahpur village, that falls under the jurisdiction of Tisiota police station. Her family alleged that she was kidnapped and they had complained to the police on December 20. The victim had been reportedly abducted when she went to the toilet, allegedly by "upper caste" men of the same village said to be "Thakurs". Her mother alleged that "the Thakurs kidnapped her daughter at gunpoint" stated the news report. The woman went looking for her daughter along with some other villagers and alleged that the "Thakur's shooed her away" and told her that her "daughter would be returned after two days."
According to the police complaint, on December 26, a group of women who had taken their flock of goats to graze, found a body submerged in a pond. It was later was identified as that of the Dalit girl. Her victim's mother has reportedly named "Anurag Kumar, Rakesh Chaudhary, Manoj Chaudhary, Anshu Kumar as the main accused". As the news soon went viral on social media, Delhi cabinet minister Rajendra Pal Gautam demanded action against the accused.
इस ह्रदय विदारक घटना ने फिल्म रॉउडी राठौर की याद दिला दी, कुछ लोग समझते हैं की यह केवल फिल्मों में होता है नहीं ज़नाब यह आज भी देश की हकीकत है और इसी वजह से भारत लगातार कमजोर हो रहा है, क्या देश के @PMOIndia इस तरह की बढ़ती घटनाओं पर कार्यवाही करेगा ? https://t.co/2BtWgNmzCd

— Rajendra Pal Gautam (@AdvRajendraPal) December 27, 2021
Dalit teen molested in UP
A 16-year-old Dalit girl was allegedly beaten and molested in Raipur Phulwari town. According to news reports the teengaer is from a village, in the jurisdiction of Sangrampur police station in Amethi, Uttar Pradesh. A a purported video of "16-year-old Dalit girl being beaten up and molested" surfaced on social media, the police told mediapersons on Tuesday, adding that a case was registered after her father filed a complaint with the police. Amethi Deputy Superintendent of Police Arpit Kapoor said, "A case under the Protection of Children from Sexual Offences Act, Scheduled Caste and Scheduled Tribe [Prevention of Atrocities] Act was registered against accused Suraj Soni, Shivam and Sakal." However, it is not known if any arrests have been made yet.
Related:
Victims of Vilification 2021
Nishad community's open anger at Amit Shah rally should worry BJP