"It clearly says in Constitution that we are free to follow any religion yet this chauvinistic government servants didn't let me appear in my NETJRF 20dec2018 exam because I was convincing them to let me cover my head and it's in my religion" said Umaiyah Khan.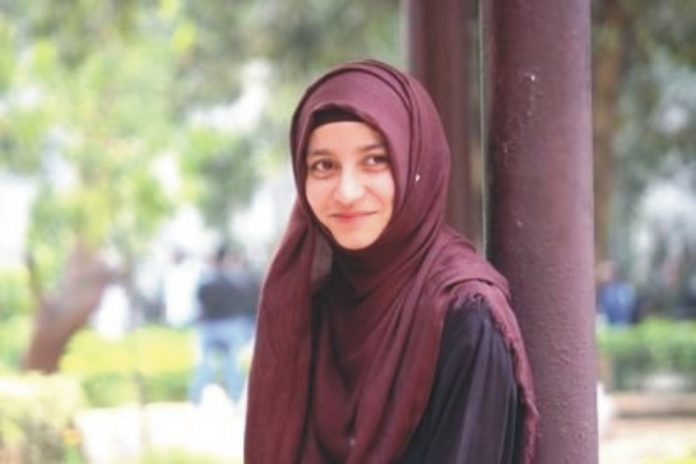 After this inhuman humilitating behvaiour against Umaiyah, she posted another tweet via the twitter social media platform "You can't stop corruption, rape, murder, lynching but you are so proudly and openly violating our fundamental rights."
Umaiyah Khan, final year student of MBA in Jamia Millia Islamia university, Delhi was appearing for the National Eligibility Test (NET) for lectureship and Junior Research fellowship (JRF) conducted by National Testing Agency (NTA) on 20 Dec 2018whe she was thus humiliated.
When she was entering the "Ojas Institute Of Management", college, Rohini sector 16, Block E, New Delhi a women staff asked her to remove the head scarf or Hijab that she was wearing and didn't allow Umaiyah to appear her exam as claimed by her.
The National Eligibility Test (NET), also known as UGC NET or NTA-UGC-NET, is a test to determine eligibility for college and university level lecturer ship and for the award of Junior Research Fellowship . Until July 2018, the Central Board of Secondary Education (CBSE) conducted the UGC NET exam but from December 2018 onwards, NTA will be conducting the UGC National Eligibility Test.
Umaiyah Khan shared her angst on social media and main stream media about her case stating that it is about the violation of our constitutional rights wherein practicing her religion is included. She is demanding this right that is clearly defined in the fundamental rights as " Every Indian citizen has the right to enjoy for proper and harmonious development of personality and universally apply to all citizens of race, place of birth, religion, cast or gender".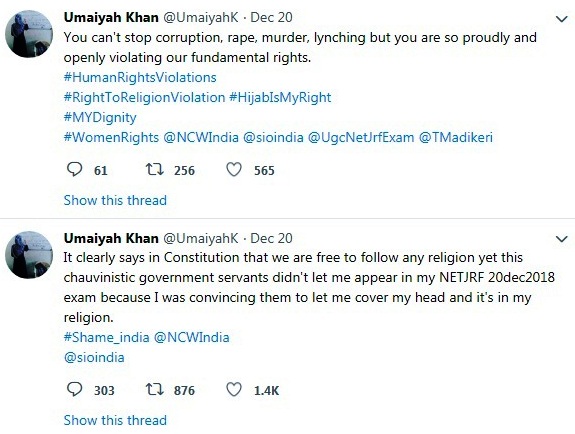 The NET rules do not allow the candidates to wear watches and other electronic gadgets in the exam hall. There are no any rules that restrict wearing of head scarf or Hijab.
Courtesy: Two Circles