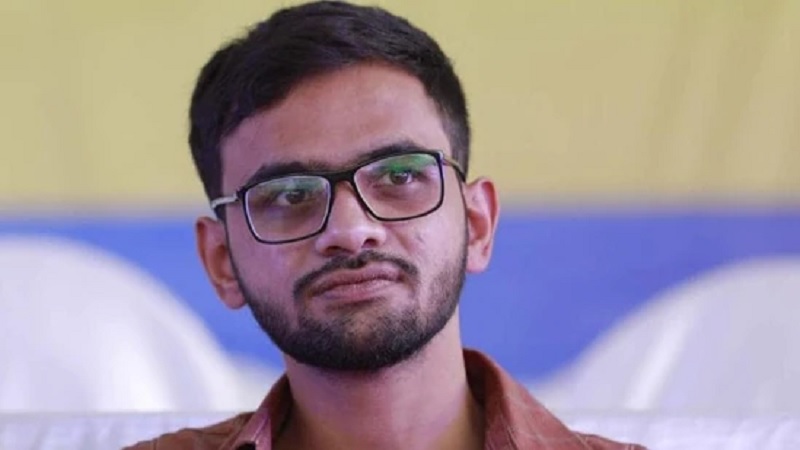 Image Courtesy:hindustantimes.com
At the hearing of Dr Umar Khalid's bail application in the North East Delhi violence conspiracy case, Special Public Prosecutor Amit Prasad relied heavily on the chargesheet to demonstrate that the protests were not organic and that the 'chakka jam' or protests where traffic was blocked, were concertedly organised to coincide with former US president Donald Trump's visit to India. SPP Prasad submitted before Additional Sessions Judge Amitabh Rawat that this was done to embarrass the Indian government and to get international media coverage.
SPP Amit Prasad, began his submissions by recapitulating his earlier submissions, about hidden elements in the conspiracy, role of Jamia Coordination Committee (JCC) and so on. He submitted that the first phase was the chakka jam and then the riots happened.
Throughout the hearing, SPP Prasad referred to the chargesheet to support his submissions. He showed a photograph of a DPSG meeting of December 26, 2019 between Harsh Mander, Yogender Yadav, Umar Khalid and others. He also shared screenshots of a document showing how persons were assigned to each protest site as supervisors and other such capacities to demonstrate that the protests were not organic.
He then submitted that a protected witness in his statement said that at the January 23, 2020 meeting between Khalid and Pinjra Tod founders, Khalid said, "Time has come, Tayari kar le (get ready)."
The SPP also rebutted the submission by Khalid that this meeting was not secretive since the photograph of the meeting was already posted on social media. "I did a Google lens search and this photo was not in public domain prior to filing of chargesheet. Therefore, this argument is a figment of imagination," said SPP Prasad. "Merely because a photograph is there in my mobile phone does not make a secret meeting, a non secret meeting," he added. Prasad said that there is this photograph and there is a sec. 164 witness statement and the only thing remaining to prove the meeting is a video recording.
According to Prasad, on January 14, US president Donald Trump's visit was announced publicly and the same day Tasleem send a message to Khalid, "Umar Bhai Jafrabad Seelampur ke regarding kuch urgent baat karni hain, (We need to talk about Jafrabad Seelampur)", and this has a clear connection in terms of conspiracy behind the riots and it coinciding with Trump's visit to India.
About Sharjeel Imam's connection with the protests, Prasad submitted that a façade was created that Imam is out of Shaheen Bagh however, chats show that he went to Khureji and he was working under the mentorship of Khalid.
"Issue was not CAA NRC. The issue was you had to somehow embarrass the government. In the process of embarrassing the gov't, you take steps which will reflect in the international media," Prasad submitted. He then pointed out how Imam was linked with Arshad Warsi who was part of Students of Jamia (SOJ). Prasad then showed some Facebook posts of the SOJ group which implied that the group was against secularism, against democracy and against nationalism. "You claim yourself to be secular and you associate yourself with them. You want to associate with people who do not believe in democracy, constitution and have no faith in courts," Prasad argued.
He then requested Khalid's counsel to play the video of the speech given by him at Amravati. After it was played, Prasad pointed out that Khalid tried to paint a picture that Shaheen Bagh protest was led by and created by 'dadis and nanis' of Shaheen Bagh. However, Prasad argued that the protests were not organic as was demonstrated through the chargesheet.
He further pointed out how Khalid says in his speech that there is "aatank ka mahul" due to the many incidents of mob lynching in the country. He stated that Khalid identifies himself as a Muslim but on the other hand he tries to create an image that he is an atheist. Prasad further states that Khalid only mentioned lynching of Muslims and not lynching of persons like Kamlesh Tiwari and others. "Mob lynching for him is selective and his concern is equally selective. It's only for one community," Prasad argued.
He then showed a picture of Sharjeel Imam and Harsh Mander in Shaheen Bagh and showed that the only book in the picture is an RSS book. "Where the constitution is missing, you keep the RSS book. In public display you want to say constitution and tiranga rehlaaenge, (we will wave the flag)," Prasad contended.
He also read out statements of protected witnesses who said that Nadeem Khan of United Against Hate (UAH) had told them that stones must be pelted at the police and that "Police walo ka khoon bahana hoga (we will have to shed blood of police personnel)."
He then made reference to the incident of 9/11 i.e. when the World Trade Centre twin towers were hit by two airplanes in a terrorist attack in New York City in the US. Prasad drew a comparison between the alleged conspiracy behind the Delhi violence and the conspiracy behind 9/11 attacks and said, "Just before 9/11 happened when all people were involved, they reached a particular place and took training. A month prior to that they moved to their respective positions. (Similarly here) You have protest sites ready. You have people there." He also pointed to the argument made by Khalid's counsel that he had barely sent any messages on the WhatsApp groups and drew parallels with 9/11 conspiracy that the key conspirator of those attacks never visited the US.
To demonstrate conspiracy to make the protests violent, he referred to a chat message sent by Rahul Roy of NIMN who said, "Next move after chakka jam will be to be confrontational and we will have to wait and see the outcomes."
Prasad pointed out that there were indications of violence in the WhatsApp chats yet Khalid remained silent.
The hearing will continue on January 29.
Related:
Umar Khalid bail: Prosecution alleges Pinjra Tod and others were included to give protests appear secular
Umar Khalid bail: He has no argument on merits, State submits before court
Never-the-less, they persisted: Human Rights Heroes of 2021