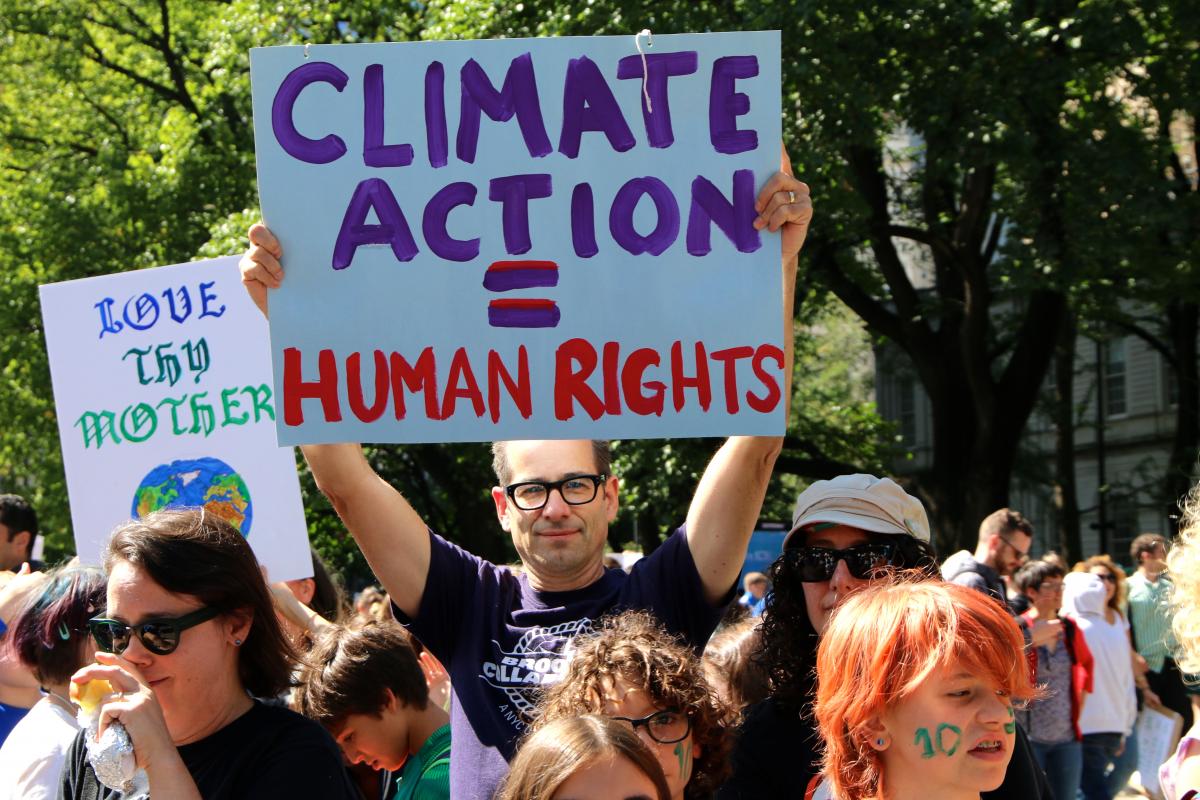 Image: Marcelo Schneider/WCC

The United Nations Human Rights Council has for the first time recognised that having a clean, healthy and sustainable environment is indeed a human right, in its resolution 48/13. It has also, through a second resolution (48/14), increased its focus on the human rights impacts of climate change by establishing a Special Rapporteur dedicated specifically to that issue.
At the beginning of the current session of the Human Rights Council, the UN High Commissioner for Human Rights, Michelle Bachelet described the triple planetary threats of climate change, pollution and nature loss, as the single greatest human rights challenge of our era. According to an official media release, "The resolution on a healthy environment acknowledges the damage inflicted by climate change and environmental destruction on millions of people across the world. It also underlines that the most vulnerable segments of the population are more acutely impacted. The issue will now pass on to the UN General Assembly for further consideration."
High Commissioner Bachelet hailed landmark recognition saying, "The Human Rights Council's decisive action in recognising the human right to a clean, healthy and sustainable environment is about protecting people and planet – the air we breathe, the water we drink, the food we eat. It is also about protecting the natural systems which are basic preconditions to the lives and livelihoods of all people, wherever they live," adding, "Having long called for such a step, I am gratified that the Council's action today clearly recognises environmental degradation and climate change as interconnected human rights crises." Bachelet further said, "Bold action is now required to ensure this resolution on the right to a healthy environment serves as a springboard to push for transformative economic, social and environmental policies that will protect people and nature."
She also paid tribute to the efforts of a diverse array of civil society organisations, including youth groups, national human rights institutions, indigenous peoples' organisations, businesses and many others worldwide who have been advocating for full international recognition of this right. Noting that an unprecedented number of environmental human rights defenders were reported killed last year, the High Commissioner urged States to take firm measures to protect and empower them.

Ramifications for Indian Human Rights Defenders
This is significant, as SabrangIndia's sister organization, Citizens for Justice and Peace (CJP) has noticed in their work in the field of forest rights, that many human rights defenders, particularly women community leaders hailing from Adivasi and Dalit communities are particularly vulnerable to institutional violence in the form of malicious prosecution as well as police brutality.
For example, Lilasi village in Uttar Pradesh's Sonbhadra region, and its brave women forest rights defenders are not new to police brutality. They had been attacked in May 2018 when police stormed into the village and brutally beat up women and broke huts. After some key members of the All India Union of Forest Working People (AIUFWP) met key government officials to convey their grievances, police illegally detained Sokalo Gond and Kismatiya Gond and kept them behind bars for months. The two were only released after a sustained campaign by CJP, where we moved a habeas corpus petition for production of Sokalo and Kismatiya Gond before the Allahabad High Court.
They were attacked again in January 2021, when police physically assaulted women forest rights defenders who were protesting an unauthorized construction on forest land. Speaking to CJP, Shiv Prasad, a villager said, "For two days (January 5 and 6), women forest rights defenders were peacefully protesting an unauthorised construction on forest land. The police arrived on January 6 for security purposes, but left. They came back on January 7, beat up the women protesters!" He added, "They were taken to the police station and beaten again. Then they were beaten yet again after taking them to the hospital!" The detained women included Sukhwariya Nandu, Sarita Nandu and Anita Nandu (the family of Nandu Gond who is president of Forest Rights Committee (FRC), Lilasi area), as well as Ramdasiya Jokhu, Phulwak Balsundar, Sukhwanti Mahinder Pratap, Kalawati Ramsunder, Hirawati Shiv Prasad and Manju Shankhlal.
It is noteworthy that Nandu Gond too has been previously targeted by the local police and forest department officials. All he had done was stake claim to community forest rights as per provisions of the Forest Rights Act, 2006. But at that time police booked Nandu under sections of Indian Penal Code (IPC) pertaining to rioting and attempt to murder (sections 147 and 307) among others. Then in October 2018, police pasted a notice on his door and in February 2019, police demolished his home, destroying everything from earthen pots to his daughters' school books!
In light of the above, and many other atrocities against historically oppressed communities, by various government authorities who are often in cahoots with crony capitalists out to usurp land and forest resources, the UN resolutions could prove to be a shot in the arm for Adivasis (India's indigenous people) and forest workers who have been struggling for their rights long after India achieved independence from the British.
Related:
UN slams India for crackdown on Human Rights Defenders
Distressed over the plight of India's internal migrants: UN Human Rights chief
Adivasi women forest workers allegedly assaulted by UP Police