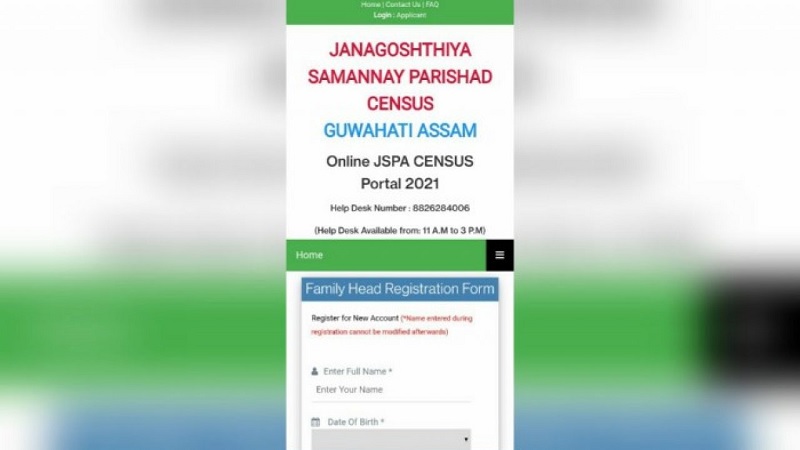 Image Courtesy:newsmove.in
A census portal called Janagoshthiya Samannay Parishad Census has come up in Assam. It is asking people to register themselves and upload their documents. While the website itself isn't fully developed and has just one functional page, it asks for people who register to upload their documents such as Aadhaar and Voter ID etc.
This is not to be confused with the government's census portal which can be accessed at https://censusindia.gov.in/ It is clear from the gov.in at the end of the URL that this is a legitimate government website. But in case of Janagoshthiya Samannay Parishad Census, the website address is https://jspacensus.com/
The Contact Us and FAQ sections have not been added to the website yet and only the Home page is functional. It gives a Helpline Number 8826284006 which it says is available between 11 A.M and 3 P.M. It appears to be run by the Janagoshthiya Samannay Parishad Asom (JSPA). The chief convener of this group is a man named Mominul Awal.
It may be recalled that in March 2020, this group had objected to use of the term "indigenous Muslim" in the title of a proposed committee to cater to them. It had instead proposed that the committee be called Goriya, Moriya, Jolha and Tea tribe Development Committee and demanded a separate 'Parishad' for the Deshi tribe.
JSPA has also long been demanding a separate census for Muslims in Assam including people hailing from communities like Goriya, Moriya, Deshi, Jolha, Ujani, Maimal and Syed. These communities are predominantly found in the Brahmaputra Valley. In the Barak Valley there are Muslim communities like Kachari, Kiran, Mymal and Pangal. Many of them reportedly had recognition even during the time of the Ahom rule in the region.
According to a report in The Sentinel Assam JSPA had held talks with Ranjeet Dutta in early 2020, who was the State Minorities Welfare Minister in the Assam government at the time.
However, the website does not say that it is affiliated with the Assam State Minorities Commission, nor does it bear any official insignia, logo or links to any government websites. It thus appears to be a census website created by a private entity. It does not state who will have ownership of the data collected by the website, nor does it state how it will be used, where it will be stored and who will have access to it. Therefore, four big question arise:
· Who authorised its creation and for what purpose?
· Given that JSPA is associated with welfare of indigenous Muslims, is the data being collected from only members of the Muslim community?
· Is the government aware that a private party is conducting a census and asking people to submit documentation?
· Who should be held accountable if private data and documentation is leaked or misused?
There is another concern about this being a ploy to divide Muslims by pitting the "indigenous" against the perceived "outsiders". Already Himanta Biswa Sarma, one of the most powerful ministers in the Assam state government had made it clear that his party did not care about the "Miya" Muslim vote. In light of this, there are fears that the census will be used as a tool for 'othering' of a section of Muslims, by providing some basic benefits to those identified as "indigenous".
Related:
Don't need Miya Muslim vote: Himanta Biswa Sarma
Divisive politics at a high, Khilonjia Muslim v/s outsider, a new ploy in Assam