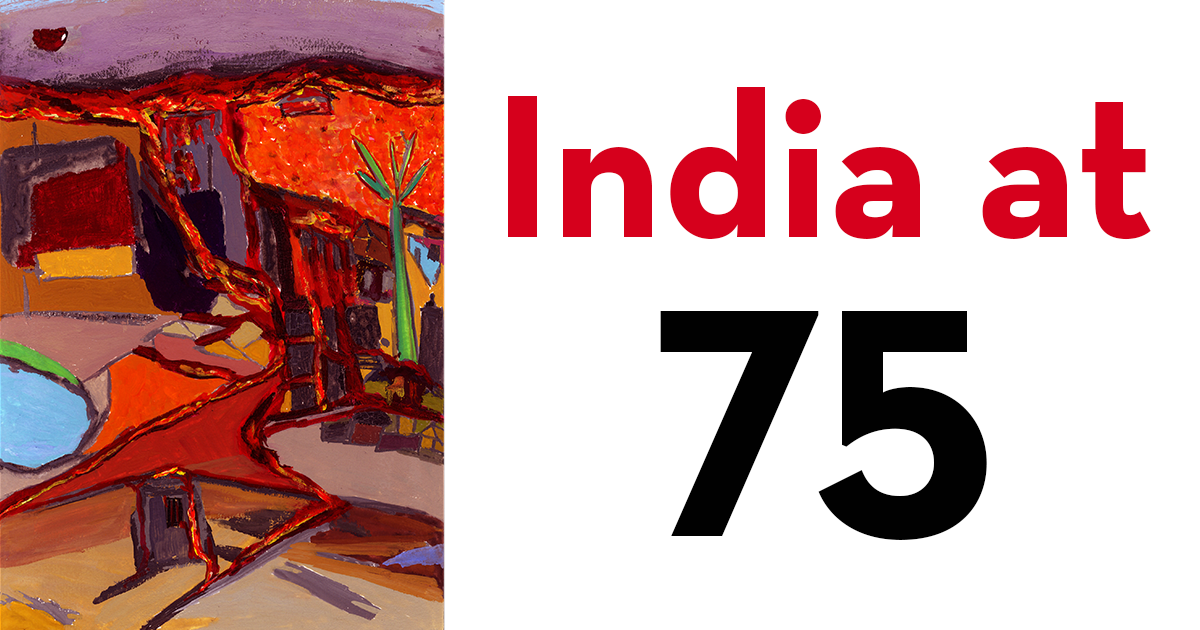 To mark India at 75, PEN America reached out to authors from India and the Indian diaspora to write short texts expressing what they felt. Together they make a historic document. Authors who were born in British India responded, as did India's Midnight's Children and grandchildren. Authors from around the globe sent us their thoughts, as did authors from India's many languages, communities, faiths and castes. Some voices are optimistic, some prayerful, some anguished and enraged. Some suggest defeat, others venture hope, still others are defiant. The authors hold a spectrum of political views, and may be in disagreement about much else, but they are united in their concern for the state of Indian democracy. We invite you to read their ideas of what India was and ought to be, and what it has become.
The entire report may be read here

Of the several pieces in the compilation, here are some that stand out:
ALTAF TYREWALA
I NEEDED A GOD TODAY
TODAY I needed to confess
That I was back to needing
A father in heaven
Back to needing
Being afraid of sin
Of hellfire and demons
And a belief in the invisible
I needed a god today
But he's closed for business
The prayer house is padlocked
The priests have disappeared
A sign on the door says
Seek Me in your heart's shrine
You mean that shrine I razed?
That altar I burned?
That sanctuary I demolished?
That pedestal I smashed?
What resides in those ruins
Is belief's ghost
And the echo of a prayer
To never need a god again
I needed a god today
I needed to tell him
That heart's shrine
Is now a mausoleum
To disbelief and to living
Altaf Tyrewala is the author of three fiction books and has edited a crime fiction anthology. His works have been published around the world and he was awarded the DAAD Artist-in-Berlin literature grant. He has also curated a literature festival. He hails from Mumbai and now lives in Dallas.
JERRY PINTO
1977. A cinema hall in Mahim, Mumbai. Amar Akbar Anthony is playing. It is a Manmohan Desai special, which means we, the audience, those who love Hindi films, were ready for a rollick. We did not expect to cry.
To those lucky people who have not seen AAA, as we learned to call it: A terrible rich man kills someone by mistake; he asks his loyal driver, Kishanlal, to take the blame and promises that he will look after the driver's family and his three children. Kishanlal takes the fall, goes to jail and when he comes out, he finds his wife is dying of tuberculosis and his sons are starving. He goes to confront his boss and in return for his loyalty, his boss orders his henchmen to kill Kishanlal. He eludes them and jumps into a car full of gold bullion and comes home to find his wife has gone off to commit suicide. The goons are still in hot pursuit so he stashes the children for safety in a nearby park, in the shadow of a statue of Mahatma Gandhi and continues to take evasive action. His eldest son runs after the car but is knocked down, and left by the side of the road. A policeman takes the boy home, adopts him and names him Amar. The second boy is adopted by a Muslim tailor and named Akbar. The third child falls asleep in front of a Christian church and is adopted by the priests; he is Anthony. The boys grow up and one day, they are called to a hospital to give blood to a woman who is in need of it. They do not know it but they are donating blood for their mother.
Now, everyone knows that when you go and donate your blood, you fill a bottle and it is whisked off to the blood bank. But in Manmohan Desai's magnificent and corny spectacle making, this could not be how we would see it. The three young men are seen lying down in a ward and each would declare his name as a nurse hooked him up to a blood donation line.
"Amar," declares the Hindu as his blood rises up, against the laws of gravity, to meet the blood of Akbar and Anthony. And then these three bloodstreams, conjoined, flowed down into the arm of their mother.
The man in the next seat began to weep. The whole theater was weeping together as a song underlined the message: Kya iski keemat chukaani nahin? (Will you pay your debt?) They got it. You don't get India unless you have Amar, Akbar and Anthony, blood and blood and blood, paying their debt to the motherland.
I wept too. I was eleven years old.
At the end of the film, we all came out of the theater having cried and laughed and rejoiced when the three brothers are reunited in the end.
I used to say that the trope of three brothers separated at birth and reunited at the end was Hindi cinema's way of thinking about Pakistan and Bangladesh. That we don't make these films any more is perhaps our way of reconciling to the new political reality of the subcontinent.
I showed the film to a group of students recently. One of them said: "I'd really like to know what happened afterwards. Was Akbar circumcised by his Muslim father? Did Anthony remain a Christian?"
On bad days and there are so many of them, I know the answer to that one. On days of hope, I cling to the promise/premise of those lines: Anhonee ko honee kar de, honee ko anhonee. Ek jagah jab jamaa ho teenon: Amar, Akbar, Anthony
A rough translation of which would be: When the three of us, when Amar and Akbar and Anthony, get together, we make the impossible, possible.
Jerry Pinto is a poet, novelist, and translator in Bombay, and the author of several works of fiction, translations, and poetry, including Em and the Big Hoom. He received the Windham-Campbell Prize for Fiction in 2016
KIRAN DESAI
Eight Haikus for Asifa, age 8
I
as if a girl is
evening blue and green that just
hovers a moment
before the night's dark then falls
II
as if a girl is
what it takes to rape and kill
it takes a village
it takes a policeman
a temple custodian
a tax man, a son
who took the bus all the way from meerut because
it takes a village
III
as if a girl is
a mother without a child
the moon still rising
IV
as if a girl is
a bad luck curse parents flee
over this mountain
the next and over
the border to lose their names
so we can't find them
V
as if a girl is
snow obscuring mountains
and lies covering truth
VI
as if a girl is
chinar leaves or grass marked red
bloodied by murder
VII
as if a girl is
a ghost making a devil
of us all
she haunts
VIII
as if a girl is
only eyes—that's all that's left
warning—don't forget!
Eight year old Asifa was gang raped and murdered in a temple in 2018, Kathua, Kashmir. When she died she became a symbol of the hate that has overwhelmed today's India. But she also became India's daughter, the daughter of us all. India may be in darkness, but we will forever remember your light, Asifa!
Kiran Desai is the author of Hullabaloo in the Guava Orchard and The Inheritance of Loss. Among her honors are a Guggenheim, a National Book Critics Circle Award and a Man Booker Prize
MADHUSREE MUKERJEE
15 August, 1942. Mahatma Gandhi, Jawaharlal Nehru, Vallabhbhai Patel, Maulana Azad and thousands of other freedom fighters are in prison. More than 90,000 people will be arrested and up to 10,000 killed as the Quit India movement is crushed. Kasturba Gandhi and Mahadev Desai will die in prison. Millions will perish of hunger. India is an occupied and hostile country, says a British general. Virtually no one—not the rulers looting the country's wealth, nor the people crushed under their weight and induced to fight one another instead of their exploiters— can imagine, in this darkest of dark times, that in a few years the land will be free.
15 August, 2022. Anand Teltumbde, Hany Babu, GN Saibaba, Gautam Navlakha, Arun Ferreira, Shoma Sen, Surendra Gadling, Rona Wilson, Mahesh Raut, Vernon Gonsalves, Khalid Saifi, Meeran Haider, Sharjeel Imam, Umar Khalid, Aasif Sultan, Siddique Kappan, Sanjiv Bhatt, Teesta Setalvad and countless other freedom fighters are in prison. So are thousands of Muslims, for being Muslim, Dalits, for being Dalit, and Adivasis, for living on mineral-rich land that billionaires covet. Stan Swamy is dead. Gauri Lankesh, Narendra Dabholkar, Govind Pansare, MM Kalburgi and far too many other truth tellers—rural reporters, Right-to-Information activists—are also dead. Murdered. And innumerable people whose crime was to be in the wrong place at the wrong time. Three-quarters of Indians are malnourished and being induced in their desperation to turn upon one another instead of their exploiters. Just one of their rulers is the world's fourth-richest man.
India is once again an occupied and starving country. It's hard to imagine, in this darkest of dark times, that the country will soon be free. But history repeats. And great evil always falls to great courage.
Madhusree Mukerjee is the author of Churchill's Secret War and The Land of Naked People. She is a Guggenheim awardee and serves as a senior editor at Scientific America
M V RAMANA
In his famed 1947 poem Subh-e-Azadi (Freedom's Dawn), Faiz Ahmed Faiz had bemoaned the fact that the end of British colonialism had turned out not to be "that clear dawn in quest of which those comrades set out" (translation by Victor Kiernan). Those were the terrible days of partition, with millions of people being displaced from the homes they had grown up at, perhaps over a million killed, and thousands of women abducted and raped. And yet Faiz was hopeful enough to end that poem with "Let us go on, our goal is not reached yet."
Seventy-five years after that, it is hard to find such hope in today's subcontinent. In so many ways, the situation seems more dire. Except for a small set of ultra-rich that have made out like bandits, few are optimistic about the future. But that is not all. The greater threat is the growing power of the religious right, and the goals they strive for will eventually destroy even the very possibility of shared existence.
M.V. Ramana is the Simons Chair in Disarmament, Global and Human Security at the School of Public Policy and Global Affairs, University of British Columbia, Vancouver, Canada, and the author of The Power of Promise: Examining Nuclear Energy in India (2012) and co-editor of Prisoners of the Nuclear Dream (2003).
P SAINATH
Prime Minister Narendra Modi's lockdown speech of March 24, 2020 gave a nation of 1.4 billion people four hours to shut itself down. It would devastate hundreds of millions of livelihoods within days. Minutes after Modi's speech, his government listed the essential services that would remain operational through the lockdown.
Refreshingly, that included 'print and electronic media, telecommunications, internet services, broadcasting and cable services.'
In the next few months, major media houses, mostly corporate-owned or controlled, sacked between 2,000 and 2,500 journalists. They achieved much of this by extracting 'voluntary resignations and retirements.' The classification of media as an essential service did not save a single job. Or life. Covid-19 killed at least 700 journalists in the first 20 months of the pandemic.
All these numbers are gross underestimates. The sackings, especially. I was a member of the Press Council of India sub-committee to investigate the retrenchments; our letters seeking information from major media houses were met with anger and aggressive lawyers' replies.
The country's biggest newspaper group told us that the Press Council had no right to question the sackings. They were recruitment and labor issues and had nothing to do with press freedom (the Council's purview). The government stayed silent on the sackings.
The media's failure to cover the exodus of millions of migrant laborers from cities back to their villages was not unrelated to the Great Downsizing. These same segments of the media, too, have said barely a word in their editorials on the arrests, detentions, denial of bail, and the hundreds of cases against media persons—some under sections of laws not applied to journalists in over 100 years. The 'mainstream' media's silence on the assault on democracy that India has seen for years now is not just about cowardice—though there's dollops of that—but also about complicity and collaboration, coaxing and coercion.
Sure, there are rare exceptions—like the Dainik Bhaskar group that held out bravely despite the income tax and other raids on it. Mostly, though, truly courageous resistance has come from smaller, non-corporate media whose journalists and editors suffer severe harassment, tax raids, arrests, jailing. That have seen donors and sponsors pull their funds in fear. That are unsure of paying their staff salaries in the current financial year.
The new trend: arresting journalists and editors for 'economic offenses'—'money laundering' being the official favorite. That vilifies journalists, hurting their credibility and making it hard for them to be viewed as political prisoners.
It's worth knowing that four major public intellectuals assassinated in the past decade—Narendra Dabholkar, Govind Pansare, M.M. Kalburgi and Gauri Lankesh—had this in common: they were journalists, columnists or India at 75 107 writers who wrote in Indian languages. Also, rationalists who challenged religious fundamentalism.
Meanwhile, the super-rich, heading India's biggest corporate houses, are rapidly acquiring more media properties. (With 166 of them, India ranks 3rd among nations in dollar billionaires. But ranks 131 in the UN Human Development Index). Owners whose billions flow from government contracts and huge public resources privatized for their benefit, and who contribute fantastic sums to the ruling party.
What did bother the government was the Paris-based Reporters Sans Frontières' ranking India 142 (among 180 nations) in the World Press Freedom Index, 2020. (This year's rank – 150). And Twitter's latest transparency report confirms India made more 'legal' demands than any other nation to remove content posted by verified journalists and news outlets during July-December 2021. We've also seen what amounts to months of internet shutdowns across entire regions like Kashmir.
Indian journalists can always be shown the error of their ways. The worst you can do with non-Indians is to deny them visas. Yet, they acted swiftly to rebut the RSF report and index ranking.
In May 2020, the government set up an 'Index Monitoring Cell' (IMC) on the directive of the Union Cabinet Secretary, perhaps the country's most powerful bureaucrat. One who reports directly to the two most important men in India—the Prime Minister and Home Minister. I was one of the IMC's two original journalist members.
In December 2020, a subgroup presented the committee with a draft report striking for the absence of the word 'draft' on its cover. It failed to reflect the content of our discussions. And it made outrageous claims, some of which seemed to mock the sufferings of journalists in Kashmir.
I wrote a note of dissent which, among other things, listed 100 instances of arrests of, legal notices to, and FIRs and cases filed against, journalists in the span of just some months. Such as the October 2020 arrest of Siddique Kappan, a freelancer from Kerala who had gone to Uttar Pradesh to cover the Hathras rape and murder atrocity against Dalits. He was not allowed to meet a lawyer for weeks and remains in jail 22 months later.
Or Zubair Ahmed, a journalist in the Andamans booked on multiple charges for this tweet: 'Can someone explain why families are placed under home quarantine for speaking over phone with Covid patients?' Ahmed died by suicide this July, supposedly in depression—but an investigation is still on.
Immediately after that note of dissent went in—the committee simply vanished and has never been heard of since. Right to Information queries have failed to elicit any reasons for this. My friends find me ungrateful. 'At least,' they say, 'it was the committee report that disappeared, not the journalist.'
And so you have the Indian media @75.
For three of my four decades as a journalist, I argued that the Indian media are politically free but imprisoned by P SAINATH India at 75 108 profit. Today I'd say they are still shackled by profit, but are increasingly politically imprisoned as well
P Sainath is the founder-editor of the People's Archive of Rural India and author of Everybody Loves A Good Drought. His new book, The Last Heroes: Footsoldiers of Indian Freedom, will be out later this year. Sainath has won more than 60 national and international awards and fellowships for his reporting
Related:
75th Anniversary: What Do Indians Want?
Reflections on 75th anniversary of India's Independence
Women's dissent: India's feminist legacy