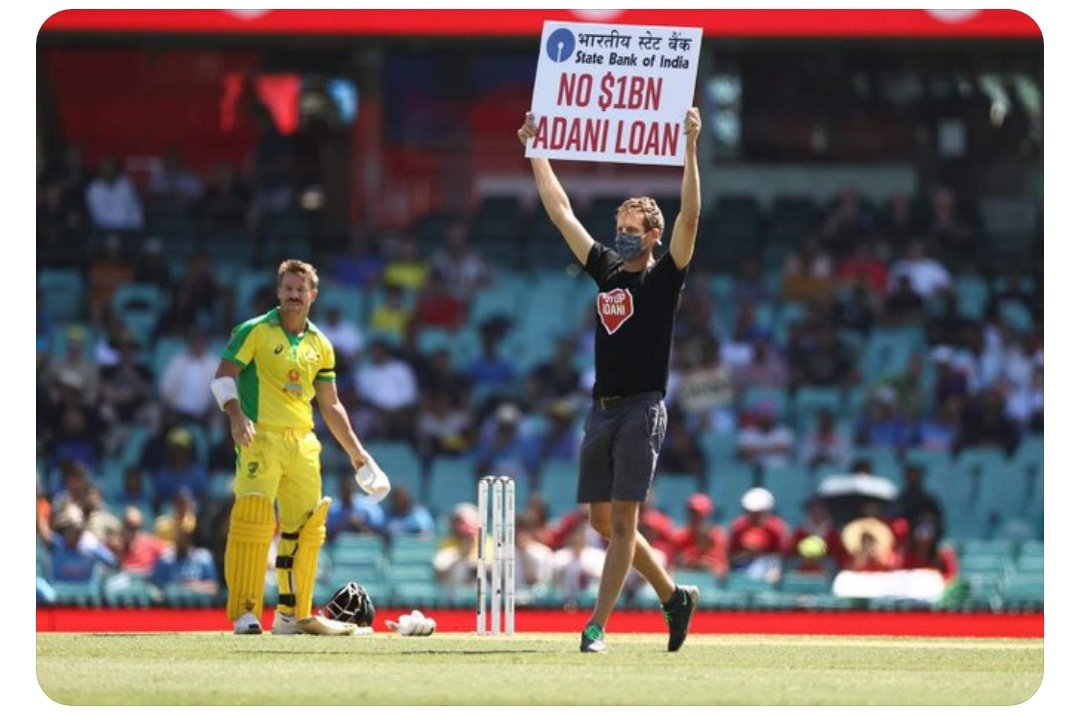 Forcing a unique break in the first One Day International cricket match between India and Australia, two protesters ran into the field making viewers across the globe sit up and take notice. The two men were protesting State Bank of India's (SBI) plan to give a One Billion dollar (Rs 5000 Crore) loan to the Adani group's coal project in Australia.

WATCH: Video of two #StopAdani supporters taking the grounds to protest @TheOfficialSBI's plans to give @AdaniOnline a $1bn (5000 crore) Indian taxpayer loan for Adani's Carmichael coal project #AUSvIND pic.twitter.com/NhY3vPN0HM

— Stop Adani (@stopadani) November 27, 2020
The two men ran deep into the field of play, and as the crowds cheered, displayed their protest messages before being escorted out. The men are representing citizens groups in Australia protesting the massive influx of funds to the Adani Group for their Carmichael coal project. One of the protesters ran all the way to the pitch, surprising the cricketers themselves. The protestor carried placards denouncing the loan, and the Adani Group. According to a report in The Hindu the incident happened "just before pacer Navdeep Saini was getting ready to bowl the sixth over of the home team's innings." The two protestors were escorted out by the security after their brief invasion.
#StopAdani protesters as Ind vs Aus pic.twitter.com/91wc6FN4Cn

— Zubair Khan INC (@imzubairk) November 27, 2020
The cricket fans, and #StopAdani supporters have managed to catch the millions of eyeballs that were fixated on Friday's AUSvIND Cricket match. They have brought much needed attention, especially from Indians, to the proposed $1B loan of Indian taxpayers' money which they alleged is going to fuel "Adani's climate wrecking coal mine." They found plenty of support in the stadium and online.
"If you've ever been to an Indian cricket game, you will know that people of India are proud of their country and their sport. We want to make sure that Indians can be proud of their State Bank too." @TheOfficialSBI don't fund Adani's #coal project! #StopAdani #AUSvIND pic.twitter.com/b03wP1foxh

— Stop Adani (@stopadani) November 27, 2020
The Great Barrier Reef has already suffered two back-to-back severe bleaching events in 2016 and 2017, caused by warming water. Scientific assessment of recurrent bleaching events on the reef have identified climate change as an important contributor@TheOfficialSBI #StopAdani

— Extinction Rebellion India (@XRebellionInd) November 27, 2020
Not sure SCG pitch invasion was part of the plan …

Stop Adani spokesperson Varsha Yajman: "We need to come together and stand in solidarity with Indian communities battling climate change and coronavirus, to pressure the State Bank of India to rule out funding Adani." #AUSvIND pic.twitter.com/3saCv3SH2m

— Sam Landsberger ? (@SamLandsberger) November 27, 2020
SBI, STOP FUNDING COAL! A tiny, meaningful demo outside SBI branch, Aundh, Pune, bringing notice to disastrous Adani coal mine in Australia SBI is considering funding. I was happy to join. JOIN TWITTER STORM #StopAdani #leavecoalinthehole #climatejusticenow @StateBankofInd7 pic.twitter.com/xtt1REo6RV

— Ashish Kothari (@chikikothari) November 27, 2020
According to a news report, Cricket Australia has opened stadiums with upto 50 per cent of their capacity in the India-Australia series. The engagement comprises three ODIs, as many T20 Internationals and four Tests.
Last year, it was reported that the United Nations had asked the Australian Government to consider suspending the Adani project in Queensland until it gains the support of all traditional owners who are fighting the miner in court. The UN Committee on the Elimination of Racial Discrimination had written to Australia's UN ambassador to raise concerns that consultation on Adani's Indigenous Land Use Agreement (ILUA) "might not have been conducted in good faith".
Related:
Is Adani enterprises illegally acquiring land for coal mining in Chhattisgarh?
Kerala against Adani takeover of Trivandrum International Airport