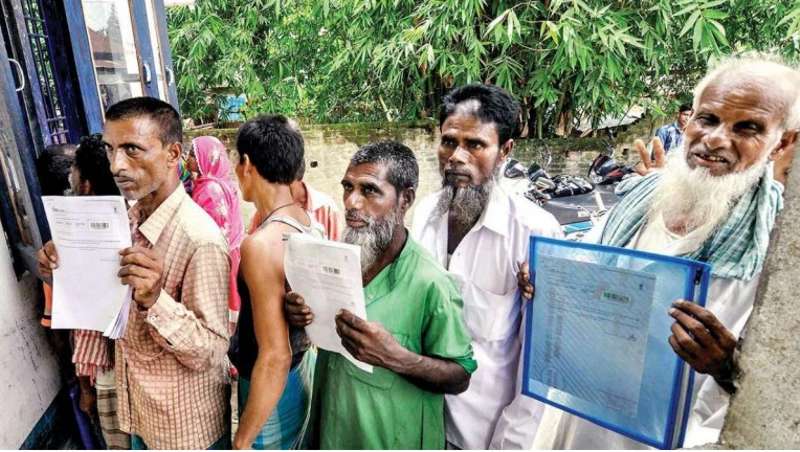 A recently released report from United States Commission on International Religious Freedom (USCIRF) highlights the many issues that have arisen in the state of Assam in the past 5 years due to the updation of the National Register of Citizens (NRC). The report titled "The Religious Freedom Implications of the National Register of Citizens in India" is authored by Harrison Akins, a policy analyst. The USCIRF is an independent, bipartisan federal government entity established by the U.S. Congress to monitor, analyse, and report on threats to religious freedom abroad.
The report delves into the history of NRC, speaks about the Nellie massacre, the Assam Accord and the current situation in Assam, all of which the alternative media has raised concerns about, time and again. The fact that this is being recognised by an American Commission as an issue of religious freedom, gives the issue the pedestal it has deserved.
The important issues highlighted in the report include the concerns of lower income families for whom presenting necessary documents to authorities was a challenge due to inadequate family record-keeping, illiteracy, or lack of money to travel to government offices or to file legal claims. It also identified how people were excluded from NRC due to "minor inconsistences in paperwork".
Further, the report spoke about Foreigners Tribunals being quasi judicial bodies, the appointments to which have been loosened and how there is lack of transparency in their functioning. The report pointed out the growing concern that those who are declared foreigners will become stateless, in the absence of a repatriation treaty between India and Bangladesh and the decreasing number of deportations. It stated, the number of Bangladeshi nationals deported by India and accepted by Bangladesh has been steadily declining in recent years, falling from 5,234 in 2013 to only 51 in 2017.
The report raised some serious concerns about how the BJP "has taken steps that reflect an anti-Muslim bias – core to its staunch support of the NRC update in Assam" and has "indicated its intent to create a "religious test" for Indian citizenship that would favor Hindus and selected religious minorities but exclude Muslims". It also states how divisive the Citizenship Amendment Bill, 2016 (which lapsed due to this year's Lok Sabha elections) is and how BJP leadership and the RSS have tried to push their anti-Muslim agenda in the country by name calling all Bengali Muslims, calling them "infiltrators" and claiming that no Bengali Hindu can be an illegal immigrant. The report also called out the bias of BJP leaders against the Muslim community by implying how the final list of NRC came a shock to the BJP leadership and how they cried foul, as many amongst the excluded were Bengali Hindus and it was a missed chance for the BJP to prove that all intruders in Assam are Muslims.
After briefly mentioning a few provisions from the CAB, the report stated, "The "illegal immigrant" label, and the potential statelessness that comes with it, would be reserved for Muslims."
In conclusion, the report has highlighted how the process leading to the NRC update has been marked by violence over the past four decades and how "competing ethnic, religious, and political agendas clashing within north-eastern India, the potential for violence to erupt once again remains of concern". The report concluded stating, "the NRC as a tool to target religious minorities and, in particular, to render Indian Muslims stateless has become one more example of the downward trend in religious freedom conditions within India."