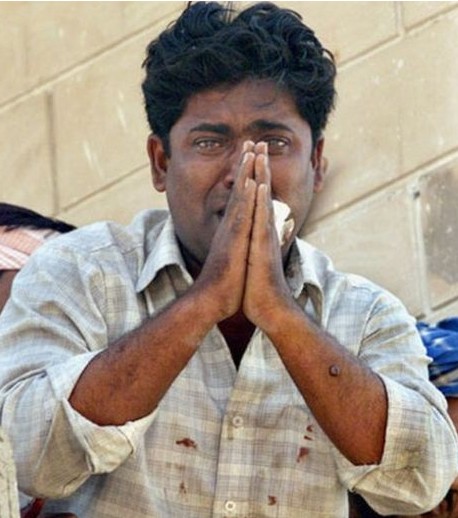 Qutub-uddin Ansari achieved fame of sorts when a Reuters photographer, captured his face on film, eyesa terrified, as he begged the mob to pass him by. This photograph of his face, hands folded, eyes terror–filled, will go down in history, synonymous with the Gujarat Genocide 2002.
One year later, he has paid the price. The photograph, with his name, that was published in dozens of publications has made him a marked man in Modi's Gujarat.
'Mein anjaan nahin raha. Gunegar jaise pehachana ja sakta hoon. Meri galti? Ke maine haath jodkar meri jaan mangi aur mera photo chapa. Duniyabhar mein." (I am not an unknown face anymore. I am recognised like a criminal. My fault? That I begged for my life with folded hands. And my photo was printed, all over the world.)
Archived from Communalism Combat, April 2003 Year 9 No. 86, Cover Story 2
"I am a tailor by profession and I used to work at Khanpur, next to Cama Hotel at Mistry Chambers. After the violence the owners packed up, shut the factory and moved their business to Bombay. I worked there for 10–12 days. Then the 'malik' told me that someone from Saamna newspaper had identified me 'Vahi ladka hai, jiski photo aaye thi.' My malik, a good man, said, 'I am a businessman, I don't want to get into any trouble. Please leave.' This is how he dismissed me.
"I still live in a vulnerable area today (location witheld). I live in mortal fear of my face being identified. I am in debt.
"I am recognised in the local buses, I feel there are people watching out for me. Twice I have been identified on my way to Khanpur, near the Civil Hospital. Only recently, I was terrified when two people pointed me out on the Ahmedabad AMTC Bus , and terror-striken I clambered off at the next stop…I live a life of fear, in dread of being recognised, now….."

(CC feels that he is an unlikely victim of the genocide. He is in need of financial assistance. Any contributions for him, by cheque or draft should be made out to 'Qutub-uddin Ansari' and posted to our address—Editors)