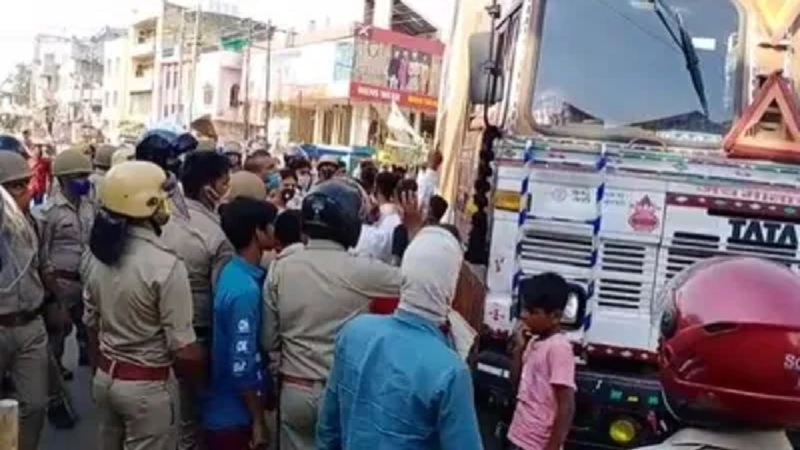 Image Courtesy:timesnownews.com
The Uttar Pradesh government has imposed a 'corona curfew' in the state till May 24 in a bid to slow the surge of Covid-19 that is currently wreaking havoc. However, this curfew itself seems to have become as dangerous as the disease itself. There is unrest reported from the state's Unnao district, following the death of a teenage vegetable vendor who was mercilessly thrashed allegedly in police custody. The policemen had him in custody for "violating the ongoing corona curfew" stated news reports. The 17-year-old boy identified as Mohammad Faisal, died on Friday, succumbing to the injuries caused.
According to the Unnao police, two police constables have been suspended and a case has been registered against them. A member of the Home Guard, who was initially suspended, has now been dismissed from service, said the police.
थाना बांगरमऊ क्षेत्रांतर्गत युवक की मृत्यु हो जाने के संदर्भ में संबन्धित के विरुद्ध की गई कार्यवाही के विषय में अपर पुलिस अधीक्षक उन्नाव द्वारा दी गई बाइट @Uppolice @dgpup @adgzonelucknow @Igrangelucknow pic.twitter.com/2TCyvaZMp7

— UNNAO POLICE (@unnaopolice) May 21, 2021
The boy was selling vegetables outside his house in Bangarmau town in Unnao, reported NDTV, when he was picked up by the cops, taken to the local police station and allegedly assaulted. Even the police statement now on social media says as the boy's condition deteriorated he was rushed to the Community Health Centre, where he was declared dead.
Member of Parliament Asaduddin Owaisi, reacted to the death and said this reflected the "hate Muslims face. There is no respite from violence for Muslims even in a raging pandemic."
17 year old Faisal was a vegetable seller in Unnao, UP. He was beaten to death by cops. He was allegedly violating lockdown & for that he deserved to be killed

This is the truth about hate Muslims face. There is no respite from violence for Muslims even in
a raging pandemic 1/4

— Asaduddin Owaisi (@asadowaisi) May 22, 2021
Thousands joined the boy's family and staged a protest at Lucknow road crossing against the police brutality. They sat with his body, in protest and demanded that the guilty be punished.
Family of Faisal protest with his dead body who was killed by police in custody in the name of law & order in Unnao UP.

Govt Should give compensation to his family & Job to one person. Those policeman should be booked for Murder.#JusticeForFaisal pic.twitter.com/qmwcbWv9gX

— Faisal Nadeem (@FaisalNadeemAMU) May 21, 2021
According to Amar Ujala, senior police officers arrived at the protest site and assured them that action will be taken. However, the protest continued till late night. The protestors have asked that a government job and compensation be provided to the victim's family. According to media reports, the police responded with a statement that the "two constables and a home guard have been suspended with immediate effect in the matter, and the entire matter will be probed."
The three police officials identified as Constables Vijay Choudhary and Seemavat, and Home Guard Satya Prakash have been charged with murder, reported the Indian Express. Assistant Superintendent of Police (ASP) Shashi Shekhar Singh told the media that the three "were already suspended soon after the incident. It was lodged based on the complaint from the family." Faisal's uncle Meraj told reporters that his nephew was selling vegetables in the market when policemen came and slapped him a few times and then "they took him to the police station on their motorcycle. They beat him at the police station too and he died there." The police had initially said that 17-year-old Faisal had "prima facie died of a heart attack".
Related:
Barabanki mosque demolition: Cops booked 8 committee members for fraud
Lucknow: Right to Public Health activists called anti-Modi-Yogi, beaten by mob
EXCLUSIVE: Are Varanasi police trying to create communal tension?