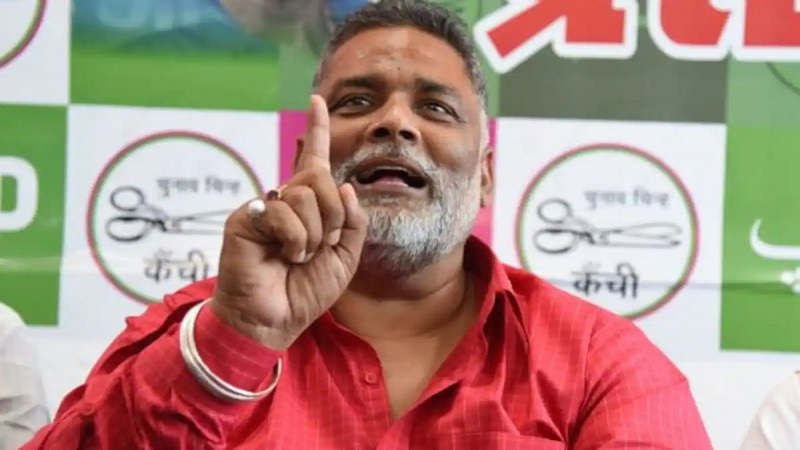 Image Courtesy:livehindustan.com
Amidst reports of a struggling health infrastructure, Bihar's Jan Adhikar Party Chief Pappu Yadav engaged in a verbal conflict with State BJP MP Rajeev Pratap Rudy after Yadav found around 30 unused ambulances covered by tarpaulin on land belonging to Rudy in Saran district.
According to News18, former MP Yadav asked why these ambulances were not used to ferry patients suffering in the state due to Covid-19. In a video that has gone viral on social media, he pointed out that there were around 100 ambulances when people first discovered the vehicles.
In response, Rudy who nowadays holds the same Lok Sabha seat Yadav did, said the ambulances were lying there due to a shortage of drivers. Earlier, Rudy also wrote to the District Magistrate of Chhapra on May 6, 2021 to ask for doctors who can drive the ambulances, said media reports.
"There are not 60, 70 or 100 ambulances, but only 20. And they are not being used because we don't have drivers. Pappu Yadav… you can take all the ambulances, but promise the people of Saran that you will find and employ drivers for all of them," he said.
However, on May 8, Yadav came through on this challenge, as NDTV reported news of Yadav sitting in front of a group of men holding what appeared to be driving licenses.
The many ambulances in question sport Rudy's name and 'MPLADS-2019' as stickers on the vehicles. The Members of Parliament Local Area Development Scheme (MPLADS) is a scheme offering Rs. 5 crore to each MP every year to develop concerned constituencies. However, the central government suspended this scheme in April 2020 to divert funds to deal with Covid-19.
Yadav alleged that instead of helping patients paying upto Rs 12,000 to be taken to hospitals, Rudy distributed some ambulances among his own men. He called for a probe into the matter. According to The Print, Yadav has been active in getting Covid patients admitted to hospitals, supplying medicine and oxygen cylinders.
At the same time, the shortage in ambulance drivers is also a real issue in Bihar. Several private hospitals said they cannot use their own ambulances due to a lack of drivers. Media reports claimed that the government is considering hiring school bus-drivers. Incidentally, the state government also announced a lockdown in the area till May 15.
Speaking to The Print, Dr Ajit Pradhan, running a heart hospital in Patna said that in normal times, the charge to ferry a patient to a hospital was Rs. 500 and with oxygen Rs. 1500. However, now that people have to buy oxygen "in black" patients are fleeced.
Lack of drivers is hardly the tip of the iceberg though. Earlier, SabrangIndia spoke to on-ground worker Lokesh Pushkar who reported a dearth of oxygen supply, long queues outside hospitals, hoarding, black marketing, police harassment, adding that there is no chance for a patient to be admitted if they don't have contacts.
According to Covid-19 India, a community-sourced website, Bihar recorded 1,10,804 active Covid cases as of May 9, 2021.
Related:
Bihar's odious and short-sighted response to Covid-19
Drug to treat Covid-19 developed by DRDO approved for emergency use
If drastic step is not taken, Covid situation will worsen: Patna HC
SC orders re-release of prisoners from jail amid Covid-19 surge