On Saturday, the Uttar Pradesh government issued an order prohibiting the manufacturing, sale, storage, and distribution of certain items that are certified as halal. The order issued by the Food Security and Drug Administration (FSDA), which comes under the UP government, also called for measures against organisations involved in the production and sale of drugs and cosmetics with halal certification, according to The Wire. Officials stated that this move is to "discourage unauthorised private entities" from issuing halal certificates to non-meat or vegetarian products, and have declared the halal certification as a "malicious attempt" to exploit religious sentiments and potentially provoke division among communities. This order has incidentally come just one day after a Bharatiya Janata Yuva Morcha member filed a case against Halal certifying organisations, and claiming they fund terrorist organisations.
The order begins with clarifying its objective is public interest, "In the interest of public health, production, storing, distribution and sale of halal certified edible items banned in Uttar Pradesh with immediate effect."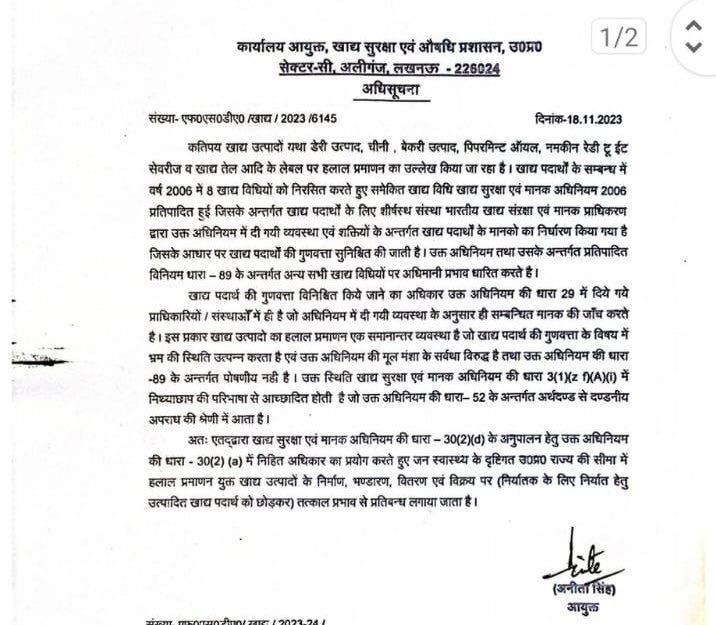 The order has stated that this is an "unfair advantage" which is being exploited by "anti-social or anti-national elements." It must be of note that this ban will not apply to products made for export.
Similarly, on November 17, an FIR was filed at the Hazratganj Police Station case was filed by the police regarding the sale of products with "illegal halal certificates" after a complaint was lodged by Shailendra Kumar Sharma, who from Lucknow  and a Bharatiya Janata Yuva Morcha (BJYM) office-bearer. The complaint alleges that "some companies are certifying products as halal to boost sales within a specific community." The complaint also argues that the financial profits from such activities are being used to fund terrorist organisations.
In response to this complaint, the police booked Halal India Pvt Ltd based in Chennai, Jamiat Ulama-i-Hind Halal Trust in New Delhi, and the Halal Council of India and Jamiat Ulema in Mumbai and now they face various  charges under several sections of the Indian Penal Code including 120B (criminal conspiracy), 153A (promoting enmity between different groups), 298 (intent to wound religious feelings), 384 (extortion), 420 (cheating), 467 (forgery), 468 (forgery for the purpose of cheating), 471 (using as genuine a forged document), and 505 (statements that cause public mischief).
Responding to these allegation, the Jamiat Ulama-i-Hind has refuted them and has declared them to be baseless, and has asserted that it will take  all necessary legal measures to counter such misinformation,  stating that, "We adhere to government regulations, in the Ministry of Commerce & Industry notification, requiring all halal certification bodies to be registered by NABCB (National Accreditation Board for Certification Bodies under Quality Council of India), a milestone that Jamiat Ulama-I-Hind Halal Trust has achieved."
In its press release, the Jamiat further claims that there is a "robust" demand for halal goods globally, and there is an "imperative" for Indian companies to obtain such Certification, a fact endorsed by our Ministry of Commerce, Government of India (refer to Ministry of Commerce Trade notification no. 25/2022-23)."
#Clarification on #HalalCertification

New Delhi November 18, 2023
In light of recent misleading information circulating through various media outlets and an FIR lodged in Hazratgunj, Lucknow, regarding Halal Products and Certification services, Jamiat Ulama-I-Hind Halal Trust,… pic.twitter.com/Lnzvai8rN1

— Jamiat Ulama-i-Hind (@JamiatUlama_in) November 18, 2023
Similarly, according to The Wire, Mufti Habeeb Yusuf Qasmi, the president of the Halal Council of India has refuted the claim that companies providing halal certificates are serving communal interests.
Qasmi asserted, "This is absolutely false. Venky's, Zorabian, and Godrej (companies that are certified by the Halal Council of India) are all run by non-Muslims." and has asserted that Halal certification has, in fact, proven beneficial for the businesses of non-Muslim companies.
It must be of note that animosity against dietary preferences of Muslims has been seen widely. Several organisations, linked to right-wing groups, have campaigned for the "boycott" of Halal goods in several parts of the country.
Related:
Criminals in costume: impersonating as Muslims when committing crimes is a rising trend
BJP lifts suspension on T. Raja Singh, a frequent hate offender, gives him a ticket: Telangana
Anti-Dalit violence emerges in the first half of November in alarming numbers