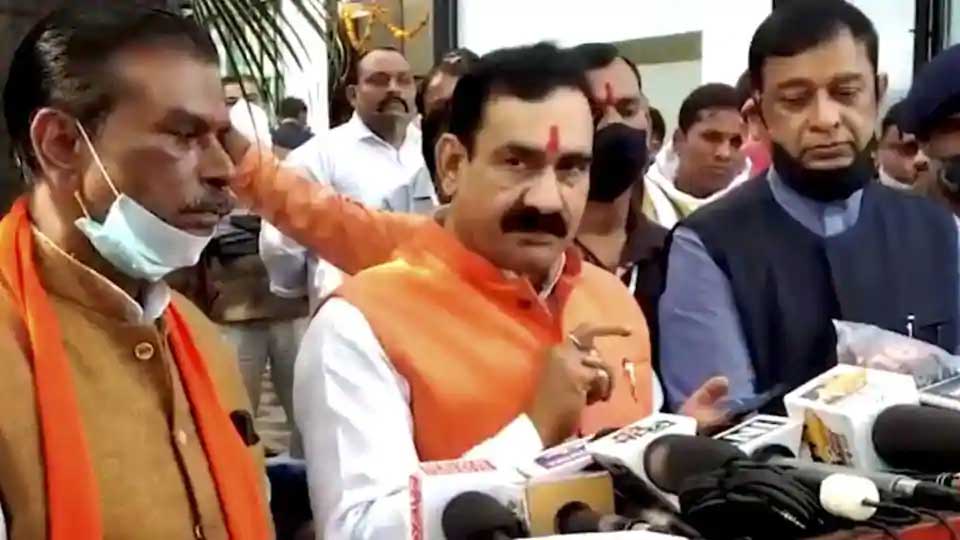 Today, December 28, marks one month of the Uttar Pradesh Prohibition of Unlawful Conversion of Religion Ordinance. The law that provides for imprisonment of up to 10 years and a maximum fine of rupees fifty thousand, making unlawful conversions a cognisable and non-bailable offence, was promulgated by the Governor of Uttar Pradesh Anandiben Patel on November 28.
Since its notification, the Uttar Pradesh Police have not wasted a single day as they have made more than one arrest a day, apprehending some 35 people so far, registering nearly a dozen FIRs, as reported by FirstPost.
According to media reports, eight arrests were made from Etah, seven from Sitapur, four from Greater Noida, three each from Shahjahanpur and Azamgarh, two each from Moradabad, Muzaffarnagar, Bijnor and Kannauj, one each from Bareilly and Hardoi and three from Azamgarh.
21-year-old Owais Ahmad was the first to be arrested from Richha railway gate in the Bahedi area on December 2. He was produced before a local court and was sent to 14 days judicial custody. He was booked under sections 3 (prevents religious conversions by misrepresentation, force, fraud, undue influence, coercion, allurement or marriage) and 5 (penalises any kind of conversion by way of allurement or due to coercion or fraudulent means) of the impugned law.
The police pursued this case following a complaint of Tikaram Rathore, the father of a 20-year-girl and resident of Sharif Nagar village in Bareilly. He had alleged that Owais Ahmad had become friends with his daughter and was trying to "coax, coerce and lure" her to convert, as per the media. But Ahmad denied all allegations while talking to ThePrint and said, "I have no link with the woman, she got married a year back. I am innocent."
The Lucknow Police, cracking the whip, trespassed into a wedding ceremony between a 22-year-old Hindu woman and a 24-year-old Muslim man, wrongfully citing the new law on December 4. This incident revealed the cracks in the law that was going to see possible arrests and FIR's as a harassment tactic.
The complaint in this case was filed by the Hindu Yuva Vahini whereas section 4 of the ordinance provides that complaints of unlawful conversion can be filed only by the aggrieved person or his/her kin. There was also no conversion in this case to approach the District Magistrate for consent as laid down in section 8 and 9. Hence, not only was section 3 (prohibition of unlawful conversion) not applicable in this case, but there was also no requirement to involve the District Magistrate as the police claimed.
In Muzaffarnagar district, one Nadeem was arrested on December 6 for allegedly trying to take undue advantage of a woman persuading her to change her religion so that he may marry her. However, he got a reprieve when the Allahabad High Court directed the police not to take any coercive action against him, upholding the right to privacy.
The court also noted that the victim is admittedly an adult who understands her well-being and consequences of their alleged relationship and that the FIR against him was registered on mere suspicion.
Two brothers named Rashid and Salim were arrested on December 5, soon after they visited the registrar's office in Moradabad to get Rashid's marriage to a Hindu woman, named Pinki (now Muskan Jahan) registered, after her family filed a complaint at Kanth police station in Moradabad district.
However, taking into account the fact that the Police did not find any evidence against Rashid and that Pinki denied the allegations of forceful conversion by Rashid and his brother, the Court of Chief Judicial Magistrate found that "it is not in the interest of Justice to keep Rashid and Salim in the District Jail", reported LiveLaw. Subsequently, they were released on December 19 only to find out that Pinky had suffered a miscarriage during her stay at the shelter home.
While talking to the media, Pinki alleged: "They took me to the nari niketan on December 5 at 2.30 AM. I was tortured there. For three days… I got sudden stomach pains and they did not take me to the doctor… later when my condition deteriorated, they took me to the hospital where the doctors gave me an injection. After that I started bleeding profusely. I went to make a statement in court and I felt sicker… I miscarried… my ultrasound was ok earlier… I want the law to reunite me with my husband… I want them to release my brother-in-law also.."
Although Moradabad district officials denied that Pinki had a miscarriage, as per the report of The Print, her ultrasound report, said that her "uterus is bulky" and has "RPC (Retained product of conception)/blood clots in UT", suggesting that she was pregnant and had a miscarriage. A medical expert in the State also told ThePrint: "The report shows that she was pregnant and there was a miscarriage. She still has a part of the foetus in her body, which would have to be cleaned by a procedure."
38-year-old Shabab Khan alias Rahul, who is married, was picked up in Mau district on December 3 and 13 of his accomplices were booked for allegedly abducting a 27-year-old woman on the eve of her wedding on November 30 with an intent to change her religion. In Bijnor, a 22-year-old labourer Afzal was arrested on December 12 for allegedly kidnapping a girl from her residence, according to The Indian Express.
FirstPost reported that a 19-year-old woman lodged an FIR with Shahabad police station in Hardoi district on December 11 alleging that she was raped on the pretext of marriage and also pressured to convert by one Mohammed Azad. She also claimed that Azad was trying to sell her in Delhi. He has been booked under the Prohibition of Unlawful Conversion of Religion Law and also under relevant sections of the IPC concerning rape and trafficking. He was detained on December 16.
On December 20, the Police arrested three men in Deedarganj area of Azamgarh identified as Bal Chand Jaiswal, Gopal Prajapati and Neeraj Kumar for allegedly trying to convert a family to Christianity. The police claimed that they were holding a prayer at the house of one Tribhuvan Yadav on December 20.
Despite a dozen FIRs and close to 35 arrests, the courts have not taken coercive action against any alleged accused based on lack of evidence.
Related:
Allahabad HC protects man booked under UP 'love jihad' law
They tortured me, gave me injections, I fear I have miscarried: Pinki, victim of anti 'Love Jihad' law
UP: 3 arrested for alleged attempt to forceful conversion to Christianity
UP: 'Love Jihad' law catches pace, 2 cases registered in Bareilly