With elections in Maharashtra just a week away, members of the civil society have prepared a manifesto with urban livelihood issues like housing, jobs, migration, sanitation, safe drinking water, etc at the centre of their attention. The manifesto, which has been endorsed by all major political parties contesting the elections, asks citizens to only vote for parties that pay attention to these important issues.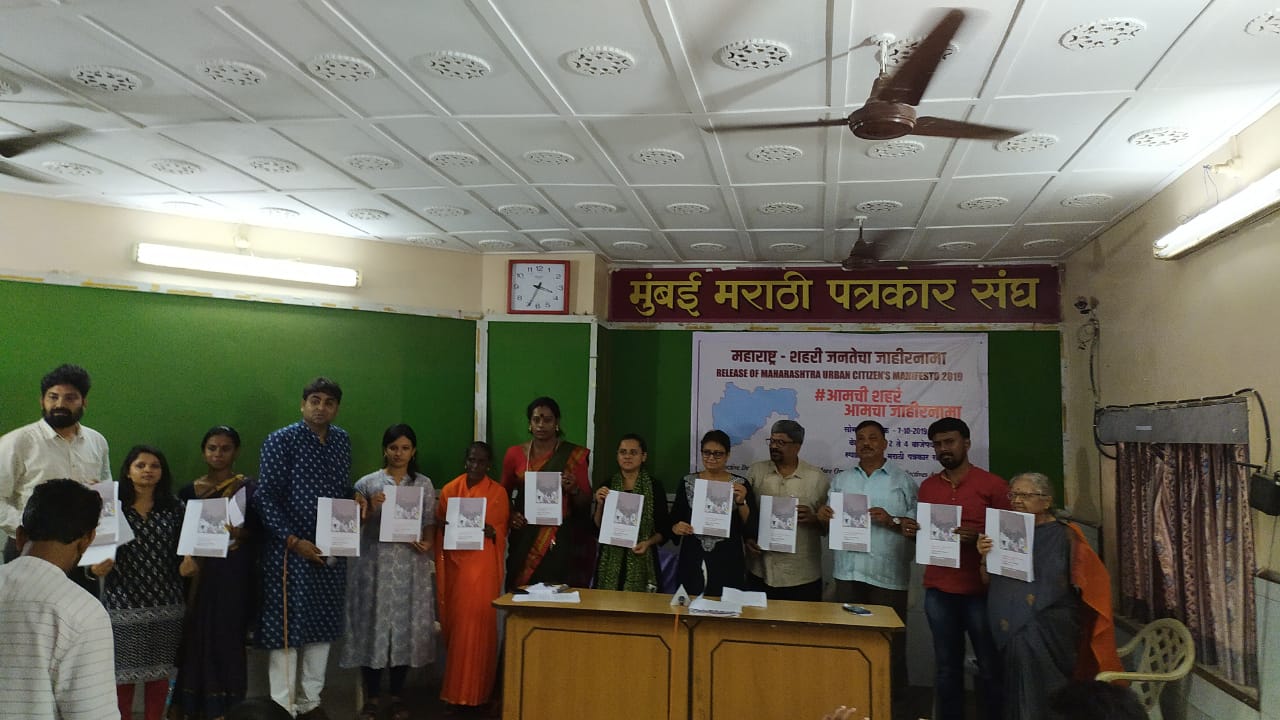 Maharashtra has the largest population of slum dwellers (1.1 crore, with over 2.1 lakh homeless people) and a massive informal workforce which contributes more than 80 per cent to the economy. However, past governments have failed to safeguard the interest of the urban poor, thereby necessitating the demand for such a manifesto.
Civil society members, collectives, networks across Maharashtra and others gathered at the Marathi Patrakar Sangh, Mumbai and took the oath to push these demands for the Maharashtra Assembly elections 2019.
Evita, a member of the National Coalition for Inclusive and Sustainable Urbanization, told TwoCircles.net that all major political parties including Shiv Sena, Aam Aadmi Party, Vanchit Bahujan Agaadi, the Bharatiya Janata Party, and the Republican Party of India had endorsed the manifesto. "This is a collective of 40+ organisation working on inclusive and just cities. The focus of urban cant be only building flyovers, bullet trains and cut down thousands of trees and evict people, take away their livelihood and push them to corners of the city – where they will probably have no access to the city, no claim to the city," she said.
"This manifesto looks at the larger image of sustainable and just cities. The manifesto captures many lenses of urban issues but centring around urban poor, Dalits, Adivasis and their demand and right to the city to be ensured," she added.
Evita mentioned that the collective went across building momentum in the political discourse, discussing and explaining to them why do we need this. "All the parties have shown agreement to the demands mentioned and provided assurance. However, a lot would depend on when they publish their manifesto," she added.
The manifesto address issues under various categories and enlists solutions to the same. Here are some of the suggestions which are mentioned in the manifesto:
Financial Powers to be given to Urban Local Governments (ULG): Ensuring Re-municipalisation and devolution of 8 functions and functionaries. Affordable, adequate, and timely supply of potable water must be made available in all workers' colonies irrespective of their domicile status.
Housing rights: Affordable housing in different forms like working women's hostel, student hostels, affordable housing and rental housing must be adequately constructed in the city. Provision of facility centres (for example Aadhaar Kendra in Mumbai) must be ensured.
Transgender rights: Implementation of the Nalsa Judgement, sensitisation programs, housing facilities as well as pension policies, Transgender Welfare Board.
Youth rights: Effective implementation of the Maharashtra Youth Policy along by spreading awareness among the youth. An independent ministry for youth affairs must be set up.
Rights of the homeless: Housing rights under government housing policy. Need for state-level homeless shelter be built following NULM guidelines and Supreme Court guidelines.
Rights of informal sector workers: Payment of minimum wages must be guaranteed with minimum wages to be not less than Rs 18, 000 per month which is to be set as the floor wage per month with additional provisions of indexation. State Social Security Fund [SSSF] must be immediately constituted for providing social security benefits under the Unorganised Workers Social Security Act, 2008 [UWSSA 2008] and at least 5% of State GDP to be allocated for creating a contingency fund to ensure effective implementation of UWSSA.
Rights of the waste pickers: Urgent need to change the planning norms as per the directions in the SWM 2016 and amend the master plans in the cities for securing places of work, solid waste management of the waste pickers.
Civil societies have released similar manifestos in the past including one manifesto just before national elections. Speaking on the impact, Evita said, "The Delhi government has initiated and asked us to conduct studies on the migrant working hostel. Also, the initial stage of conducting a land study and understanding the possibilities of providing land pattas has been initiated in Delhi by the state government. These things take place with the advocacy efforts initiated and the conversations with Delhi government shows that there is some sort of movement happening."
Courtesy: Two Circle