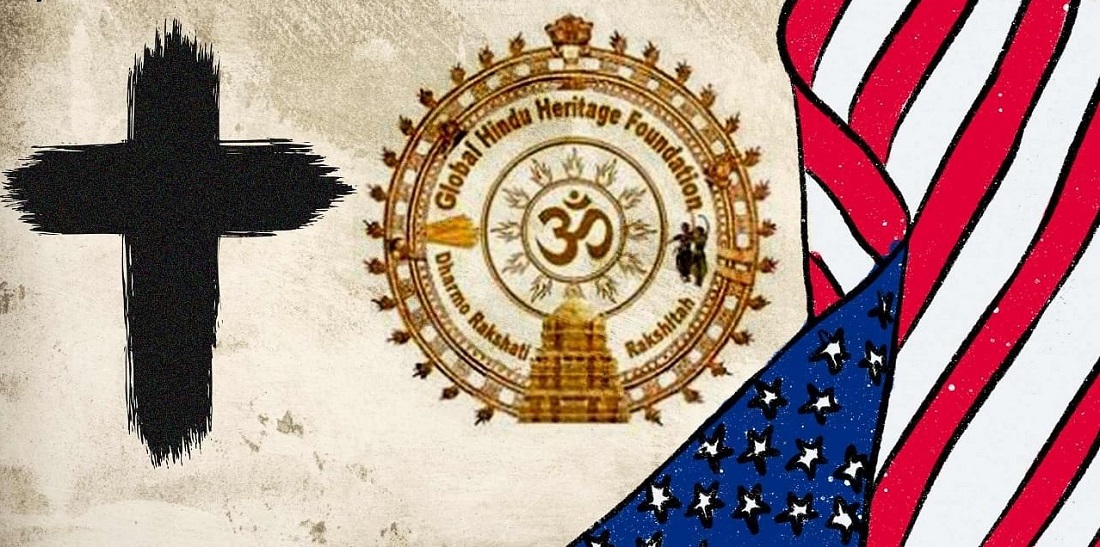 Image courtesy: The Quint

The Global Hindu Heritage Foundation (GHHF), a Hindutva group in Frisco, Texas in USA held a fundraiser for "demolition of illegal churches" in Tirupati, Andhra Pradesh, among other things.
The agenda for this fundraiser Gala which was held on November 27 was Ghar Wapasi, Bala Samskar Kendras – Sunday Schools, Renovation of Grama Devatas, Annadanam in India, Karthika Masa Puja kit Distribution, Demolition of Illegal Churches in Tirupati, Gaushalas, Oxygen Concentrators & Ventilators, Free Meals served to First Responders in Dallas Metropolitan cities (sic). The event was called "GHHF: Gala Dinner, Annual Fundraiser & Volunteer Appreciation Day"
GHHF president Prakasarao Velagapudi told the Quint that the event did take place however no money was raised and only the topics on the agenda were discussed. He refused to divulge details of its guest list.
Outrage in the US
Following the event, 14 civil rights and faith-based organisations in the United States have written to the members of US Congress, the two US Senators from Texas, Frisco Mayor Jeff Cheney, and Texas Governor Gregg Abbott, demanding a probe into the Hindutva outfit, reported the Quint. The Federation of Indian American Christian Organizations in North America (FIACONA), the Indian American Muslim Council (IAMC), and Genocide Watch, among others, expressed deep concerns about the fundraiser in a letter to Texas' elected representatives. They have sought immediate investigative and legal action against the Global Hindu Heritage Foundation "for violating its 501c3 status by funding hate and enabling violence against religious minorities in India."
Even The Alliance to Save and Protect America from Religious Extremist Infiltration demanded that "the 501c3 status of an organization that clearly seems to be funneling its funds to India to support persecution of minorities should not only be revoked, but they should openly be investigated for misappropriation of these funds," reported Muslim Mirror.
Frisco City Council
Pieter Friedrich, a freelance journalist in Texas had posted on his Twitter account about this fundraiser. At the City council meeting held in Frisco, Friedrich gave a detailed account of incidents of violence and hatred aimed at Christians in various parts of India over the years by Hindutva organizations. In his address to the city council he said "India has become hell for Indian Christians and Muslims".
in his address, he also highlighted that December 6 was the 30th anniversary of the Bari Masjid demolition. He said, "demolition of Indian churches will similarly (the aftermath of Babri masjid demolition) spark bloodshed and yet a Frisco outfit is raising money to support such demolitions. The agenda of the Global Hindu Heritage Foundation will almost certainly contribute to persecution of Christians in India"
He urged the Frisco city council to "have the courage to proclaim the GHHF's hateful agenda has no place in Frisco, in Texas, in America or in the world. If you demonstrate such courage and conviction in standing up to the principles of justice and religious freedom, the city of Frisco could potentially have a real world impact to uplift the suffering and bleeding of minority Christians and Muslims in India.
On 6 December, 100s packed @CityOfFriscoTx city hall to warn that Global Hindu Heritage Foundation, a nonprofit based in Frisco, is openly fundraising to support the demolition of churches in India at a time when Indian Christians are falling under the knife day by day by day. pic.twitter.com/7Vocu1A8Uk

— Pieter Friedrich (@FriedrichPieter) December 7, 2022
Tirupati Municipal Corporation intimated
A quick scan of the GHHF's Facebook page shows its activities in India and makes no mention of this fundraiser held in the US. However, there was a picture of a letter written by Tirupati Urban Development Authority (TUDA) to the Tirupati Municipal Corporation (TMC) stating that it received a letter from GHHF claiming that "several churches were constructed unlawfully and operating in temple town of Tirupati without valid permission or license". It said that GHHF also gave a list fo 12 such churches to TUDA. The TUDA thus requested TMC to "take necessary action on the unauthorized constructions/churches" in Tirupati. This letter is dated July 23, 2022. Clearly, this agenda of raising funds for church demolitions succeeded, this intimation to TMC.
As per its website, GHHF aims to "protect, preserve, promote, and maintain Hindu culture" and temples globally. Siasat reported that the GHHF which operates in Andhra Pradesh via its sister organisation Hindu Devalaya Parirakshana Samiti, claimed to have done 'ghar wapsi' of 5 christians and Muslims in Assam. In December 2020, GHHF claimed the conversion of 200 Christians to Hinduism. Earlier this year, the group claimed to convert another 57 Christians.
Related:
Hate watch: Christians attacked during Sunday mass in Chhattisgarh; 9 hospitalised
NBDSA: Complaint filed against Times Now for 'Madrassa Jihad' show
Uttarakhand further amends its 'anti-conversion law, maximum sentence up to 10 years
False allegation of Conversion leads to the continuing Abuse against Christians
Christian Group in Bengaluru Approach the DG of Police to seek protection against targeted violence