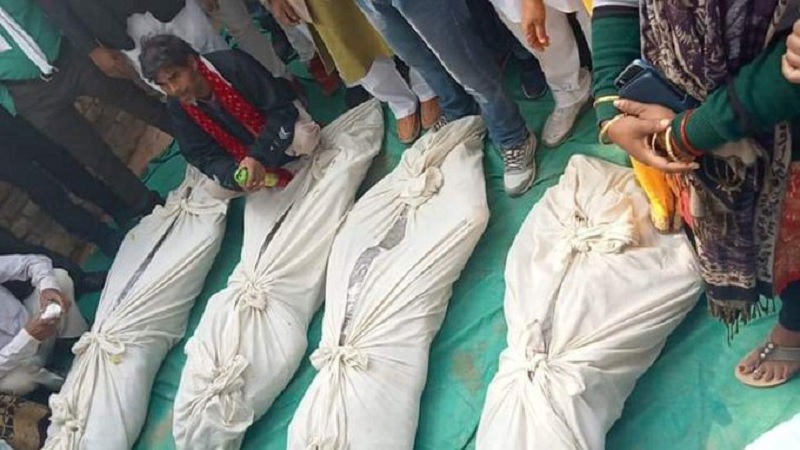 Image Courtesy:twitter.com
Four members of a Dalit family were brutaly murdered in Uttar Pradesh's Prayagraj district's Phaphamau area on Thursday, allegedly over a land dispute. Bodies of the 50-year-old man, his 47-year-old wife, 17-year-old daughter and 10-year-old son, were found on their beds inside their home at Phaphamau on Thursday morning. The vicitms had been attacked with an axe and killed, the teenged girl had allegedly been gang-raped before she was killed.
The incident blew up on Friday as protests by locals alleging police negligence began in the area, and politicians visited the victims' village. According to Sarvashresth Tripathi, deputy inspector general of police, "Deceased family had filed an SC/ST case against some people of the village. The autopsy report suggested that the victims were assaulted with an axe." Eight people have been arrested for questioning.
थाना फाफामऊ क्षेत्र में हुयी घटना के सम्बन्ध में श्रीमान पुलिस उपमहानिरीक्षक/वरिष्ठ पुलिस अधीक्षक प्रयागराज द्वारा दी गयी बाइट।@Uppolice @ADGZonPrayagraj @igrangealld @dgpup @CommissionerPrg pic.twitter.com/9P8kB7DneW

— PRAYAGRAJ POLICE (@prayagraj_pol) November 25, 2021
According to news reports, the murders were reported in the Gohri Mohanganj market of Phaphamau police station area. After the postmortem, their bodies were brought to their residence, tension prevailed in the area and police force was stationed.
We most strongly condemn the brutal killings of four members of a dalit family in Allahabad making Uttar Pradesh under CM Yogi Adityanath a Jungle Raj. #DalitLivesMatter pic.twitter.com/hRjTsUcvpP

— Tribal Army (@TribalArmy) November 26, 2021
By Friday politicians made a beeline for the area. A relative reportedly told the media that "a land dispute and alleged that members of an 'upper-caste' family had issued physical and verbal threats to the Dalit family in the past." Locals also alleged that the "family had approached the police station to lodge an FIR but were rebuffed." However, DIG Tripathi refuted this saying, "The allegation of not taking any action in earlier cases is also alleged by the family of the deceased. Keeping all these in mind, action is being taken, some people have also been taken into custody. An axe was found near their bodies, it looks like they were hit by that axe only."
Police claim that almost all the suspects have been arrested, adding that the victims have already been cremated after they were handed over to the ralives following the post mortem examination on Friday.
#थाना_फाफामऊ क्षेत्रान्तर्गत हुई घटना में की गयी कार्यवाही के सम्बन्ध में श्रीमान् पुलिस उपमहानिरीक्षक/वरिष्ठ पुलिस अधीक्षक महोदय द्वारा दी गयी बाइटः-@Uppolice @dgpup @ADGZonPrayagraj pic.twitter.com/PrU9jLAdPR

— PRAYAGRAJ POLICE (@prayagraj_pol) November 26, 2021
According to news reports, locals have demanded protection to the surviving family, and other residents, including allowance of a gun licence to the next of kin of the deceased's family, as well as adequate compensation. Police registered an FIR based on a complaint by a relative and charged the 11 accused named, for murder and rape under relevant sections of the Indian Penal Code and the Protection of Children from Sexual Offences Act. Police also suspended three policemen, including the station house officer of the local station, for alleged "laxity in connection with the incident".
The matter has not reached the political stage and Congress general secretary Priyanka Gandhi Vadra who met the kin of the victims said, the family is "scared that they may face harassment again". Gandhi told the media that the women in the family were mocked by the police when they went searching for help, and she has accused the administration of negligence and apathy against Dalits, "What happened to Arun Valmiki in Agra, what happened in Hathras and what is happening here? If Dalits are continually being tortured, what is the point of celebrating Constitution Day?" She added that "since 2019, the government machinery has been giving protection to goons."
प्रयागराज में फूलचंद पासी के परिवार के साथ घटी घटना सरकारी सरंक्षण में दलितों के साथ हुआ नरसंहार है।

2019 से सरकार की मशीनरी गुंडों को सरंक्षण देती रही।

भाजपा सरकार किस मुंह से संविधान दिवस मना रही है, जब उसकी कानून की किताब में दलितों के खिलाफ केवल अन्याय है, अत्याचार है। pic.twitter.com/6fRMwtCDhO

— Priyanka Gandhi Vadra (@priyankagandhi) November 26, 2021
Samajwadi party leader Akhilesh Yadav said this incident was a blot on the "anti-Dalit" Bharatiya Janata Party's (BJP).
इलाहाबाद के फाफामऊ में दबंगों के द्वारा 4 दलितों की हत्या दलित विरोधी भाजपा सरकार पर एक और बदनुमा दाग़ है।

घोर निंदनीय!

उम्मीद है ये अपराधी बिना चश्मे के भी दिख जाएँगे…

— Akhilesh Yadav (@yadavakhilesh) November 27, 2021
National President, Bahujan Samaj Party (BSP), and Former Chief Minister of Uttar Pradesh Mayawati however, accused the Bharatiya Janata Party of "following in the footsteps of the SP government" where law and order in the state was concerned.
1. यूपी के प्रयागराज में अभी हाल ही में दबंगों द्वारा एक दलित परिवार के चार लोगों की निर्मम की गई हत्या अति-दुःखद व शर्मनाक। यह घटना भी सरकार की लचर कानून-व्यवस्था को दर्शाती है। ऐसा लगता है कि इस मामलें में भाजपा भी अब सपा सरकार के ही नक्शेकदम पर चल रही है। 1/2

— Mayawati (@Mayawati) November 27, 2021
Uttar Pradesh police and administraion have been under the scanner recently as many have accused them of apathy, and negligence, and excesses leading to deaths, most of the victims have been Dalit or Muslim.
Kasganj: Uttar Pradesh police tried to explain away the death of a man in their custody, as a death by suicide. Kasganj Superintendent of Police Botre Rohan Pramod claimed the man identified as 22-year-old Altaf, went to the washroom inside the lock-up and "there he sought to strangle himself by tying the naada or string of the hood of his jacket to a tap." However, Uttar Pradesh police's claims were dissected to shreds.
Kanpur: A young man died, allegedly of injuries sustained while he was in police custody in Kanpur, Uttar Pradesh. His distraught family turned over his body to show purple bruises on his back, and buttocks. They alleged that the man was allegedly detained by the local police who suspected him to be involved in a case of loot. According to the family, the man was allegedly tortured in custody, and once released he died during treatment. On November 16, Jitendra Srivastava, a 25-year-old resident of Guava garden, Kanpur, was reportedly picked up by the local police on suspicion of his involvement in a theft. According to the family, when he was released from police custody, a badly bruised Jitendra had said he was in a lot of pain. The family says he breathed his last even before they could get him proper medical treatment.
Agra: In October a sanitation worker identified as Arun Valmiki had died in police custody at Agra, reportedly during interrogation. He had been accused of stealing Rs 25 lakh from the Jagdishpura police station. According to Senior Superintendent of Police (Agra) Muniraj G, Arun Valmiki fell ill "suddenly" and was taken to a hospital where doctors declared him dead. Arun was accused of stealing the money from a storage house at the police station, where confiscated items are kept, he worked as a cleaner there. However, Arun's family filed a complaint in connection with his death and members of the Valmiki community gathered at Arun's house and demanded a fair probe into his death.
Related:
Noida hate crime survivor approaches SC seeking fair investigation
Hindutva group tries to evoke 'love jihad' bogey in Kasganj case
Uttar Pradesh: Young man dies on return from police questioning, family alleges torture
UP: Muslim man accused of kidnapping Hindu girl dies in police custody
Inquiry into rights violations by UP police during 2019 anti-CAA protests: NHRC
UP: NHRC sets up inquiry in minor boy's death by suicide after spending 3 months in jail
Anti-Muslim hate on streets: Vendors beaten, forced to chant Jai Sri Ram, boycotted, dargah desecrated
UP: Siddharthnagar SC students waiting for a functional hostel for 11 years!