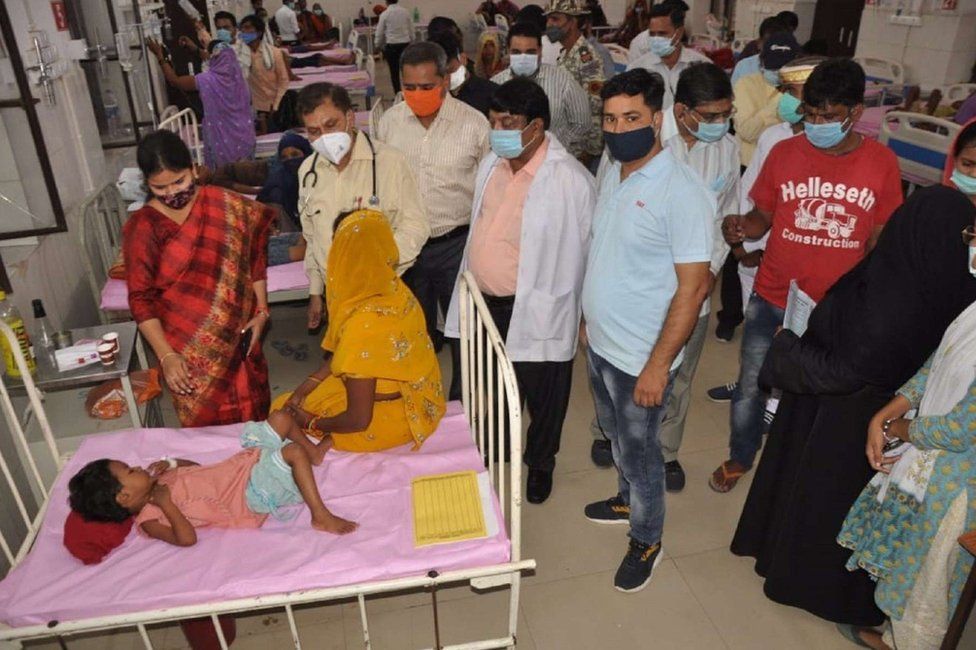 Political and social outrage is all but missing even as reports of deaths from Uttar Pradesh due to incidents caused by incessant rains, and the on-going dengue and viral fever surge are coming in on a regular basis.
On Friday, 12 more people died due to rain related wall and house collapse incidents. These deaths have pushed the death toll due to heavy rain to 24. The crisis is far from over as according to news reports more showers are likely to lash areas of in eastern and western Uttar Pradesh on Saturday and Sunday. Wall and house collapses were reported from Chitrakoot, Pratapgarh, Amethi and Sultanpur districts and 12 more people died, officials told the media on Friday.
On the on-going crisis brought on by the incessant rain, the Uttar Pradesh Chief Minister Adityanath posted the obvious on social media telling UP residents that "it is raining heavily in the state at present. Incidents like waterlogging, breaking of trees etc. have also been reported at many places." He added that, "All educational institutions have been closed for two days" and relief and rescue operations were on, signing off asking people to "be careful. Take care of children, elders and yourself." The onus it seems is once again on the people.
प्रदेश में इस समय भारी वर्षा हो रही है। कई स्थानों पर जलभराव, पेड़ टूटने आदि घटनाएं भी सामने आई हैं।

सभी शिक्षण संस्थानों को दो दिनों के लिए बंद किया गया है।@UPGovt द्वारा राहत व बचाव कार्य संचालित किए जा रहे हैं।

आप सभी सावधान रहें। बच्चों, बुजुर्गों व अपना ख्याल रखें।

— Yogi Adityanath (@myogiadityanath) September 17, 2021
कानपुर एवं आगरा मेट्रो की प्रथम प्रोटोटाइप ट्रेन का वर्चुअल अनावरण करते #UPCM श्री @myogiadityanath जी@OfficialUPMetro pic.twitter.com/eN2NXF1yar

— CM Office, GoUP (@CMOfficeUP) September 18, 2021
The opposition parties, now gearing up for the state elections 2022, have also been rather slow on the uptake. Instead of protesting and speaking up for the people before it's too late, some light critique has been lobbed at the CM mocking him. Case in point was the Congress: "Health system of so called smart state of so called best chief minister Emergency Ward Lohia Hospital Lucknow"
तथाकथित सर्वश्रेष्ठ मुख्यमंत्री के तथाकथित स्मार्ट प्रदेश की स्वास्थ्य व्यवस्था

इमरजेंसी वार्ड लोहिया अस्पताल लखनऊ pic.twitter.com/kTXvM6spgV

— UP Congress (@INCUttarPradesh) September 16, 2021
The rain clogged streets were used in a taunt by the Samajwadi Party too, which said: "river of development" flowing in the streets of Ayodhya! From the Municipal Corporation to the Central Government, the BJP government in Uttar Pradesh is "triple engine", yet in the tenure of four and a half years, Ayodhya is helpless due to waterlogging! People will give an answer to those who spread false propaganda in the name of development.
अयोध्या की सड़कों में बह रहा "विकास का दरिया"!

नगर निगम से लेकर केंद्र सरकार तक उत्तर प्रदेश में " ट्रिपल इंजन" भाजपा सरकार, फिर भी साढ़े चार वर्ष के कार्यकाल में अयोध्या जलभराव से लाचार!

विकास के नाम पर झूठा प्रचार करने वालों को जनता देगी जवाब। pic.twitter.com/xYqhH2HPo7

— Samajwadi Party (@samajwadiparty) September 18, 2021
Cases of high fever, deaths on the rise
Uttar Pradesh's second health crisis has been marked by the outbreak of serious bacterial and viral infections leading to high fever that have reportedly killed over a 100 people already this month. Uttar Pradesh's Health Minister Jai Pratap Singh had recently told the media that most cases were of "dengue", and also cases of "leptospirosis, scrub typhus, and malaria. Singh reportedly said that "the dengue cases were due to a virulent strain called D2, which has been detected in some of the state's districts in a sample survey carried out by a team of the Indian Council of Medical Research." He said that "this is a different strain as compared to the regular strain of dengue and there is a need to be careful".
Firozabad district in the spotlight
Firozabad district has been in the spotlight due to steadily rising numbers of deaths due to Dengue, which includes symptoms like fever, chills, body ache, headache, dehydration, rapid decline in platelet count and stomach ache. The virus is spread due to mosquito bites, and many of the victims in UP have been young children. Hundreds have reportedly shown symptoms of the disease. While the state government did send doctors from Lucknow to Firozabad Medical College to add to the man-power and ease distress in the overwhelmed health system, there seems to be little done at a war footing to arrest the spread before it gets out of hand.
Utkarsh Singh, a senior health official in UP's Firozabad, told the media that the district's main hospital has recorded more than 1,200 cases of fever linked to the outbreak since Aug. 30. The hospital was forced to use "facilities that were reserved for COVID-19 cases" as the most young of them children were suffering from high fever. According to news reports, the health system in Lucknow, has also been strained as the cases surge.
Dainik bhaskar reported that on Friday, 219 new dengue patients were found in the state, out of this, 21 patients were found in Lucknow. A child succumbed during treatment and many more were testing positive for dengue, and mosquito larvae had also been found in water samples taken from scores of houses in lucknow.
Ironically, it was in June that CM Adityanath had asserted that his "government is prepared for the next wave of the Covid-19 pandemic". Uttar Pradesh is now reeling under the fever outbreak even before the third wave has arrived. Now, as reported by The Wire, the CM was in Firozabad, where the number of children's deaths reportedly has crossed 100 children, but he spent just a few minutes with the dengue affected families.
This year, Uttar Pradesh has reported 1,069 dengue cases to the National Vector Borne Disease Control Programme, the central government's nodal agency on vector borne diseases, stated a report in The Scroll, however, "it has not reported a single death caused by dengue." According to the reports, officials who were not named suspect "at least 100 people have died of dengue across the state" and said the official stand of "zero dengue deaths" was a reflection of "poor disease surveillance in Uttar Pradesh". Like it was seen during the Covid second wave that all but crushed the health infrastructure in UP, and across India, in dengue too only those "who were tested and confirmed to be infected with dengue before they died is officially counted as dengue deaths." According to the news report, some officials of the National Vector Borne Disease Control Programme suspect that "Uttar Pradesh is underreporting its dengue cases due to limited testing."
UP is not the only state dealing with dengue
According to a report in Zeenews, Madhya Pradesh, has also reported nearly 3000 fever cases so far. To curb spread of dengue, the town of Jabalpur has reportedly ordered a ban on air coolers. It has been reported that the admission rate of dengue patients in hospitals was around 20 per cent. The state's programme officer for control of vector-borne diseases Dr Himanshu Jayswar told the media that Jabalpur has reported 325, the second highest dengue cases since January 1, and that other cases were reported from the state capital Bhopal, industrial hub Indore, Agar Malwa, Ratlam districts and other places. According to news reports medical teams and squads of civic bodies are now visiting dengue-prone areas across the state.
In May-June 2021, as part of its nationwide survey on the overall health situation in various states given the governance collapse during the second surge of the Covid-19 pandemic, Citizens for Justice and Peace (CJP) had found that UP had fared among the worst.
CJP's report titled "Covid-19: Which states fared worst and why? Examining the role of misplaced priorities and poor planning" said:
"The state has recorded over 16.8 lakh cases and over 19,500 deaths as of May 24. Mathematicians and date management experts worldwide have projected that India's deaths could well be three-five times higher than officially admitted figures.
According to the latest budget released by the State of Uttar Pradesh, Rs 5,395 crores has been allocated towards National Rural Health Mission and Rs 1,300 crores has been allocated to Ayushman Bharat Yojana. The revised budget towards the Health and Family Welfare department was Rs.20,582 crores in the year 2020 to 2021 and Rs. 32,009 crores in the financial year 2021 to 2022.
A state with the highest percentage of rural population, with approximately over 15 crore people, constituting 18.62 percent of the country's rural population, has only 2,936 PHCs. According to PRS Legislative Research, in 2020 to 21, payment towards salaries and pension decreased by 20 per cent. The estimated budget was Rs. 1,36,988 crores and the revised amount fell to Rs. 1,09,914 crores.
At the Jhansi Medical College in Uttar Pradesh, the nursing staff had not received their salary for seven months leading to boycotts and strikes.
Acccording to the CJP analysis:
"On May 11, when the High Court continued to hear the suo motu matter on Covid management and through the government's affidavit it found that:
-the proper procurement and supply of the life savings drugs/ life support systems like BiPaP machines and High Flow Nasal Cannula Masks have not been made available to the various hospitals
number of testing has been reduced gradually

details regarding oxygen production in the State qua 22 hospitals have not been given

the availability of ambulances with advance life support system is also very less considering the number of districts in the State

100 is allocated per patient in Level-1 category hospital despite knowing that Covid patients need highly nutritious food of about 2100 calories in a day

No details have been given regarding Level-2 and Level-3 hospitals."
Now, with the outbreak of Dengue and other diseases, the systemic failure in UP surfaces, again.
Related
Allahabad HC stays second suspension order against Dr. Kafeel Khan
Dengue spreads in UP: Lucknow medical team arrives in Firozabad
Maharashtra: Is setting up medical institutes under public-private partnership a good route?
UP: 103 Covid warriors dead, only 41 families compensated