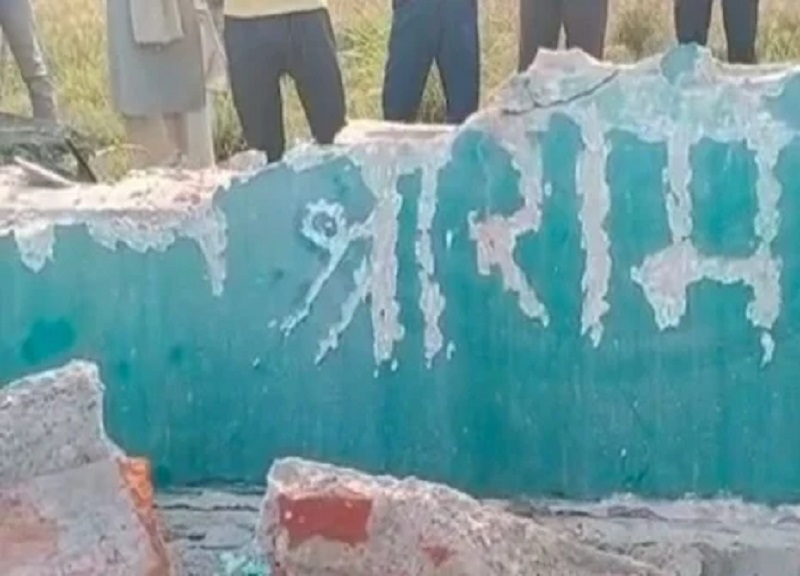 A Muslim tomb dedicated as a dargah or shrine of a pir or holy man named Syed Baba revered in the Bindki area of Fatehpur, Uttar Pradesh was vandalised and desecrated even as the town prepared to celebrate both Holi and Shab-e-Barat. The vandals broke the shrine and scratched 'Jai Shri Ram' on it. According to a report in The Bhaskar the shrine is said to be "hundreds of years old" by the locals.
The vandalism occurred in the Rewari Buzurg area that is under Kalyanpur police station in Fatehpur district of Uttar Pradesh. The locals discovered that the revered Syed Baba's tomb had been vandalised at night.
Locals told the media that such a move seemed to have been aimed at creating communal unrest and spoiling the fraternal atmosphere on a day where both Holi and Shab-e-Barat were to be observed and celebrated in a happy coincidence.
Locals gathered and informed the authorities who soon started the damage repair and restoration of the tomb, stated the news report. According to The Bhasker report, police force from several police stations, including the jurisdictional officer Yogendra Malik, reached the spot. The police told the media that this vandalism was an attempt by anarchists to create communal tension on the day of the festivals.
This is the second incident of vandalism at a Muslim shrine by communal elements, reported this month. A few days ago in Narmadapuram, Hoshangabad district, Madhya Pradesh, a 50-year-old Muslim shrine or Dargah was vandalised, and then painted in saffron by unidentified men. Here too the vandals struck at night. The dargah is located around 40 km from Narmadapuram on state highway-22, and its caretaker Abdul Sattar told the media that a few local youths from the village informed him at around 6 A.M that the shrine had been painted saffron. He then rushed to the spot. "After reaching, we realised that the wooden doors of the shrine were broken open and dumped in Maru river. Not only the minaret, but also the tomb and the entrance were coated in saffron paint. Furthermore, the hand pump inside the shrine compound was also uprooted," he was quoted by the Indian Express.
Related
Madhya Pradesh: 50-year-old Muslim dargah vandalised, painted saffron!
Aland Dargah appropriation: Why were only Muslims arrested?
Pirana: Attempts to erase the history of the 600-year-old dargah?
Exclusionary urban planning of Bombay Hotel area, Ahmedabad, has created class, religious inequities