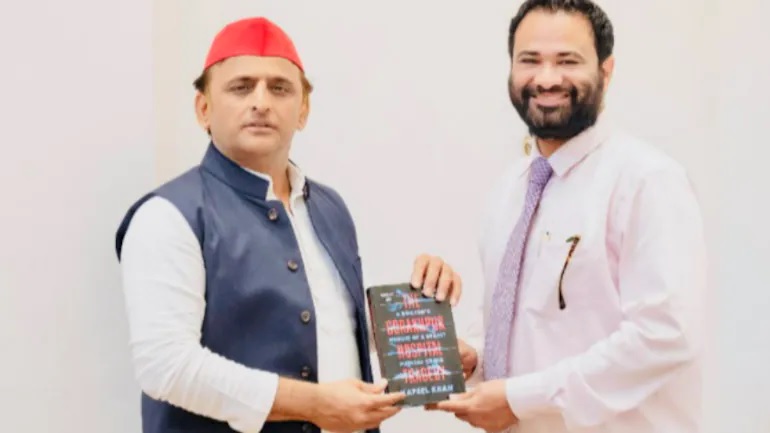 "I am m going to a make a fresh beginning" said paediatrician and activist, Dr Kafeel Khan greeting people on Holi and Shab-e-barat, seeking prayers and wishes of his supporters as he takes the first steps into politics as the Samajwadi Party candidate for Uttar Pradesh's MLC elections from Devariya-Kushinagar seat. The elections are due to be held on April 9 and Dr Khan reached out to the public in a video message posted on twitter. He recalled that it was in August 2017 that the first major turn came in his life, referring to BRD Hospital tragedy, after which his life changed forever and the many ups and downs he has faced since them "bahut time aisa laga hi himmat toot jayegi (there were moments that seemed that one would lose courage), but it was due to your prayer that I stayed alive and continued the struggle. I do not have a job today, but I have the conviction to help and serve people. A lot of people may like my decision and as many may dislike it. To people I want to say, even if i win, I will remain a doctor, I will not forget the talent Allah has given me. To those who do not agree with my decision, I ask you to support me and pray for my victory on April 9".
ज़िंदगी की एक नयी शुरुआत करने जा रहा ?
आप सब के साथ और दुआओं की ज़रूरत है ? pic.twitter.com/yA8fpBQt2c

— Dr Kafeel Khan (@drkafeelkhan) March 18, 2022
The Samajwadi Party declared him its candidate for the upcoming Uttar Pradesh Legislative Council elections from the Devariya-Kushinagar seat which was won by SP's Ramavadh Yadav in 2016. Uttar Pradesh Legislative Council elections will be held in 35 local bodies on April 9, the votes will be counted on April 12.
This is the first election for paediatrician Dr Kafeel Khan who in 2017 was accused of being responsible for the death of several children on the intervening night of August 10 and 11, that year. These tragic deaths were reportedly caused because the state-run Baba Raghav Das (BRD) Medical College Hospital ran out of oxygen on the fateful night. The young victims were being treated in the encephalitis ward, and died within a span of 48 hours. Dr Khan had met SP chief Akhilesh Yadav at the party office in Lucknow on Tuesday where he presented a copy of his book – The Gorakhpur Hospital Tragedy.
In November 2021 Dr Kafeel Khan announced that he has been sacked by the Uttar Pradesh state government, and that he will wait for the official orders and then challenge it in court. According to Dr Khan this action of the government of UP came even after he got a "clean chit from a court". While addressing the media in November, he had said, "The (UP) government has claimed there are four allegations against me. They have upheld three of those and exonerated me in the case of medical negligence…. Even the court has observed that I tried my best to save lives." Soon after the suspension, he in a video statement had said, "On August 6, 2021, the government had submitted to the court that the second inquiry against me had been quashed. The high court had stayed the suspension order in the Bahraich case. Even after all this, I have got the news that I have been dismissed." He had clarified that the children died because the government had failed to pay the dues of the oxygen supplier of over Rs. 68 lakhs.
In February the Allahabad High Court issued a notice in the plea filed by Dr Kafeel Khan against the termination of his employment at the BRD medical College.
Soon after his first incarceration in 2017, and before he was arrested again, a three part interview with Dr Kafeel Khan through a spotlight on the pathetic state of public health in Uttar Pradesh as also the treatment he had to suffer as an activist, and a Muslim in Up jails.
Watch these interviews here
Dr. Kafeel Khan Uncut with Teesta Setalvad
Related
Allahabad HC seeks govt response in Dr Kafeel Khan's plea against his termination
Never-the-less, they persisted: Human Rights Heroes of 2021
Will go so court to challenge sacking: Doctor Kafeel Khan
UP: After mystery viral, diarrhoea cases put Azamgarh hospitals under stress
Uttar Pradesh: Any neta taking notice of recent dengue, rain related deaths?
Allahabad HC stays second suspension order against Dr. Kafeel Khan