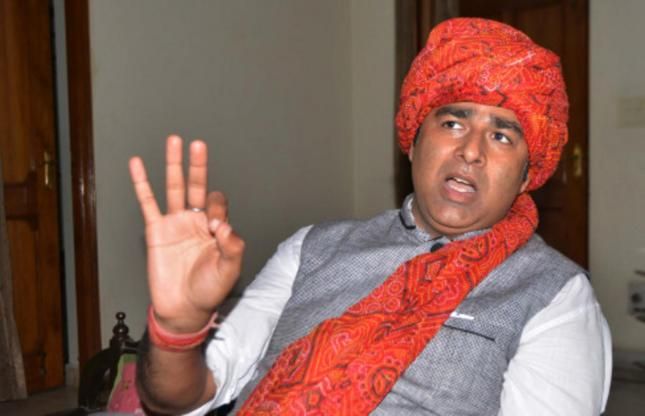 Bharatiya Janata Party's Sangeet Som was among the key accused in Muzaffarnagar 2013 riots. He was in the news recently after his defeat from Sardhana, Meerut. Sangeet Som was defeated by Samajwadi Party's Atul Pradhan who won with a massive 18,160 margin.
It is for the first time that SP has won from this constituency, and according to ground reports, Muslims, Gurjars and Jats all voted against the BJP and in favour of Atul Pradhan. Som had hoped for a win after the March 2021 withdrawal of cases against Som and other BJP members, allowed by a Muzaffarnagar court. The court accepted the closure report filed by the Special Investigation Team (SIT) in the case of BJP MLA Sangeet Som's controversial statement with respect to an inflammatory video ahead of the communal riots in the area, in 2013.
However the people of Sardhana rejected his hate speech. Som, now sounds like an enraged man. According to Amar Ujjala, the former MLA was back in the constituency and during a speech said, "Baba's [as CM Adityanath is called by his fans] bulldozer and Sangeet Som's stick will both work." Sangeet Som reportedly added that the supporters of Samajwadi Party "should not be under any misgivings" and that "once the oath is taken, then Baba's bulldozer will also work and Sangeet Som's stick will also work."
According to the news report, Som also mentioned how "some people" of the area had been "influenced by other ideology," and agreed to vote against him. He then "advised" them "to introspect". The report added that Som told his supporters to "just wait for my message and stand united in one voice."
While Som addressed his supporters on Sunday, by Monday a clash between two groups who have an old "election related rivalry" was reported from the Jaffrabad Durveshpur village of Sardhana in Meerut, Uttar Pradesh. Not directly related to Som's speech, the rivalry is reportedly over a year old, and according to Amar Ujjala the authorities did not take it too seriously then. Now that the Assembly Elections are over it seems to have been reignited. Here the two groups of the village allegedly indulged in stone pelting and a shot was also allegedly fired on Monday. According to the news report, 12 people were injured and a police force was deployed in the village. This conflict began over a bike collision and the village head and the opposing group both filed police complaints accusing each other. These two groups have not seen eye to eye since the Panchayat elections held a year ago in the village. The village head's husband Liaquat and the opposing group of one Ankur clashed on Monday after the bike collision and the ruckus escalated.
Scuffle on both sides in the police station too
According to media reports, one Kapil Sharma, a 'representative' of Baghpat MP Satyapal Singh, also reached Sardhana police station and allegedly he got into a heated argument with the police inspector. He was assured of a fair investigation, and the police told the media that no [communal] colour would be given to the case. According to the news report police arrested 12, including Javed, Shahid, Furkan, Shabuddin, Ankur, Ankit, Syama and Waheedan some of whom were injured in this clash. The police have registered cases based on both complaints for disturbing the peace.
Related:
Even in a BJP 'wave', UP voters blew out many flames of hate
UP Assembly Elections: Margin of victory less than 500 votes in 11 seats!
UP's tribal belts show unusual voter activity
Case registered against Saiyada Khatoon, newly elected MLA of Domariyaganj
Anil Bhanot, Director-Trustee, Hindu Council UK, quits when called out for Islamophobia
UP Assembly Elections: More poll code violations, CJP moves ECI again