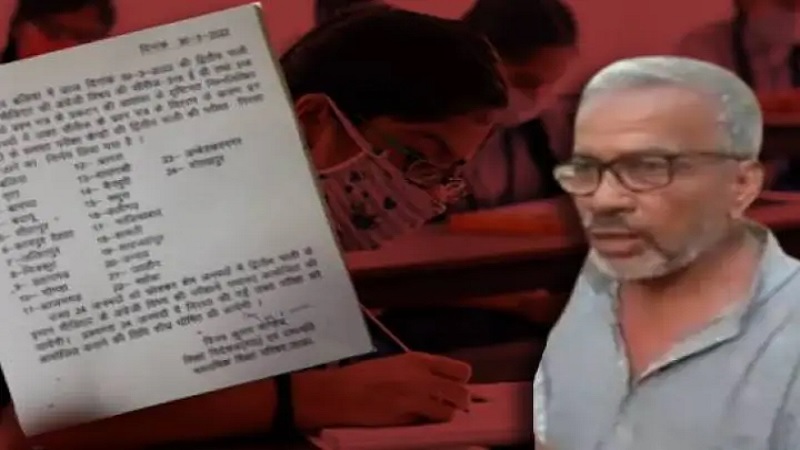 Image Courtesy:news8plus.com
Senior journalist Digvijay Singh, who works with Amar Ujala has been the talk of social media today. He has been taken into custody and has accused the Uttar Pradesh police of harrasing and torturing him after he filed news reports on how the UP Board's 12th class English question paper had leaked. Even as he was being taken away, he has accused the administration of being corrupt.
अमर उजाला के पत्रकार दिग्विजय सिंह ने बलिया ज़िला प्रशासन पर बेहद गंभीर आरोप लगाए हैं।

मुख्यमंत्री @myogiadityanath से आग्रह है कि पत्रकारों का उत्पीड़न करने वाले बलिया पुलिस प्रशासन के खिलाफ निष्पक्ष जाँच करवाई जाए। 2/2 pic.twitter.com/CDzMavYZqf

— Vinod Kapri (@vinodkapri) March 31, 2022
The Ballia edition of Amar Ujala had published the leaked paper in the morning of the day the examination was to be held from 2 P.M. The news report even carried the coded serial numbers 316 ED and 316 EI. A day earlier on March 29, 2022 the paper had also published a solved copy of a Sanskrit question paper. It was reported that the Joint Director of Education Department of Azamgarh Division had accepted that the Sanskrit question paper was out in the investigation.
According to Singh, the UP police have been asking him from where he got the information. He replied, "From my sources," speaking to fellow journalists when he was being taken into custody.
He has levelled serious allegations on the Uttar Pradesh administration, especially those in charge in Ballia district. Instead of investigating the allegations of a paper leak as published in the news report, the UP Police have now arrested Amar Ujala journalists Digvijay Singh and Ajit Kumar Ojha from Ballia. According to news reports, another person identified as Manoj Gupta has also been picked up. It has been reported that so far, the administration has taken action against 22 accused in the leak case, including the two journalists.
GOOSEBUMPS !
जेल जाने से पहले किसी पत्रकार की कभी इतनी रीढ़ और हिम्मत देखी है ?

ये "अमर उजाला" के बलिया पत्रकार दिग्विजय सिंह हैं

इनका गुनाह ये है कि इन्होंने #PaperLeak ख़बर का खुलासा अपने अख़बार में किया था।पुलिस इनके दो और साथी अजीत ओझा,मनोज गुप्ता को भी जेल भेज चुकी है 1/2 pic.twitter.com/OI13qMwHTR

— Vinod Kapri (@vinodkapri) March 31, 2022
The English paper was to be held on March 30, but got cancelled in 24 districts after it was leaked. According to Satya Hindi, these districts are Ballia, Etah, Baghpat, Badaun, Sitapur, Kanpur Dehat, Lalitpur, Chitrakot, Pratapgarh, Gonda, Azamgarh, Agra, Varanasi, Mainpuri, Mathura, Aligarh, Ghaziabad, Shamli, Shahjahanpur, Unnao, Jalaun, Mahoba, Ambedkar Nagar and Gorakhpur.
DIOS of Balia district has been suspended by @UPGovt after paper of English for 12th #UPBoardExam was leaked. Probe has been transferred to @STF_oficial paper leak has led the UP Govt to cancel exam in the below mentioned districts.? @TheNewIndian_in pic.twitter.com/NN9ddrjBfM

— Pramod Kumar Singh (@SinghPramod2784) March 30, 2022
Now the police action against the journalists has raised questions on the police administration and the media fraternity staged a protest at Ballia Kotwali. Ajit Ojha' has alleged that the police also misbehaved with him and brought him to the Balia Kotwali. He alleged that the administration also sought the 'leaked question paper' from him, and that the police dragged him to the police station "like a criminal".
बलिया में अमर उजाला के पत्रकार अजित ओझा को थाने पर तीन घंटे तक इसलिए बैठाकर रोका गया कि उन्होंने पेपर लीक होने वाली खबर छाप दी। अजित बता रहे हैं कि हाईस्कूल का भी पेपर लीक हुआ, प्रशासन को बताया भी लेकिन उसी लीक पेपर पर परीक्षा ले ली गई। pic.twitter.com/Jlm0UawV7H https://t.co/TA0uKqG9X5

— Narsingh Shukla INC ?? #RahulTheNextPM ✋ (@_narsinghshukla) March 31, 2022
According to news reports this seems to be an attempt to divert attention and pin the blame on the journalists. The matter is being investigated by a special task force. The issue has also been raised by the Opposition leaders including Samajwadi Party chief Akhilesh Yadav, Congress general secretary Priyanka Gandhi, BSP chief Mayawati and Aam Aadmi Party's UP in-charge Sanjay Singh who have all accused the government for such corrupt practices.
Related:
Stop asking such questions… else it won't be good for you: Ramdev to reporter
SC-appointed Committee recommends cancellation of bail granted to Ashish Mishra
Poll Watch: Is Dr. Kafeel Khan the most watched MLC candidate in UP?
Kashmiri students charged with Sedition for cheering for Pakistan cricketers get bail
Hate-monger Sangeet Som's Sena bristles at hate video
Hate Watch: Saffron flags greet Tejasvi Surya's cycle rally outside mosque
Damned if you do, damned if you don't! Muslim man lynched for chanting 'Jai Shri Ram' in UP?