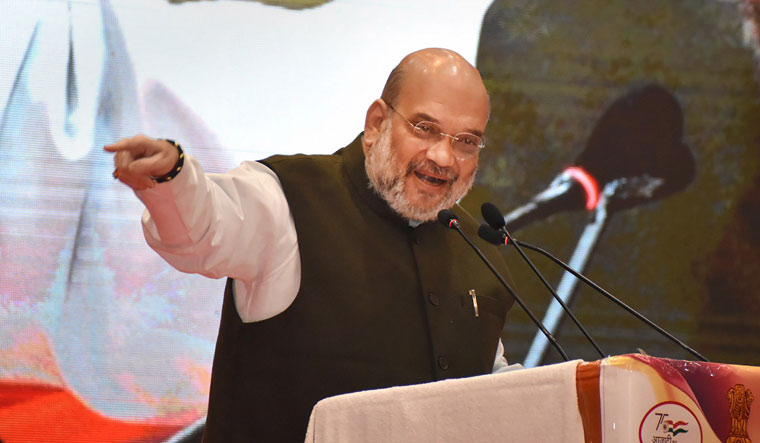 Image: PTI
Home Minister Amit Shah's speech at a pre-election rally in Saharanpur on Thursday, seemed to be a repeat of the recent speech by Uttar Pradesh Chief Minister Adityanath. Shah too recalled the communal riots of Muzaffarnagar and Saharanpur, and the alleged 'migration' from Kairana in the same way Adityanath had recounted it in November.
According to Shah, when he visited Saharanpur in 2017, "Many people met me and told me, 'We will bring about change in Uttar Pradesh but with the change, will migration occurring here reduce?' I had told them, 'You bring BJP to power once; aapke palayan karane-waale Uttar Pradesh se palayan kar jaayenge." (Translation: Those responsible for your exodus will flee UP.)
In November, Adityanath was in Kairana and had also recalled how he had come to Shamli in 2017 and "promised to give a better and secure atmosphere." He had also invoked the alleged "exodus" of Hindus from the town and said those who "shoot at traders now will be dispatched to the next world" adding that the "Taliban mentality" will not be accepted in the state. He had also invoked the 2013 communal riots of Muzaffarnagar and accused the Opposition of not taking action "when houses of Hindus were being burnt." He reportedly promised compensation to some families who were allegedly forced to leave it between 2014 and 2016 and said these were "issues of our identity, honour and glory." The CM claimed, "Those who had allegedly forced the traders and residents of Kairana to flee had in the past four-and-half-years been forced to flee themselves," adding, "If a criminal dares to shoot a trader or a citizen, then the bullet will hit him and will send him next world ('doosre lok')."
Why is the Kairana invoked by the BJP each election?
This alleged exodus from Kairana was last spoken about by the Bharatiya Janata Party (BJP) leadership in the run up to the 2017 Assembly elections. The BJP had claimed that Hindu families had left town after receiving threats from criminals. The claim, however, was contested by many.
In Oct 2016, a fact-finding team from the National Commission for Minorities (NCM) had visited Kairana and questioned the a report of the National Human Rights Commission (NHRC) which claimed that there had been an "exodus" of Hindu families from the area out of fear of some Muslims. The NHRC report had validated the allegation made earlier by the BJP MP from the area, Hukum Singh that 250 Hindu families were forced to move out of Kairana in Shamli district of UP out of fear. "At least 24 witnesses stated that the youths of the specific majority community (Muslims in this case) in Kairana town pass lewd/taunting remarks against the females of the specific minority community in town," the report stated. However, in June that year, a probe by the Shamli district administration found Hukum Singh's allegation to be bogus.
As against Singh's list of 346 Hindu families who had allegedly fled the district, the probe concluded that only in three cases families had faced "rangdari" threats and police had taken timely action in each case. According to an Indian Express investigation, which tracked down 22 people who figure in Singh's list, five had died, four had moved out of Kairana looking for better opportunities, 10 left more than 10 years ago, three had moved fearing "local criminals".
Is Hindu-Muslim unity among farmers worrying the Right-Wing?
A fallout of the farmers' protest has been the coming together of farmers across religions, especially in Uttar Pradesh. At the Kisan Mahapanchayat on Sunday September 5, 2021, speakers recalled the Muzaffarnagar riots of 2013, and asked farmers to condemn and reject communal politics. "The Kisan Mazdoor Mahapanchayat declared that the farmers will never allow communal riots to happen in the future. Kisan Andolan will always give slogan to strengthen Hindu-Muslim unity," they declared in an official statement issued after Mahapanchayat. This unity may well result in a consolidated vote bank, which at the moment does not seem to be favouring the BJP.
Now, in 2021 a massive number of farmers from the area are still participating in the demand for a legalisation of MSP, after successfully pressuring the BJP-led Union government to repeal the contentious Farm Laws. The repeal itself is being seen as a political decision with an eye on upcoming elections in Uttar Pradesh and Punjab. "The movement will continue till the guarantee law on MSP is made," Rakesh Tikait Farmer leader & National spokesperson of Bhartiya Kisan Union (BKU) had said soon after the PM's announcement.
In March 2021, a court in Muzaffarnagar allowed withdrawal of cases against BJP leaders like Uttar Pradesh minister Suresh Rana, MLA Sangit Som, former MP Bhartendu Singh and Vishva Hindu Parishad (VHP) leader Sadhvi Prachi, in connection with the 2013 Muzaffarnagar riots case. After the incident, arrests were made and the National Security Act (NSA) was also invoked. However, later on, the NSA advisory board had revoked the charges against them and bail was granted.
However, HM Shah has again said, "There was a time when not only were there riots here but women had to be sent to other states to study… Today, no mother, no sister or daughter in western UP needs to go outside for studies — no one dares misbehave with them." Shah also claimed that crime in UP had decreased and "under the BJP government UP has seen a drop of 70% in dacoity, 69% in armed loot, 30% in murder, and 22.5% in dowry death". However a regular flow of news reports from UP detailing crimes, especially against women, Dalits, Muslims, continue to prove otherwise,
Chief Minister Adityanath echoed, "There were riots in Muzaffarnagar; in Saharanpur who has not seen how shops and establishments of Sikhs were set on fire and work was done to push Saharanpur into the fire of riots? There were riots in Bijnor, riots in Bareilly, and months of curfew because as a result. There were also attacks on our faith. During 'saawan' it was said that kanwar yatra will not be allowed, and if a daughter asked for security, they would go unheard."
Related:
Hate Watch: UP Dy CM Keshav Prasad Maurya adding fuel to the communal embers?
Varanasi: Sanitation worker dies after being trapped in sewer line for 18 hrs!
Man "from same community arrested" for allegedly killing Dalit family: UP Police
An 'encounter' in UP: Identical injuries, allegations of 'cow slaughter', Muslim daily wagers in jail?
Uttar Pradesh: 4 of Dalit family masacred in Prayagraj
Noida hate crime survivor approaches SC seeking fair investigation