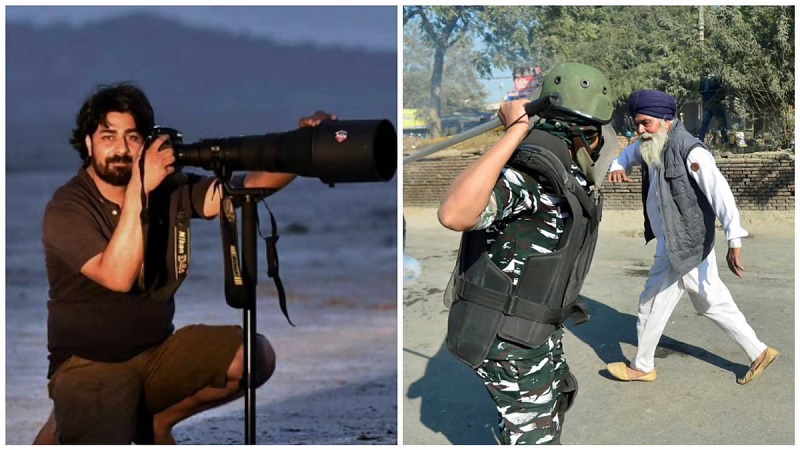 Image Courtesy:freepressjournal.in
Photojournalist Ravi Choudhary's iconic image of a riot gear wearing security person ready to hit an old to sikh farmer running to save himself has become the symbol of how the state treated the lakhs of farmers as they moved towards Delhi to state their protest. The journalist has alleged that he was attacked in Uttar Pradesh, "by 5-6 men on Ganga canal road." He even identified the Bolero car no: UP 14 DN 9545, and added that.Muradnagar police refused to lodge FIR
The following are the registration details according to VAHAN.
Owner's name is mentioned as
*M*E*R *I*G* *H*U*H*R*
whatever that means
Registered in Ghaziabadhttps://t.co/TJsYgMdxIs

— Dr. N. C. Asthana, IPS (Retd) (1986-2019) (@NcAsthana) December 7, 2020
This was the image that had created a stir online and had impacted many.
This was also the photo that got Bharatiya Janata Party (BJP) Information and Technology (IT) cell chief Amit Malviya tagged as someone sharing 'manipulated media' by Twitter, an action taken for the first time ever against a political person in India. Malviya had claimed that the man was not hit at all, and instead showed a clip taken from the cop's POV of the laathi mid air, and the old man running away. He used this 'manipulated media' to taunt Rahul Gandhi calling him the "most discredited opposition leader India has seen in a long long time". The BJP took no action against Malviya, nor did he apologise for posting manipulated media.
Now the photojournalist who took that shot is perhaps under attack himself. Choudhary, works for Press Trust of India (PTI) and shared the image of the car he said those who attacked him came in. The car number was traced online by social media users including the senior retired policeman who shared it was registered in Ghaziabad Uttar Pradesh.
The following are the registration details according to VAHAN.
Owner's name is mentioned as
*M*E*R *I*G* *H*U*H*R*
whatever that means
Registered in Ghaziabadhttps://t.co/TJsYgMdxIs

— Dr. N. C. Asthana, IPS (Retd) (1986-2019) (@NcAsthana) December 7, 2020
The Bolero car apparently belongs to one Omveer Singh Chowdhary shared another user.
— दिविज त्यागी (@divij36) December 7, 2020
According to a report in Janta ka Reporter, the Bolero driver stopped Choudhary's motorbike while overtaking and allegedly abused him and his fiancée. It added that Chaudhary opposed this, and the car's driver then blocked the way. Chaudhary has alleged that some people got out of the Bolero and "started beating them", the JKR report added then when the photojournalist and his fiancee escaped from the scene, the men who had allegedly attacked them chased him in their car. The JKR added that the local authorities have assured Choudhary that they will take action.
The photographer had been in the spotlight online since his photo had gone viral. He had also said capturing the image, that spoke a thousand words and resonated with many, was "difficult" for him. A feeling photojournalists, camara persons and reporters who cover on ground action, and crime scenes understand well. Some such photographs get noticed globally and are often bestowed with journalism awards.
Capturing this moment was very difficult for me. https://t.co/mzmOEpMmnN

— Ravi Choudhary (@choudharyview) November 28, 2020
Related:
Guess what Donald Trump and Amit Malviya have in common?
Siddique Kappan's arrest matter of 'personal liberty': Kapil Sibal to SC
Freedom of Press in UP: Journalists killed, attacked, arrested