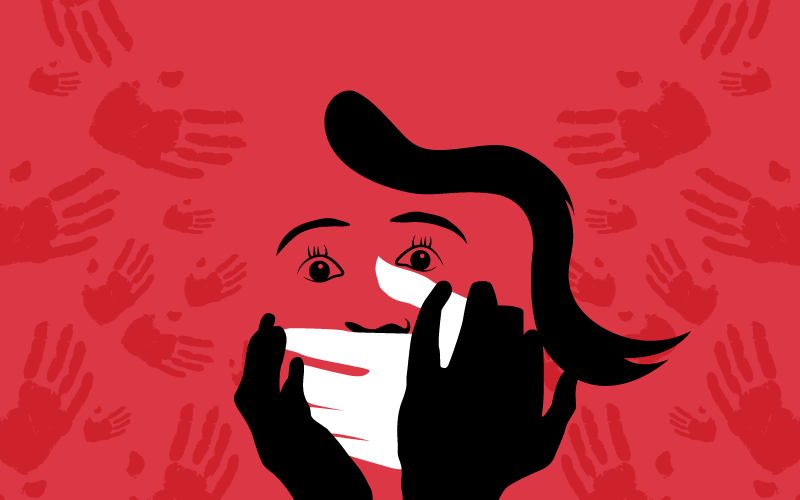 Yesterday evening, on February 17, a horrific news of three Dalit girls tied up in a field and allegedly poisoned was reported from Unnao district, Uttar Pradesh. While two were found dead, one is battling for her life. The doctor has reportedly said that the girl's survival rate is low because there seems to be considerable brain damage.
Unnao is also infamous for its 2017 gang rape of a 17-year-old minor which led to the conviction and life imprisonment of the former BJP member Kuldeep Singh Sengar, who was also held responsible for the (judicial) custodial death of the survivor's father. Her relatives met with similar fate and died in a mysterious car accident.
A 19-year-old Dalit woman in Hathras, named four upper caste 'Thakur' men in her dying declaration after she was raped and strangled to death. The barbarism continued when the Uttar Pradesh Police first, delayed immediate medical attention and eventually denied that she had been raped.
In August, 2020, Lakhimpur Kheri in Uttar Pradesh reported the rape and murder of a 13-year-old girl who was strangled and left to perish in a sugarcane field. This was followed by a 17-year-old Dalit girl who was raped and killed while returning home after filling a scholarship form at a cyber cafe. Days later, in September, a three-year-old child was raped and murdered in the fields due to family enmity with another family in the same district, which acquired a lot of media attention.
This new year ushered with another incident of inhumanity where a 50-year-old Angadwadi woman was allegedly gang-raped and brutalised in the temple compound in Uttar Pradesh's Budaun district and succumbed to her injuries. The woman's post-mortem report confirmed rape, injury in her private parts, and fracture in her legs.
Viewing all such horrific instances of crime from a prism of isolation, is where we all slip! These episodes are not independent of each other, rather this is an outcome of deeply entrenched casteism and systemic entitlement. Delay in taking cognisance of, and acting against (legally prosecuting) insensitive remarks from people wielding power, apathy from politicians including women leaders especially against the visible minority, has exposed the inbuilt fractures of our systems and how atrocities against women are internalised over the years.
Note that the caste system has intoxicated Indian men, especially "upper caste" Hindus, in such fashion that the only legitimate outcome seems to be that of dehumanisation. Women often, don't only suffer aggravated sexual assault, but arrive at hospitals (the ones who survive), with broken bones, burn injuries, paralysed bodies and lacerated private parts.
According to the National Crime Records Bureau (NCRB) data of 2019, all States barring the Union Territories recorded 3,91,601 cases of crimes against women and Uttar Pradesh alone accounted for 59,853 cases. From 2015 to 2017, Uttar Pradesh had the greatest number of atrocities registered against Dalits, with an accelerating trend of 8,357 in 2015, 10,426 in 2016 and 11,444 in 2017.
Far from justice, women in Uttar Pradesh, especially Dalits continue to suffer from oppression and the protection of mere basic rights remain as remote and implausible as accountability of the state machinery. Some media outlets had reported that not even 24 hours had passed after the hasty cremation of the 19-year-old Hathras victim, a 22-year-old Dalit woman was sexually abused and murdered in Balrampur, Uttar Pradesh. TOI reported an incident that came to light in January, that a 16-year-old Dalit girl was raped, the incident was filmed and she was threatened for days in Firozabad, Agra. This once again demonstrated the incompetence of the administration and the legal system vis-a`-vis lower caste women.
Placed as 'Shudras' in the caste system below Brahmans, Kshatriyas and Vaishyas, they have historically served the three blatantly differentiated categories as workers, labourers, cleaners, and the upper caste men and women do very little to muddle this status quo. Caste and gender-based violence is a multi-dimensional issue that stems from misogyny, patriarchy where women are victimised to damage an entire community's "honour".
Bahujan Samaj Party member Ritesh Pandey elucidated this intersectional issue with great ease when he wrote, "In traditionally patriarchal societies, women are the currency of honour. A family's, a community's, a caste's honour is inextricably tied to the "honour" of their female members — their purity, their morality, their chastity. Sexual violence operates on the nexus of land, caste, and patriarchy. It becomes a tool to maintain the status quo of land and caste. Sexual violence against women from lower caste communities is seldom about the individual woman; more often than not, it is about robbing the honour of a community, a caste, a family", reported IE.
In the recent Budget Session of 2021, Smriti Irani, the Women and Child Development Minister, provided details of the Nirbhaya fund that was set up in 2013, to ensure safety of women in India. In the Lok Sabha, her written response stated, "Under Nirbhaya Fund, schemes/ projects worth Rs. 9,288.45 Cr. have been appraised till date. An amount of Rs.5,712.85 crore has been allocated and an amount of Rs.3,544.06 crore has been disbursed/ released by the concerned Ministries/ Departments".
But almost seven years later, after the allocation of such whopping amounts which we are expected to accede to, the precarity of women in Uttar Pradesh and elsewhere has remained embarrassingly consistent in the face of upper caste pride and viciousness.
Related:
Unnao: Dalit girls found tied up in fields; 2 dead, 1 critical
Unnao rape case: Kuldeep Singh Sengar convicted
Women and Dalits are second class citizens according to RSS: Kasturi Basu
Uttar Pradesh: 19-year-old woman allegedly gang-raped when returning from Navratri event
Uttar Pradesh records highest crimes against Dalits: NCRB
It has shocked our conscience: Allahabad HC takes cognisance of Hathras incident