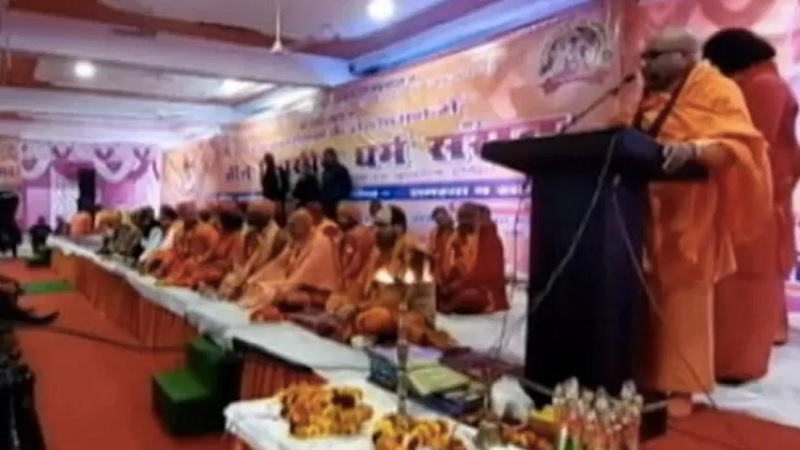 Image Courtesy:ndtv.in
After days of global outrage against the anti-Muslim hate speech at a Dharma Sansad held recently in Haridwar, the Uttarakhand police has sent notices of appearance to the accused. According to a report in the Indian Express, the summons were sent to Jitendra Narayan Tyagi aka Waseem Rizvi, and Sadhvi Annapurna aka Pooja Shakun Pandey, who have been accused of delivering hate speeches against Muslims.
Haridwar Kotwali police station SHO Rakender Singh Kathait told the media, "We have sent notices of appearance to Rizvi and Sadhvi Annapurna so far. A notice may also be sent to Dharamdas who is the third one named in the FIR lodged in this connection."
Meanwhile, the accused have continued with their hate speech, including speaking on an India Today TV news. They were also a part of the team of right wing leaders who have now formed a 'core committee' and filed a police complaint against "The Quran, Maulvis of Haridwar and other unnamed Muslims" on Tuesday. A police officer happily received the complaint from those who have been accused of hate speech, amid applause and slogans of Har Har Mahadev. Narsinghanand who was the main organiser of the Haridwar hate assembly claimed, "He (police officer) is on our side."
This police officer was identified as SHO Haridwar Kotwali, Rakendra Kathait, who reportedly went to the ashram himself, and also posed for videos and photographs.
He told the media later that a counter FIR depends on how the investigations progress, saying, "We are looking into the application submitted on behalf of the core committee formed by organisers of the event and an FIR will be lodged if necessary," he added, "We cannot jump to conclusions on the basis of mere allegations and penalise someone. The allegations will be probed and appropriate action will be taken."
Meanwhile, no arrests have been made against those who called for violence at Bharatiya Janata Party (BJP) governed Uttarakhand's 'Dharam Sansad" or "Religious Parliament". The FIR has been filed by Haridwar Police, albeit under only one section of IPC i.e. 153A (promoting enmity between different groups on grounds of religion etc). The event was held in Haridwar between December 17-19, and so-called religious leaders delivered incendiary speeches that have the potential to incite hate and violence.
In order to ensure that a serious inquiry takes place in this matter, CJP thought it pertinent that the National Commission of Minorities (NCM) get involved and initiate its own inquiry and monitor the police investigation as well. CJP, in its complaint to the NCM, has detailed the hate speeches and calls for genocide made by the following people:
Swami Prabodhanand Giri, president of Uttarakhand Hindu Raksha Sena

Yati Narsinghanand, Head Priest Dasna Devi temple

Sadhvi Annapurna aka Pooja Shakun Pandey, general secretary Hindu Mahasabha

Swami Anandswaroop

Swami Sagar Sindhu Maharaj from Roorkee

Dharam Das Maharaj from Patna
Related
Hate Speech: The worst words of 2021, we hope do not spill over into 2022
Did Sudarshan News trick school children into chanting 'will kill to create Hindu Rashtra'?
2021: A year of unprecedented communal hate crimes
CJP files complaint against 'Dharam Sansad' before NCM