Days after tensions erupted in Uttarkashi over the abduction of Hindu girl by two young men in Uttarkashi's Purola, the effects are being seen in other towns as well.
The outrage has simmered and now spread to another town, namely, Barkot. In Purola, as the shops belonging to Muslims remain shut, some errant right wing groups pasted posters on the shutters of these shops on Saturday. These posters threaten them to "shut down their business and leave the town before a 'mahapanchayat' to be held on June 15 or else face action." In some places, shops belonging to Muslims have been vandalized with black cross marks, reported The Times of India. The posters were removed by the police on Monday.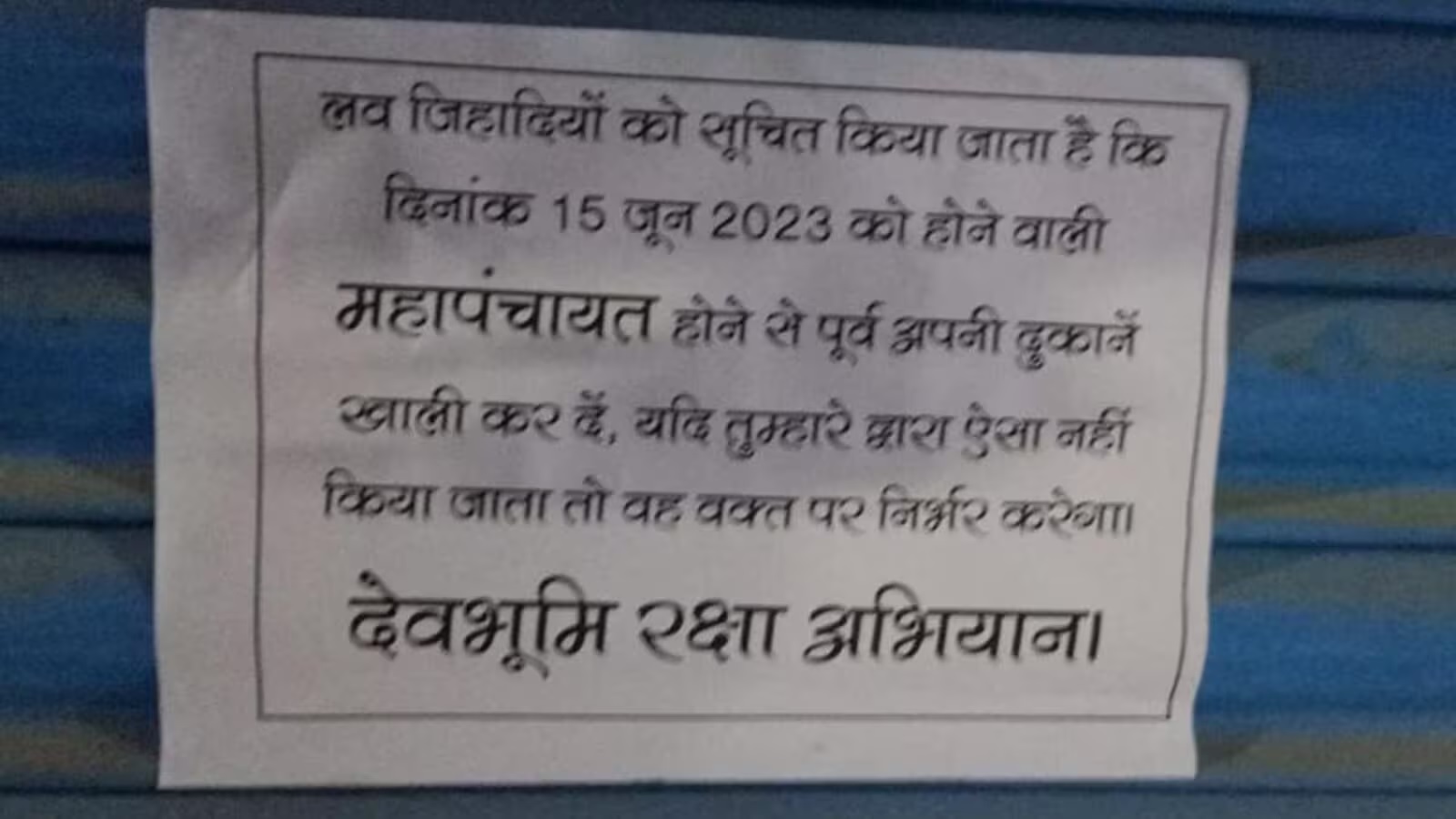 Image: Hindustan Times
In Barkot as well similar incidents were reported whereby Muslim shops were left with black cross marks, as a sign of boycott of their businesses. Some even removed the boards of these shops. These miscreants remain unidentified. A local trader from Purola speaking to TOI, said, "The posters asking us to leave or face action are an attempt to intimidate us. Over 30 shops have remained shut since May 26."
President of Purola traders' association, Birjmohan Chauhan however maintained that nobody was asked to vacate their shops.
Uttarkashi Circle Officer, Anuj Kumar, told TOI that a case has been lodged against unidentified persons for indulging in wanton vilification of a religion and indulging in public mischief under sections 295 (a) and 505 of IPC. He said that a probe is on and they are checking the CCTV footage to identify the culprits.
Hindustan Times reported the disturbing incidents in which the poster read:
"Love jihadiyon ko suchit kia jata hai ki dinak June 15, 2023 ko hone wali mahapanchayat hone se purv apni dukanein khali kar de. Yadi tumhae dwara aisa nahi kia jata, toh wakt par nirbhar karega (Love jihadists are informed that they should vacate the shops prior to a mahapanchayat on June 15. If they don't, it (consequences) will depend on time)," the poster, which calls for 'Devbhoomi Raksha Abhiyan' (campaign for protection of land) said.
A local VHP leader claimed that the posters were put up by local residents, "These posters were put up by local residents who want people from a particular community to leave the town to ensure peace and communal harmony. They came here on the pretext of doing business but are targeting girls and women from our community," VHP leader Virender Rana said while speaking to HT.
Memo by Muslim families
A memorandum has also been sent by Muslim families of the area to Purola SDM underlining their financial crisis and are seeking security so that they can open their businesses again. The memo also states that if anything untoward happens to the Muslims, the administration will be responsible for the same.
Background
On May 27 it was reported that 42 shopkeepers in Purola (all Muslim), fled, abandoning their shops and businesses owing to the protests by right wing groups. Outrage had sparked over the abduction incident whereby a Class 9 student was kidnapped allegedly by two men, Ubed Khan (24) and Jitendra Kumar Saini (23) who were arrested on May 27.
A procession was carried out by right wing groups as also businessmen of the area last week and shouted slogans against targeting the Muslim community while threatening them to vacate their shops. Fearing violence, 42 shopkeepers and vendors like street hawkers, vegetable vendors, bicycle repair persons and other such small businesses reportedly fled the area. The protesting group also sent a memorandum to the Governor through SDM Devanand Sharma demanding the immediate removal of businessmen from a particular (read Muslim) community, with a criminal mindset.
The protest march in Purola on May 29 had turned violent whereby Muslim shops were attacked and over 900 people had taken part in this mob. The memorandum sent by the protestors said, "In the garb of doing business in the town, some people from a particular community have been indulging in immoral activities… thereby, polluting the atmosphere," as reported by HT.
The systemic hate-exclusion and socio-economic boycott that this signals was best summed up by the TOI report that stated: In the Times of India Report, page 7, Mumbai edition, there is a cogent editorial comment:
"TIMES VIEW: Putting up posters asking a community to leave town is a dangerous trend that needs to be stopped. Authorities should step in immediately and take firm action against such rogue elements who strike at the very root of a secular and democratic state."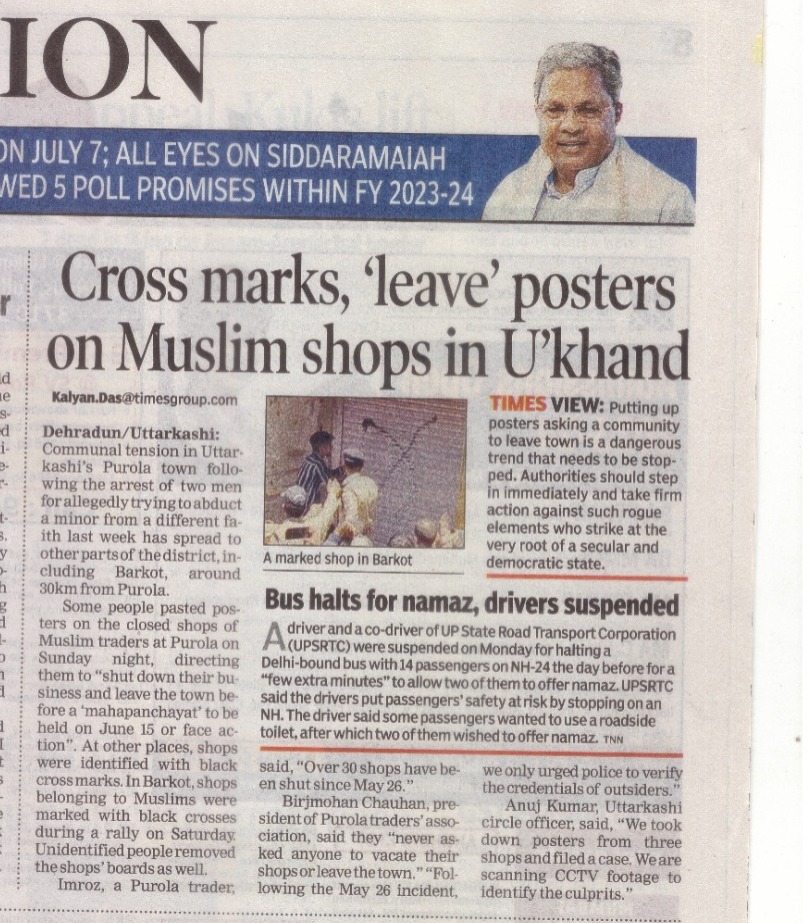 Related:
Oath for economic boycott of minorities administered in Chhattisgarh
Marginalising the already marginalised: Economic Boycott Targeting Muslims
Are increasing calls for economic boycott of Muslims a sinister precursor to something worse?