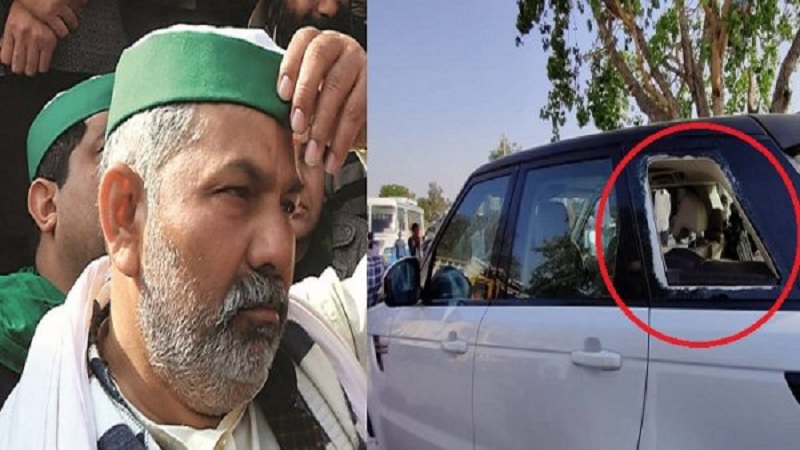 Image Courtesy:sikh24.com
Protesting farmers have condemned the alleged April 2 attack on farmer leader Rakesh Tikait's convoy at Tatarpur chowk in Alwar district of Rajasthan, reported the Indian Express.
The Bharatiya Kisan Union (BKU) leader blamed Bharatiya Janata Party (BJP) members for the attack where vandals broke car windows and threw ink at the vehicles. While no injuries were reported, local police told the newspaper that four people including the RSS-affiliated Akhil Vidyarthi Parishad (ABVP) student union president of a local university were taken into preventive custody for disrupting peace. According to India Today, an FIR was filed against around 33 people, who attacked the convoy with sticks.
Tikait was visiting Alwar's Harsoli and Bansar regions to attend a kisan panchayat when the incident occurred. The farmer leader shared a video of the attack on Twitter that also showed a car's damaged rear windshield.
Along with the video he tweeted in Hindi, "A murderous attack was made by the goons of BJP at Tatarpur crossing in Bansur, Alwar district. Pictures of the murder of democracy."
Further, Bhiwadi Superintendent of Police Ram Moorthy Joshi said that the accused under the leadership of Raj Rishi Bharthari Matsya University Student Union President Kuldip Rao had halted the convoy by waving black flags and throwing ink at the vehicles.
While Tikait's car had already gone ahead, his supporters had an altercation with the protesters.
Speaking on the incident, Chief Minister Ashok Gehlot condemned the attack in a tweet, adding that the BJP has been behaving undemocratically right from the beginning of the farmer protest.
Related:
Farmers declare FCI Bachao Divas on April 5
Farmers burn farm law copies during Holika Dahan!
SKM thanks citizens for the overwhelming response to Bharat Bandh call!
Karnataka: FIRs filed against Tikait for "gherao Bengaluru" speech