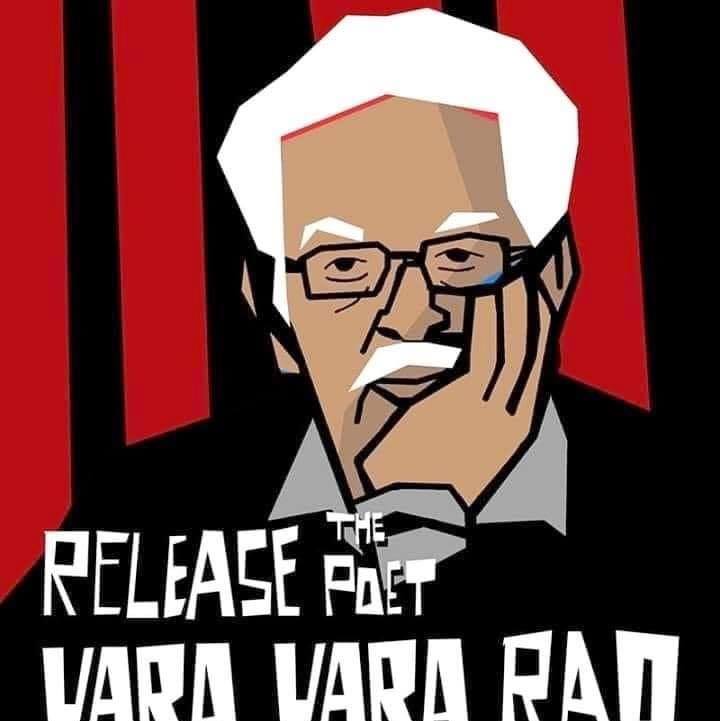 Noted Poet and activist Varavara Rao (79) was urgently shifted to JJ Hospital from Taloja Jail on Monday afternoon as his condition began worsening. However his family is still worried about the fact that the police may pressurise the hospital to discharge him once he stabilises and send him to jail. Rao, according to the hospital, is stable and is undergoing tests at the moment. According to his family Rao had been incoherent and too weak to even sustain a phone call the last time they spoke. This had alarmed them to the extent that they urgently called a video press conference on Sunday and appealed once again that he be rushed to a proper hospital and given urgent medical care he needed.
The family states that they were not even informed that Rao had been shifted to JJ hospital and only came to know from a senior leader who had been appealing to Maharashtra government to intervene before Rao's health took a turn for the worse.
According to his nephew, N Venugopal, Rao has been put through various medical tests since Monday evening till past midnight. Even then the hospital has said that Rao was "brought in for evaluation only" the family still does not know if the ailing senior citizen will be admitted but feel that as some of the medical test reports may take a couple of days, he may have to stay in hospital," The family only has information from friends and well wishers. "However, none of this information was official. Though it was mandatory to inform family about these developments, neither the government nor jail, police, hospital authorities did not provide any official information to the family." stated Venugopal.
The family is apprehensive that Rao may once again be given basic treatment and then sent back to jail soon. They recall that he had been admitted at the same hospital on May 28 evening but was hurriedly discharged on June 1 and sent back to jail with a 'comment' that "his health is steady and all vitals normal". However, Rao's family has maintained that he was not normal when he was discharged from hospital last time. "While Sodium normal range was 134-145, he attained only 133 and potassium normal range was 3.5 to 5.0, he attained only 3.55, according to the hospital's own Discharge Summary," they said.
They are afraid that this rushed discharge may be repeated this time. "On June 2 it was proved that all this – admission in hospital, getting a normal report, getting him discharged – was part of conspiracy by police. June 2 was the date of hearing on his bail application on health grounds in NIA Special Sessions Court and police argued against his bail showing this hospital "normal" report. The judge accepted that and refused bail on June 26," said the family.
The family appealed Rao's bail rejection to the High Court and after four adjournments, the arguments will be heard on Friday, July 17. The family is apprehensive that the police may secure "another "normal" report from the hospital to show it in the court on July 17 to argue against bail".
"That means still VV is not out of danger. This hospitalisation is not a complete relief. Again we have to bring pressure to retain him in hospital till he is completely recovered and not to discharge him hurriedly like last time. Indeed, we have to increase our pressure to grant him bail and allow the family to provide better medical care to him," stated Venugopal in his statement on social media. The family shared this note too:

The National Investigation Agency (NIA), which is investigating the Elgar Parishad case, had opposed the bail plea. That was done on the basis that VV Rao had been charged under the Unlawful Activities (Prevention) Act, (UAPA), which does not have provision to grant him temporary bail. However the NIA had submitted that the jail authorities be directed to ensure that Rao was given medical attention, whenever required, stated news reports.
Keeping in view Rao's fragile health and advanced age that puts him, and others still in jail, at great risk wh
ich is increased due to the Covid-19 pandemic, scores of activists and concerned citizens had been appealing to the authorities to grant bail.
Even Congress MP Adhir Ranjan Chowdhury wrote an urgent letter to Prime Minister Narendra Modi appealing that Rao be released. He wrote, "In this country, a person of 81 years of age has been languishing in jail for years without knowing his offence, now he has been mentally disoriented, having no medical assistance, his name is poet Varavara Rao… Please release him from his incarceration, release him from jail, in this age he cannot be a threat to one of the strongest countries in the world, India."
"You may please intervene into this matter and save his life, otherwise, our future generations will not forgive us," he requested PM Modi.
According to a report in the Hindu, Sanjay Surase superintendent of JJ Hospital has said that: "Patient Pendayala Varavara Rao, 81yr/Male is admitted under neurology. Case of giddiness and is under evaluation and investigations. His general condition is fair and vitals are stable." Sunil Ramanand, Additional Director General Prisons added that and said Rao has been admitted to JJ Hospital to conduct some tests and doctors will decide whether he needs to be admitted for any treatment."
On Sunday afternoon, Rao's wife P Hemalatha, and daughters P Sahaja, P Anala, P Pavana, their daughters members had in an online meeting said that the poet once known for his powerful writing and speeches was " incoherent and disoriented".
They were alarmed to hear his voice and realised how much his health has deteriorated when they spoke to him on Saturday, July 11. Rao seemed to be "delirious and hallucinating" as he spoke about the "funeral of his father and mother" events that took place over 70, and 40 years ago. He could not understand or reply properly when they asked him about his own health.
SabrangIndia attended the Rao family's press conference on Sunday and heard their shock and despair when they recalled his delirium. "He kept talking about his nana's and his amma's (father and mother) deaths and funerals, they have passed aways decades ago," his wife said Rao sounded "weak and muffled".
"As an eloquent and articulate public speaker and writer in Telugu for over five decades, a Telugu teacher for four decades and known for his meticulous memory, this fumbling, incoherence and loss of memory were in themselves strange and frightening," said his family during the video conference. According to his wife, Rao's co-accused Veron Gonsalves, said Rao was not even able to walk, go to the toilet, or even brush his teeth on his own. "We were also told that he is always hallucinating that we, family members, were waiting at the jail gate to receive him as he was getting released."
Even getting him this urgent medical attention has been a result of sustained appeal, campaigns and follow up by noted intellectuals, and civil rights activists, including historian Romila Thapar,
human rights activist and journalist Teesta Setalvad, activist and environmentalist Medha Patkar and others. They have made multiple appeals on social media, spoken atonline seminars, and written petitions to authorities to act.
"In the past 24 hours, thousands of citizens, activists, academics, and political leaders have been drawing attention to the grave medical condition of Poet Vara Vara Rao."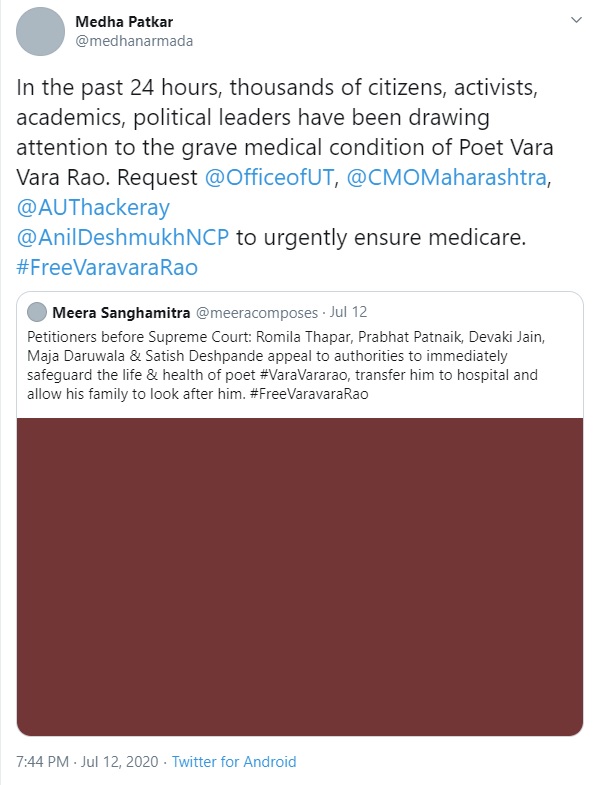 Historian Romila Thappar, economist Prabhat Patnaik, and Devaki Jain, sociologist Satish Deshpande and human rights activist Maja Daruwala, signed a petition appealing to the Maharashtra government and NIA to ensure that the Telugu poet and writer P. Varavara Rao, gets immediate medical care. "To knowingly risk the life of a person in state custody by refusing proper medical treatment would amount to "encounter", they stated.
"Mr. Rao poses no flight risk and has voluntarily submitted to all investigations for the past 22 months. There is no reason in law or conscience to hold him in circumstances that increase risk to his fragile health," they said in a statement. The petitioners said, there was a need to assure the nation that the Indian State respects the rule of law and the Constitution, by ensuring proper treatment for Mr. Rao.
Others such as noted human rights activist and journalist Teesta Setalvad, sustained a social media campaign for hours since the news of Rao's failing first came to light this weekend, "
"Civilised nations have civilised govts have civilised societies. Release Poet Varavara Rao Now!" #FreeVaravaraRao"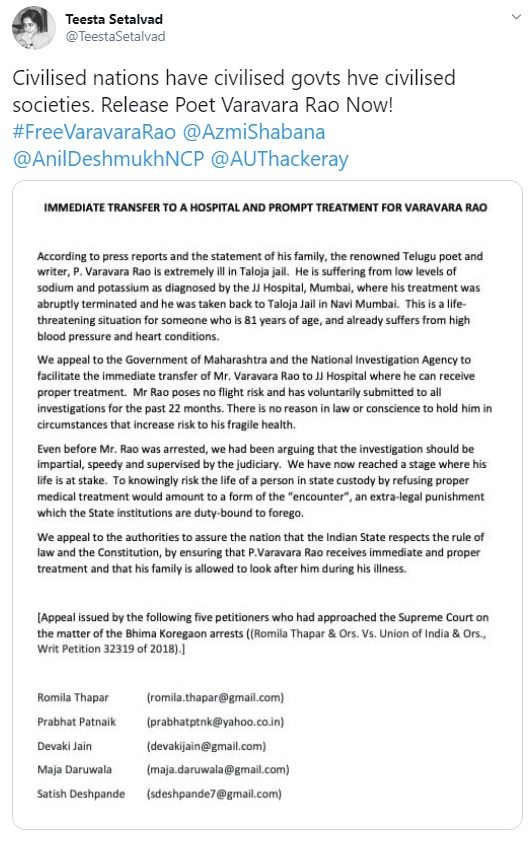 The Human Rights Forum, also issued a statement on Monday, and appealed to the authorities concerned to ensure that well-known Rao be given appropriate and expert medical treatment immediately. Given the ongoing COVID-19 threat and Mr. Rao's co-morbidities, it is imperative that the court, the government of Maharashtra and the Central government intervene and ensure that there is no further peril to his fragile health condition, the HRF stated and requested that his family be allowed to stay with him till needed. The Indian Association of Peoples Lawyers too has launched a campaign titled 'Don't Kill Varavara Rao in Jail!' to secure medical support for the incarcerated poet and writer from Telangana. "We want to remind the government that it has no right to deny the right to life of any person, much less an under-trial prisoner," the statement signed by 10 advocates representing various organisations such as All India Lawyers Union, Bezawada Bar Association, Indian Association of Lawyers, Bar Council of Telangana, besides the poet's family members.
Related:
Don't Kill Varavara Rao in Jail!
Bhima Koregaon case: Gautam Navlakha denied default bail; NIA granted 10 days
Civil Society members request Maha CM to shift Bhima Koregaon activists out of jail