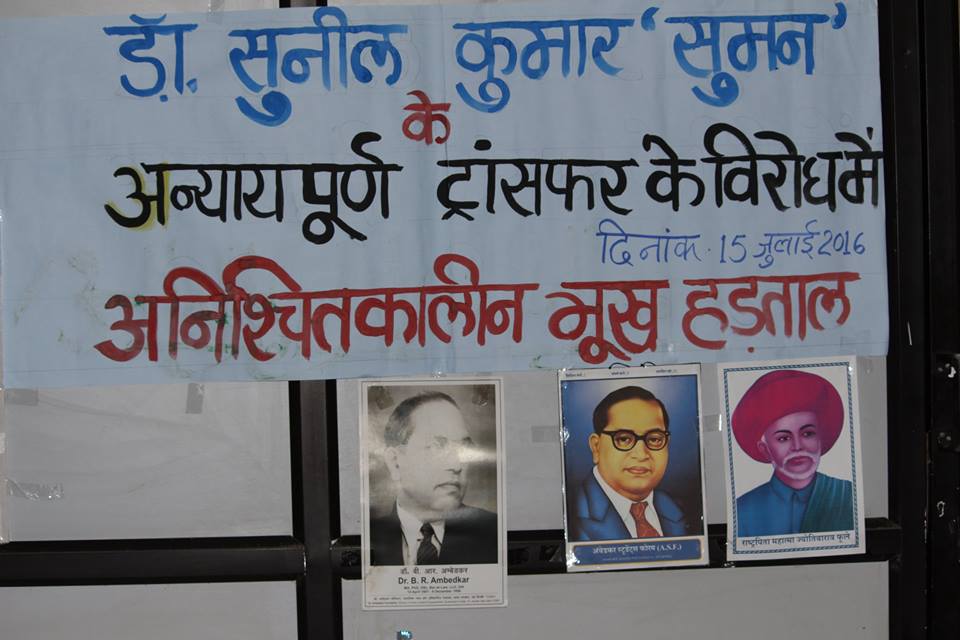 Dr. Sunil kumar 'suman' a well known name or face as a social activist and spokesperson specially on Dalit and Tribe issues, an assistant professor in Mahatma Gandhi International University for Hindi, Wardha. He is giving his services to this university since 21 July, 2009 as an Assistant Professor but he has been continuously humiliated by the higher authority of this institution. In 2013 he has been charged in a fake case of 'Utpeedan' through the conspiracy. It was done just to suppress his voice against "Brahamanvaad" or "discrimination" in society along with the institution of higher education. In january, 2014 he has been terminated, from his service, this is not easy to anyone to face such a hard time of his career but unfortunately he had to faced because he is a highly educated man who come from the subjugated and trodden class of Indian society (schedule Tribe). This case found fake or conspiracy so respected Bombay high court, Nagpur bench charged 10000 rs on university as a fine .He suffered this agony of mind until his re-joining after getting justice received by respected high court in july, 2015.
Alas! This torture, discrimination, ill-will, conspiracies would not stop or end here because still he was a man of fierce speech that attack on the same issues of casteism. He is still fighting for his respect, dignity of a teacher to equal rights. He is also struggling for his constitutional right to promotion under CAS, for his fixation of pay. after former VC Mr. Vibhuti Narayan the new VC Prof. Girishwar Mishra is also not free from the prejudices against Dr. Sunil Kumar Suman, that is why after getting the justice by respected high court, he is continuously facing such type of exploitation, some time on the name of "Mahila Utpidan ke Viruddha Samiti" or some time on the name of punishment as Transfer. This transfer is using as a tool of punishment on time to time just to learn a lesson for those people who raised their voice against the system or administration. Same happened in the case of Dr. Sunil when he got this transfer order as an punishment of "kala Pani".
His popularity among the students and outsiders has become the cause of jealous for those who want destroy his career and good image too. He is very polite, helpful, caring and dedicated to his students and all who are needed. This one quality of Dr. Sunil Kumar personality is creating a kind of fear into the mind of those people who think that education, popularity, freedom of speech and expression is only their rights. They are taking him as competitor to them and to their authority. He has been calling as a chief guest and main orator of different social programs on different sensitive issues of discrimination. He has continue his fierce attack of words on the brutality of class based discrimination even after his re-joining on Dec 2015 so he had to fight for his respect again.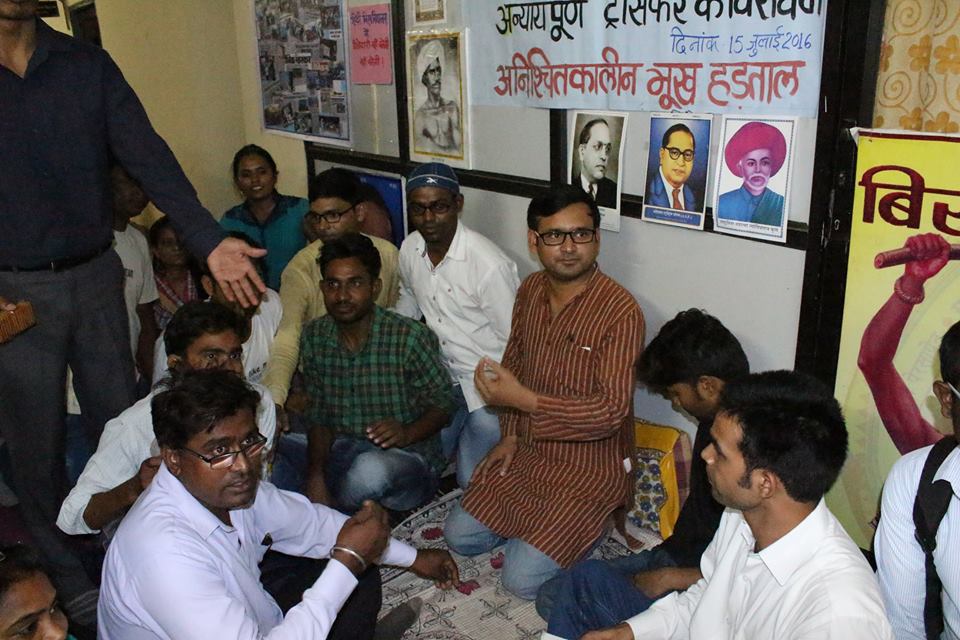 This time is important to his career or promotion. The interviews for the admission into the MPhil/Pd.D program are going on right now in the campus of university .As a conspiracy he has been kept away from this process of these interviews. Dr. Sunil can be a man of ample worth in the interview board for impartial selection of the right candidates and to check any discrimination and partiality against the candidates belonging to SC/ST/OBC background. Is this not a conspiracy against Dr. Sunil kumar? Is this not discrimination? Is this not a "kuntha" of administration? Next humiliation is, what the meaning of this, when a professor is teaching in the class and administration, on the name of investigation again and again disturb him after sending letters or notification in front of his students, is this not an imitation just to lose one's patience or peace of mind? This is really a peculiar thing to think that higher institutions of education too are not free from caste based discrimination. Dr. Sunil kumar suman is an example of this practice of discrimination even he is a victim of this poor or sick system. As I write, this transfer is not only a transfer even this is a tool of punishment that has been used by higher authority on time to time to suppress the voices. This tool has been also used in the case of Dr. Sunil who got his transfer order recently. He is sending to Kolkata on a small centre so that he would not approach his doctrine, voice against biases and would not continue his popularity among the people or students.
Against this transfer and humiliation Dr. Sunil Kumar Suman has started his hunger strike along with 50 students on 15 july, 2016 in university campus but how astonishing is this that respected Vc were not there because suddenly he has fallen sick and again the smell of conspiracy is coming out in this imitation too. A professor or teacher who should engage in his teaching work democratically to the welfare of his students or society, is sitting on hunger strike just to get his constitutional rights to equality and freedom, but no one is worrying about this, how shameful is this!!!
Dr. Sunil Kumar Suman has been awarded by many awards and respect during his small career. Wardha is a land of courage and valor in itself first of all it had been a place of "Gond" tribe since a long period so being a Tribe or having a tribal background he get the great respect and love by the natives of Wardha and has been awarded by "Gondwana respect award", "Shikshan Maitrai Samman", and "Samaj Bhushan Samman" etc. That is why today in his fighting he is not alone, he is getting an ample support by the ordinary population of Wardha along with ASF and other organizations also. He is a castellan of Ambedkar philosophy and dreams too so now this is not easy to astray this movement or his conscious endeavour.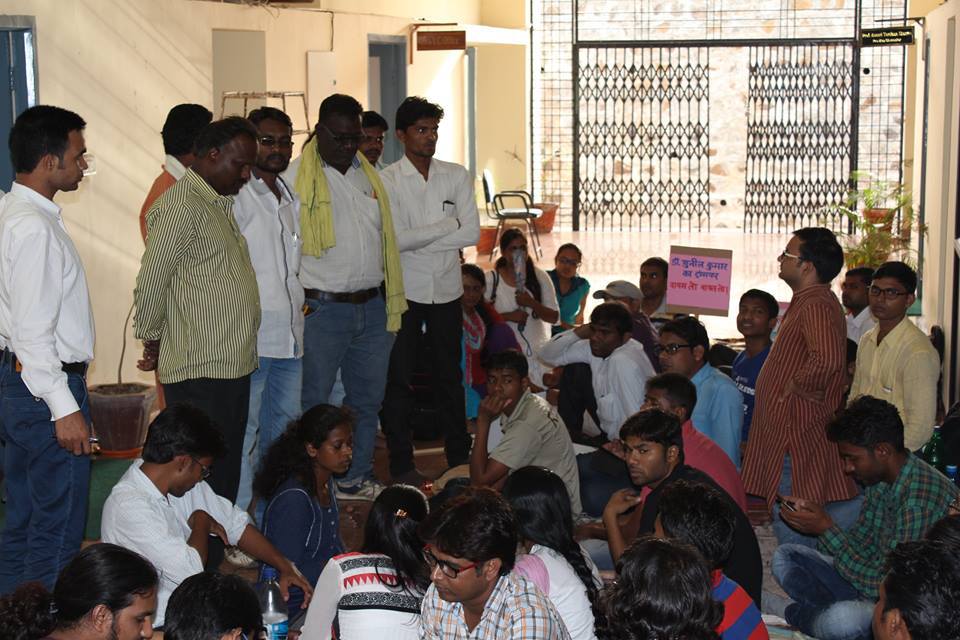 Now in the last para,I want to raise a question how many Rohit Vemula will be murdered by this brutal "Brahamanvaad"? how many times we have to cross the sea of caste based discrimination or humiliation? When this practice will get its last step? When this castle of social system based on differences in family origin ruin? Till then the educational institutions would be the land of exploitation of Dalit teachers and students continuously? This fighting is not only the fighting of Dr. Sunil this is the fighting against discrimination, exploitation, humiliation to get the equality on social or moral ground to every trodden or oppressed class. Hope so we would get success in the success of this movement and Dr. Sunil Kumar Suman will surely get a feather of victory in his cap very soon.
JAI BHIM.
(Pooja Gautam is an Ambedkaraite Activist and teaches in a govt college in Delhi.)
Courtesy: indiaresist.com