Jail ke Taale Toote Hai
Humaare Saathi Choote Hai
Over 50 members of the faculty of the Hyderabad Central University (HCU), belonging to the SC/ST Association went on a mass, one day casual leave yesterday, March 29 protesting against the police action on campus and the return of vice-chancellor P Appa Rao.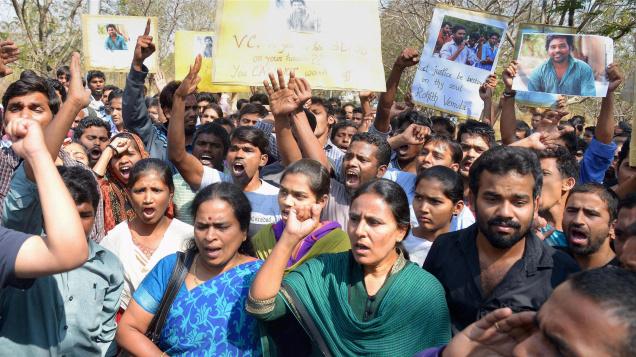 A day after 25 people were granted bail and released from jail for the violent protests held on campus last Tuesday, teachers, including those from Scheduled Castes and Scheduled Tribes, applied for the leave in protest, an assistant professor said.
The university campus was thrown out of gear on March 22 when Rao resumed office after a two-month leave following the suicide of Dalit scholar Rohith Vemula. Students alleged Rao was responsible for Vemula's suicide, and demanded his immediate arrest. Appa Rao's return was viewed as an unprecedented move with the specific backing of the Modi government at the Centre since an MHRD inquiry against him is still on. The university registrar had suspended classes till March 28 due to the ensuing violence. Appa Rao belongs to the powerful Kamma caste, which is speculated to be one of the reasons behind the support he has found from the powers that be in Delhi.
The Joint Action Committee (JAC) for Social Justice that is pursuing Vemula's case, however, asked students to resume their academic schedule while protesting as the semester was ending and this is a crucial time for them. "We appeal to the students to use blue ribbons as a means of protest, declaration and reminder of the fact that our fight is still on while going about their classes, labs and other activities." There have been serious concerns about the blockade link atmosphere within the HCU/UOH.
Yesterday evening as the time came close to the release of 25 students and two professors, KY Ratnam and Tathagata Senguptam the air was electric with anticipation and messages on social emdia were eager and excited in solidarity As the university campus was still blocked out from the entry of 'outsiders', the JAC streamed the return of the jailed students and faculty and the long march live.
Last evening Updates regarding the release of the detainees of Uoh:
The lawyers have reached the jail and the process of release in underway. Our friends are expected to reach by 9pm!
Jail ke taale toote hai
Humaare saathi chhoote hai!
Udaya Kumara Jai Bhim Inquilab Zindabad
Demands of the Joint Action Committee (JAC)
1. Dropping of all charges against students, faculty and media persons in UoH and all other places in the country.
2. We demand the university administration to withdraw all the cases filed upon the students and faculty.
3. Immediate removal and arrest of Appa Rao under Prevention Of Atrocities Act
4. Demilitarisation of the campus
5. End University of Hyderabad blockade and students' imprisonment and allow free mobility of lawyers, journalists, and family members.
6. Action against the police and those that they are answerable to for the unnecessary and targeted violence, false detention, misinformation about the detained people, and physical and sexual assault of women students and faculty.
7. Constitute a non-MHRD judicial commission to look in the cases of social discrimination and harassment of Dalits, Adivasis, OBCs, religious minorities and women students across campuses in the country.

Testimonies of the One week in jail
Professor Anjali Gupta on Facebook
When I met my students Munsif and Deepak at the Cherlapally Jail
"As the horde of visitors – students, family members and me – entered the space meant for meeting inmates at the Cherlapally Jail, an immediate and eager cacophony ensued. Two layers of meshed grills about half a meter apart meant you had to shout. We cupped our faces and our eyes scanned keenly for faces we'd come to cherish a bit more in these five days. All members of UoH community – some on that side of the grills, some on this.
I asked, "Where is Munsif?" Someone pointed at the other end, and shouted above the mixture of sounds, "Munsif, come here!" He came hobbling, his steps quick, his grin wide. He had a thicker mop of hair, and his beard had grown since I last saw him.
"Thank you so much Ma'am for coming here and meeting us," said Munsif, my student who's in judicial custody for merely asking the police to not beat up a fellow student.
Another student of Department of Communication Deepak Sudevan, whom I haven't taught yet, came forward. Dishevelled hair, shiny eyes! "Ma'am, I am Deepak. Thanks so much for coming."
Everyone on that side of the mesh was agog to tell what had been done to them. It was as if they were saying: Please tell the world what they did to us.
Policemen had hit Munsif's legs severely with lathis on the campus itself the evening of March 22, 2016, and then abruptly pushed him into an ambulance. "They hauled us in an ambulance so no one outside would know they were taking us away. It was a kidnapping."
At Narsingi Police Station, a constable gave his cell phone on the quiet so the students could make one call. He got caught by his seniors. "He was a good man," said Munsif. So characteristic of this student of mine to spot goodness in a human even at a time of crisis! "The Circle Inspector mercilessly beat up that poor constable. We could hear the screams in another room." Within minutes they were shifted to another station.
"When we said we'd like to exercise our right to make calls to our family, or a lawyer, they said – For 24 hours your human rights have collapsed." Student leader D Prashanth who was standing next to Munsif spoke, "It is worth remembering that they said our human rights have collapsed.""They also said you are guilty till you are proven innocent," he added.
In another bus, 17 students, including Deepak, a filmamaker Moses Tulasi and Political Science Professor KY Ratnam were being taken to Miyapur Police Station the same evening of 22 March. While the bus was moving the policemen hit the students hard with their fists and elbows. Some were slapped. When Prof. Ratnam intervened, they punched him, when others in the bus said please don't hit our professor, the policemen turned and rained some more blows on the young students.
"You organize Kiss of Love, and beef festivals, and you grow a beard – they kept saying this while hitting us," said Deepak.
Recollecting a cardinal principle I had taught in class for the Feature writing course, Munsif said he is writing everything down. I said: Yes, do write! Don't rely on memory. Write everything down.
Soon it was time to say bye. Outside at another enclave people were depositing packets and packets of food, and clothes for their loved ones inside. I had taken six bars of Cadbury Silk for I remember how excited Munsif was about them when I'd brought chocolates for my students on a field visit last month.
I was struck with how happy the students were to see their friends and well-wishers. None of the despair that you associate with prisons.
A political science student who'd come to meet his friend Mathew and his teacher, Professor Ratnam, later said, "Ma'am my friend Mathew said that right now their spirits are up, because all of us were there to meet them, but by night their mood fluctuates."
I have been thinking about how a society decides what is criminal. Yes, we must condemn ransacking, pelting stones, trespassing, destroying property and striking fear in the hearts of people who have gathered for a meeting.
But what is the constitutional response to these acts? Surely, it isn't the extrajudicial manner in which the police picked up students and faculty. Surely, it isn't punching and kicking and slapping and raining blows and threatening students with rape. Surely, it isn't suspending human rights. Our rulebook, our Constitution doesn't allow that. If we justify police excesses because a certain kind of wrongdoing has happened we shift the definition of what constitutes a crime from the Constitution to those who wield lathis and guns. India is a police state for many Indians. Let's not endorse that even as we may agree that vandalism is condemnable."
---

Antinationals have no human rights : Police told Dontha Prashanth and friends
Prasheel Anand Banpur
Location: Cherlapally Mulaqat Enclosure
Date and Time: 4.15 pm to 4.40 pm (appr.) on March 24, 2016
People: Prasheel Anand Banpur, Vinesh Recharla Kondra, Moses John Paul
Met With: Dontha Prashanth, Manne Krishank, Goutham Uyyala, Mudavath Venkatesh
Apart from requesting us to call their parents or to safeguard their vehicles which were parked in
campus, the following are the statements from the 4 arrested students.
Journey Since Arrest:
The protesting students were Lathi Charged and at 5pm were taken in two groups to Gachibowli PS remanded for some time and biodata was taken, then transported to Kukkatpally PS and held for a while, then taken to Miyapur PS, then taken to Narsingi PS where the night was spent, transported then to Moinabad PS, then transported through inroads of villages, then waited for a long time near Nacharam, apparently near magistrate's house, and then to Cherlapally Jail at 12.30 am on March 24, 2016.
Treatment during Arrest :
The arrested students were beaten continuously by the police while being transported from one police station to another, their phones were snatched, not given any information regarding their arrest or where they were being taken. The FIR and cases filed without intimation and knowledge of the arrested students; All the time during the arrest the arrested students were abused constantly, humiliated, and were called insulting names and labelled as naxalites and vandals.
When asked why they are being treated as if they were hardcore criminals, the police replied that they were anti-nationals and that they had no Human Rights. They reiterated that all their Human Rights had collapsed and no negotiation was possible. The Police did not even allow phone calls to be made and created a complete isolation for the arrested students. The Police also took videos and photos of the students when they were eating and talking amongst themselves.
The Muslim students who were arrested were beaten and accused of being Pakistanis and labelled them as anti national wanting to destroy India. The arrested students were also repeatedly accused of possessing drugs and indulging in drug related activities despite the students denying it outright.
The arrested students were then asked to sign on the cases that they were accused of, post which all the students had to sign on this document but mentioned it clearly that they were doing it under force and not voluntarily. The two professors were slapped repeatedly, their shirts torn and were humiliated in the worst of ways regarding their profession and duties.
Arrival at Jail and stay :
Around 12.30 am on March 24, 2016 they were brought in 2 police trucks amidst high security and put up in the barracks as ISI terrorists, hawala mafia, murderers, mafia, and others serving rigorous imprisonment were put up. When Dontha Prashanth and Krishank Manne wanted to fast in the jail to protest the inhuman, unjust, and undemocratic treatment of the arrested students, the authorities blackmailed them saying they would publicize the videos taken by them of students when they were eating the night before.
Message from Jail:
It should be known to people outside regarding the inhuman and sadistic treatment of the arrested students by the police authorities till they reached the Cherlapally Jail. They also said it is important to keep the struggle on for ensuring democratic rights of the students and the people of India.