Here's an incident that would have not gained any attention had cameras not been rolling: Abdullah Dwaik, 12, was on his way to his grandparents' house in Hebron earlier this months when he happened upon a chaotic scene of Israeli soldiers arresting other children that ended with Dwaik being blindfolded on an army base.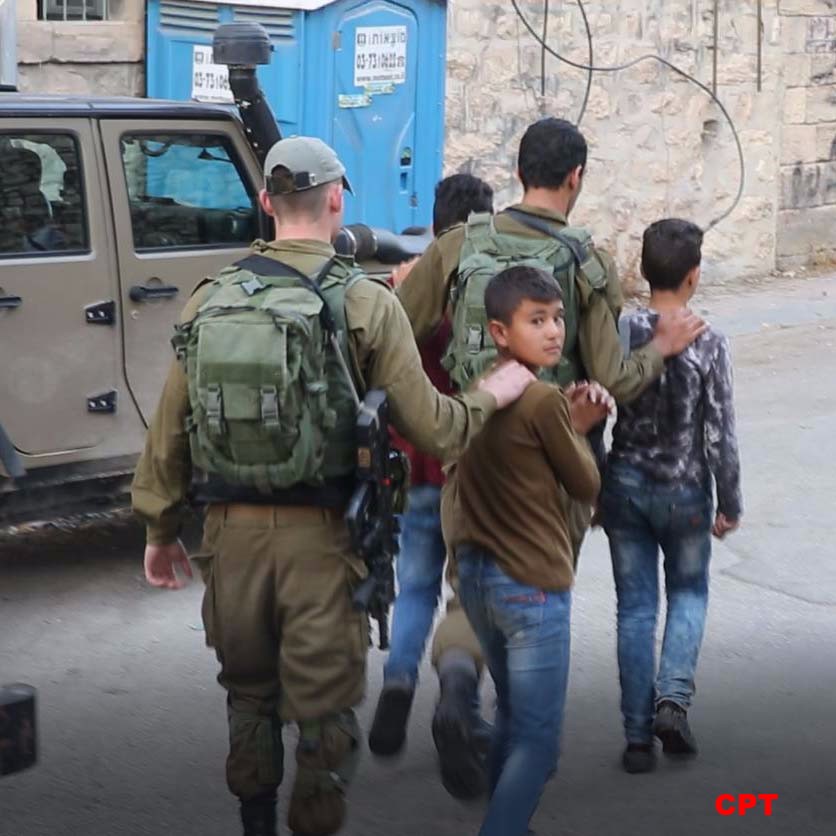 Israeli soldiers detain a Palestinian minor inside of Hebron's Old City on October 13, 2017. (Photo: Christian Peacemakers Team)
"I kept on walking, but then I saw soldiers in front of me and behind me, then a group of soldiers came out of their jeeps," Dwaik said in a interview produced by the Christian Peacemakers Team (CPT), a collection of internationals who volunteer to monitor human rights violations in the West Bank.
In a recording of the interview, the video cuts between Dwaik recounting the October 13, 2017 events and shots of soldiers hastily detaining the minors. At first the children are rounded up on Hebron's unpaved streets. The soldiers take them to a nearby checkpoint. CPT identified the post as Checkpoint 56, an Israeli army crossing that divides Hebron in half where one side is under the security control of the Palestinian government and one side is under the jurisdiction of the Israeli military.
Later footage shows soldiers swiftly locking the minors inside of a metal cage situated at the checkpoint. A crowd gathers around and the next shot captures around 30 soldiers, journalists and Palestinian bystanders are in the area. The scene is calm enough that the soldiers do not seem to pay any attention to the onlookers and journalists. In a daily incident report compiled by the Palestinian government, the event was logged as "Israeli forces raided Hebron city"–without noting any children were detained.
The exact details of what occurred when Dwaik was detained is not explained. His narration is spliced between shots of the Palestinian children in and around the cage: "The soldiers dragged us to the checkpoint then to the military base. They beat us and afterwards they handcuffed and blindfolded us," Dwaik said.
Next he explains he and the others were held for three hours at an army base in Hebron before being released:

"All of them came inside, almost ten soldiers. The soldiers hit 18 of us. They hit us hard and hit some of the other boys and others were hit in the eyes. Some of the boys couldn't see or walk. They hit a ten year old boy and threw him on the floor and they told him if they saw him again, he would be arrested. They threatened us and said that they would arrest us again and will demolish our house. They took me and interrogated me and asked me to give the names of other boys. I said I don't know and they started to threaten me. And told me to tell them so that I can be safely released or they will arrest my father. I was scared and I wished my family was with me. Ofer, the settler, was allowed to be inside with us and looked at us."
A statement from CPT said, "All of those arrested were later released without charge."
According to Defense of Children International-Palestine, the Israeli military detains 500-700 Palestinian children per year. "The majority of Palestinian child detainees are charged with throwing stones, and three out of four experience physical violence during arrest, transfer or interrogation," says a factsheet on the group's website.
Allison Deger is the Assistant Editor of Mondoweiss.net. Follow her on twitter at @allissoncd.
Courtesy: Mondoweiss.net