There's even a devotional song to the ATM.
Over the last few days, an increasing number of people have been listening to a "devotional song", a worshipful paean to the ATM. In the song, men and women in a long queues can be seen praying to an ATM, dancing as they see a Rs 500 note go by.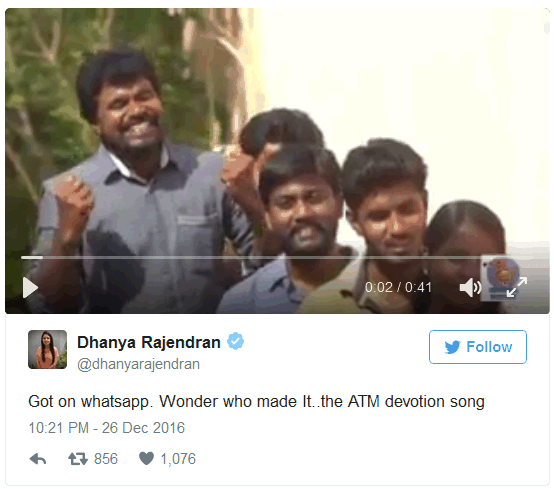 The song in the background waxes eloquent: "As the eyes that see you are transfixed, my eyes blossom, as the sight that I have been longing to see all my life is here, my body melts and so does my soul, oh pool of honey, let wisdom dawn and lighten up the path of life".
Or worlds to that effect. Because the lyrics are actually in Tamil.
As aficionados know, this is actually a song from the Kamal Hasan starrer Gunaa, with music by Ilaiyaraaja, and lyrics that ooze love but could just as easily about cash, banks and ATMs. But this is only a part of a longer video by the YouTube channel chummanachiki.
Based in Coimbatore, Tamil Nadu, the channel is run by a team of four and has been steadily uploading spoofs on demonetisation since Prime Minister Narendra Modi's announcement on November 8.
"We are not trying to be political," Savitha Shanmugam, the channel's producer told Scroll.in. "In the days after demonetisation all of us suffered. We stood in queues for long hours but got not money. Some ATMs have been shuttered for the past 15 days."
In the video below, self-styled as a "musical political satire", a young father sets out armed with his debit card to get some cash for his family. But there is no cash in the ATM, and the queues refuse to move forward. Tired, hungry and depressed, the man begins a tapasya with his debit card as his totem.
Nothing works, not even the laddoos that are being offered by dozen. The kindness of local shopkeepers comes to the rescue, but things still do not end well for the hero in a surprise twist inspired by ending of Christopher Nolan's Interstellar.
In a "social satire" video, the group explained why you shouldn't panic after the note ban. Immediately after the announcement, everyone panicked.

The video that the group made two days aftetr the PM's announcement took a different route. "There are many people who don't know the real situation," Shanmugan said. "They say 'we want this to happen', and that India will become a superpower by 2020. That's what this video is about."
Play

Courtesy Scroll.in