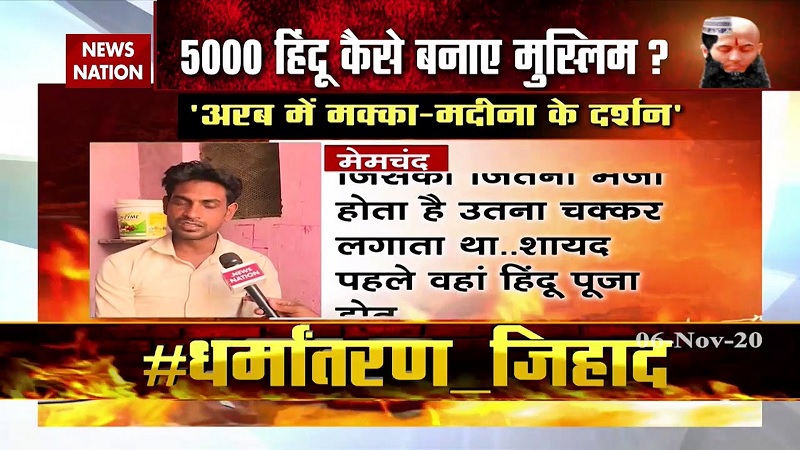 Image Courtesy:dailymotion.com
In yet another victory for Citizens for Justice and Peace (CJP), the News Broadcasting and Digital Standards Authority (NBDSA) has ordered News Nation to take down all videos of its show on "Conversion Jihad". This was in response to a complaint by CJP drawing attention to the deeply communal and outright Islamophobic content of the show.
The show that was telecast on November 6, 2020, told the story of one Memchand from Mewat, who was allegedly forcibly converted to Islam and threatened by the Tablighi Jamaat. Deepak Chaurasia, who was the anchor of the show, openly claimed that there is a conspiracy by 'one gang' to do away with all 'Hindus of Hindustan'. The show then launched into a diatribe that can be essentially summarised as a series of baseless claims and conspiracy theories that broadly suggest Muslims want to convert and oppress Hindus.
CJP's complaint
As per protocol of complaint guidelines set by the NBDSA, then called NBSA (News Broadcasting Standards Authority), CJP had first written to the broadcaster, News Nation, on November 12, 2020. But having received no response from them, CJP moved NBSA for appropriate action.
In its complaint to the NBSA dated December 1, 2020, CJP mentioned how Mr. Chaurasia called one Maulana Syed ul Qadri and forced him to tender an apology on behalf of the entire Muslim Community! He also insulted him on air and called him a Jhoot ki Factory (factory of lies)! The complaint to NBSA further cited instances of how the host encouraged hate speech against Muslims by calling anti-minority propagandists.
The complaint stated that there was a constant attempt to promote Islamophobic ideas such as the Jamaat misleading and encouraging people to indulge in anti-religious and anti-national activities. The complaint further said that a few clips from the television show that were uploaded to Twitter received thousands of likes and retweets, encouraging such hate to be openly sold and causing ill will against the minority community of India.
The complaint to NBSA also included references to important orders of the Supreme Court and Bombay High Court that have observed that in a democracy committed to the rule of law under a regime of constitutional rights, values and duties, an attempt to vilify a religious community must be viewed with grave disfavour as custodians of Constitutional values.
The complaint also made a valuable distinction, "Free Speech is not Hate Speech, Hon'ble Sir as the latter often misuses positions of power and privilege to further marginalise and stigmatise a section that is structurally, socially and politically disadvantaged. Unchecked proliferation of such telecasts by the electronic media have the deleterious impact of mis informing and prejudicing public discourse, often as a precursor to social ostracization and even violence."
News Nation's response
News Nation responded to this on December 5, 2020, saying the allegations were "false, baseless and wrong". It further said that the programme was a live debate and that it was, therefore, "an uncontrollable event on which the editor or anchor of the show has no control over what is said by the panellists". They further submitted the show was based on "first hand ground report from Mewat" regarding the alleged forced conversions. It also submitted that neither the channel nor the anchor had engaged in any hate speech.
However, it said that as a "goodwill gesture", the channel would remove clips of the show and related posts from all social media and digital platforms.
CJP's rejoinder
To this, in its rejoinder dated December 14, 2020, CJP said, that if the channel did not intend to create any kind of social or cultural divide, it should have refrained from running deeply communal captions throughout the show such as "Maulana gang exposed", "Memchand zinda hai, Jamaat sharminda hai" and "Mewat kya Pakistan ban gaya?" and "5,000 Hindu kaise banaye Muslim?" This last one is particularly contentious as there is no evidence offered during the show to support this claim. Further, if the anchor was trying to be neutral and far, then why did he insist that the Muslim speaker on the show apologise on behalf of the entire community? Also, why did the channel offer a platform to a member of a right-wing group to propagate virulent Islamophobia and hate?
NBDSA's decision
After going through the complaint, response, rejoinder and submissions by both parties, the NBDSA concluded that the channel had only "made generalised submissions" and "failed to submit any specific reply to the grievances of the complainant." There appeared to be a lack of due diligence by the channel and it had displayed disregard for the Code of Ethics and Guidelines. It advised the broadcaster to engage in introspection and remedial measures and train anchors better.
It warned the broadcaster to be careful in future, and directed it to remove the vio of the show, if still available from the website of the channel, or Youtube, or any other links, and the same should be confirmed to the NBDSA in writing within seven days.
The entire order may be read here:
Related:
CJP approaches NBSA against News Nation's Conversion Jihad show