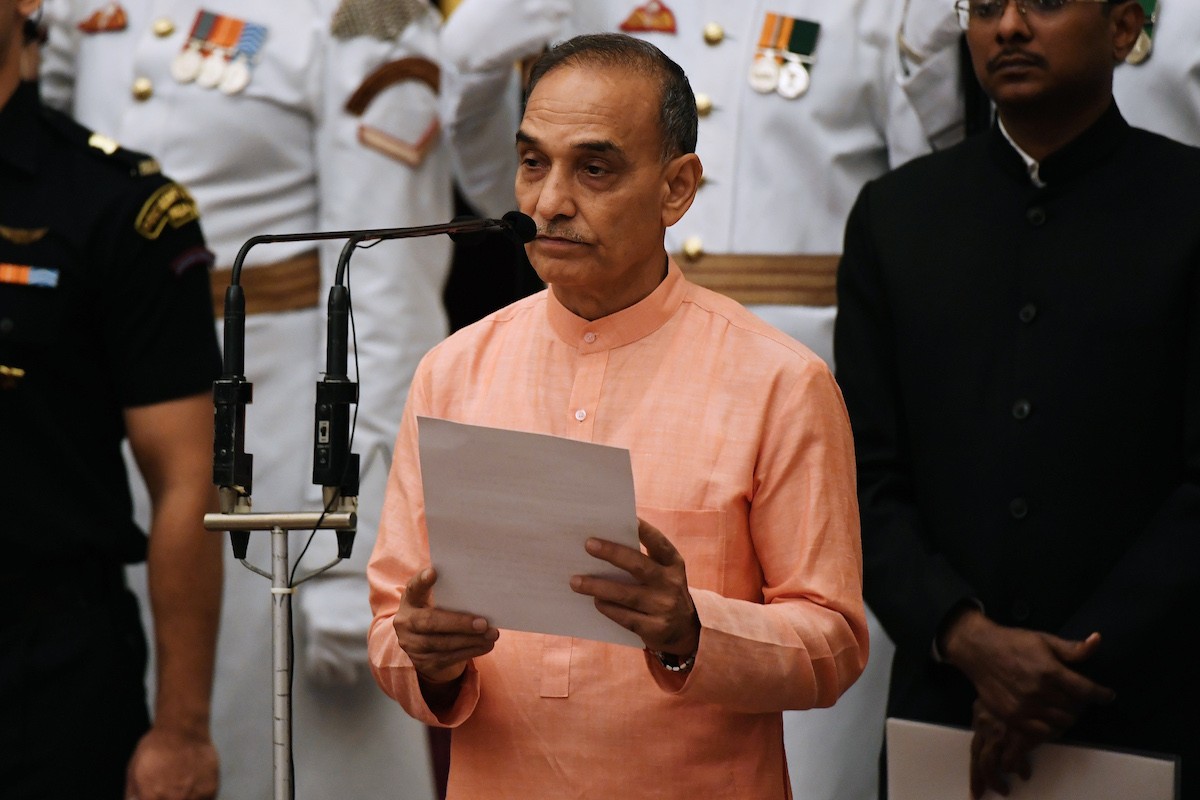 It's been over a week since BJP MP Satyapal Singh made a series of disparaging comments about Australian missionary Graham Staines in the Indian Parliament. Staines and his two minor sons had been burnt alive in Manoharpur village of Odisha in January 1999 by Bajrang Dal members led by right-wing fundamentalist named Dara Singh.
The Parliament was discussing proposed amendments to the Foreign Contributions (Regulation) Act (FCRA), when Singh resurrected an old myth that international Christian organisations were funding large scale conversion of Indians, especially tribals, to Christianity. He accused Graham Staines of converting people and said that is what had led to anger in the region, thereby indirectly justifying the gruesome murder of Staines and his two sons, Philip and Timothy.
Singh, who was once Mumbai Police chief and is currently the MP from Bagpat in Uttar Pradesh, said, "It is important that we act against NGOs that misuse foreign funding for conducting activities against the nation, for religious conversion."
He went on to say, "It is the white man's burden to civilize the world. They want to spread Christianity." He added, "Everyone has seen what has been happening in the Northeast. Insurgency has increased." Thus, Singh linked Christianity with insurgency. That's when he turned his attention to the Graham Staines murder.
"It was wrong the way he was killed along with his sons. The CBI, the Odisha Crime Branch and Justice Wadhwa Commission investigated the crime. They concluded that religious conversion of tribals to Christianity was rampant in the region. That was the biggest reason for anger in the region." Singh then went on to say, "Graham Staines was involved in the molestation of 30 Adivasi girls who were then forced to convert to Christianity. This is what triggered the attack on him. But a senior Congress leader forced the CBI to hush up the matter by excluding it from the chargesheet."
At this point Opposition members started booing Singh, but instead of censuring him, Speaker OP Birla just advised him to speak about the Bill being discussed. Since then, with the exception of NCP MP Supriya Sule, nobody has spoken out against Satyapal Singh's vile and baseless allegations.
Sule was quoted by different news portals as saying, "He (Singh) has defended a case in Odisha about a family that was burnt alive. Whatever they did, no law anywhere in the world allows you to burn people and their children." She went on to ask, "What's even more shameful that somebody who was in police, just because he's in an organisation, says CBI said it (that tribals were upset with Staines). Does that mean CBI says it's okay to burn somebody's children because of actions of parents?"
However, so far, Satyapal Singh has not offered any apology. In fact, no one from the regime has uttered a peep about his statements that are not only defamatory, but also insidious given how they link allegations to sexual assault to religious conversions, thereby making Christian NGOs and their workers more vulnerable to hate and even violence. The manner in which he has linked all this to an influx of foreign funds and dubbed it 'anti-national' also adds to the narrative that minorities are following a culture that isn't 'national' and should therefore be condemned. The false narrative of forced religious conversions has also been peddled skillfully by Singh in a bid to further vilify the community as a whole. And yet, it has not drawn any criticism from any member of the regime.
Christian groups have expressed shock at the blatantly communal attempt to vilify a dead man. In a testament released, the Evangelical Fellowship of India (EFI) of which Graham Staines was a member, said that it is writing to the Honourable Speaker of the Lok Sabha to have the remarks expunged. EFI said, "The Christian community in India is deeply distressed at the remarks made by the honourable Member from Uttar Pradesh in the Lok Sabha, Mr Satya Pal Singh on Mr Graham Staines during a debate on Foreign Contribution (Regulation) Amendment Bill, 2020 on 21 September 2020." It added, "They injure the memory of a person who gave his best years in service of this nation particularly its marginalised. They also go against the record as documented in the parliamentary debates following the gruesome burning alive of the Australian leprosy worker and his young sons Timothy and Philip in Manoharpur in Orissa on 22 January 1999."
The statement recalled how the then President of India, Mr K.R. Narayanan had described the murder as "a monumental aberration of time-tested tolerance and harmony. The killings belong to the world's inventory of black deed."
EFI went on to say, "We find Mr Satya Pal Singh's comments outrageous and an abuse of parliamentary democracy. These remarks besmirch a deceased man's outstanding life of social service, 21 years after his death with hearsay and innuendo." They concluded by saying, "We appeal to Shri Om Birla, honourable Speaker of the Lok Sabha, to review the comments made by Shri Satya Pal Singh and expunge the remarks, unless the latter is able to provide evidence for his derogatory comments."
Christian advocate and former member of the Delhi Minorities Commission has also joined the chorus condemning Singh's remarks, tweeting, "Comments of BJP MP in parliament with regard to Mr. Graham Staines is totally untruth (sic) and was misusing floor of house to spread lies. Lok Sabha Speaker on his own should expunge or members should move motion else we will be compelled to knock at doors of Court."
Comments of BJP MP in parliament with regard to Mr. Graham Staines is totally untruth and was misusing floor of house to spread lies. Lok Sabha Speaker on his own should expunge or members should move motion else we will be compelled to knock at doors of Court.

— A C Michael (@ACMichael1) September 26, 2020
Related:
Twenty Years Later, a Culture of Unrepentant Gore Reigns: Graham Staines Killing
We need more Gladys Staines in India to defeat hatred
Can a social media blitzkrieg wipe away Pratap Chandra Sarangi's past?
History of Attacks on Christians by the Right Wing in India