Gadag SP categorically denied that Shivanand was ever taken into police custody.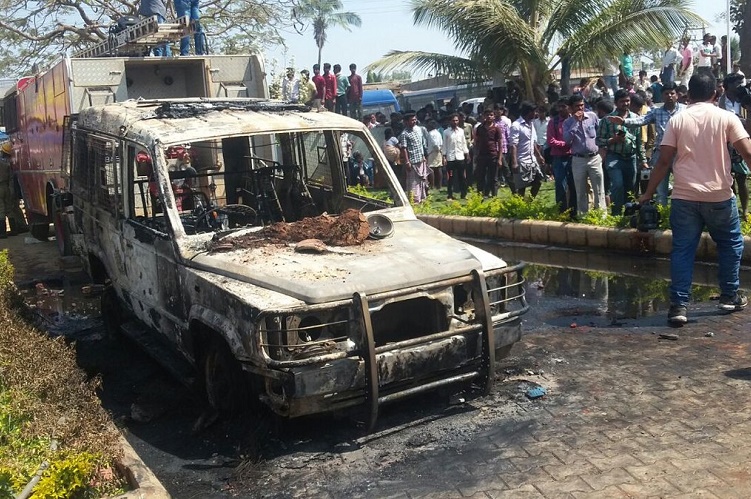 A day after an angry mob set ablaze the Gadag police station in Karnataka, following the alleged custodial death of a 30-year old lorry driver, police claim that the sand mafia had deliberately 'manipulated the death' to target them.
Sunday saw villagers attack the police station, after lorry driver Shivanand Ganiger -a resident of Battur village of Shirahatti Taluk- died owing to reported custodial torture.
Family members claim that Shivanand had returned home on Saturday night with severe stomach pain. Though the family rushed him to hospital, he was declared brought dead by the doctors. Bereaved relatives and villagers then went on a rampage, vandalizing and setting fire to the police station.
While relatives have named PSI Devanand and driver Ashok in their complaint submitted to the SP, police claim that the sand mafia -and not the family- has "manipulated the death to deliberately target the police".
Categorically denying that Shivanand was ever taken into police custody, Gadag SP Santhosh Babu told The News Minute that Shivanand had in fact abandoned the lorry and fled, when it was blocked by the police on Saturday.
"The ruckus was created not by the driver's family, but by villagers who are habitual offenders. The violence was not even politically motivated. On the contrary, it was spearheaded by those against whom the police had previously taken action.The PSI has been clamping down on illegal sand transportation. Hence the offenders used this 'death' to take on the cops. Allegations of custodial death are baseless," said SP Santhosh.
Meanwhile, a case was registered against the inspector and driver on Sunday, after the complaint by the family. SP Santhosh has dismissed reports that the PSI and the driver were at large. He pointed out that the two were suspended on Sunday evening for lapses in execution of duty.
"The officers were suspended not due to the allegations of custodial death, but for lapses in duty. Firstly, they did not file a case against the lorry owner and driver, despite the latter fleeing the scene. Secondly, they had delayed apprising seniors about the ruckus that happened at the police station," he said.
The SP confirmed that the state Criminal Investigation Department will look into the case on Monday. The post mortem report is now awaited to ascertain the exact cause of the death.
Courtesy: The News Minute