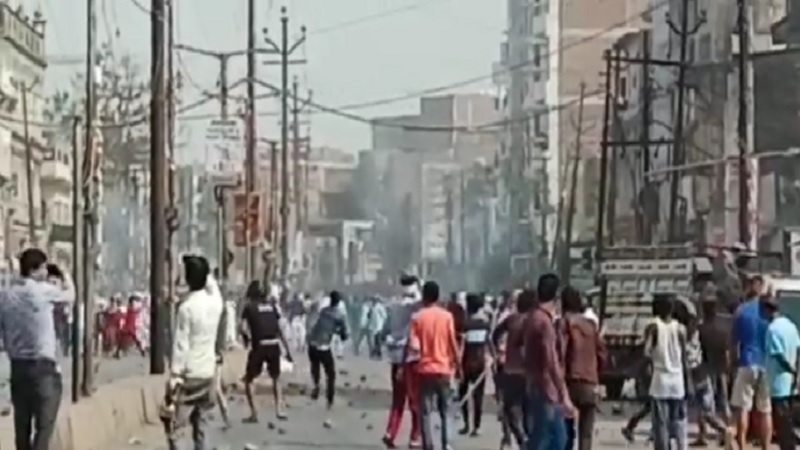 Image Courtesy:twitter
After a video was widely circulated on Twitter, reports of violence breaking out in in Kanpur city of Uttar Pradesh started coming in. According to a report in the Hindustan Times, after weekly Friday prayers, members of the minority community clashed with police in reacyion to the police lathi-charging some locals. According to other reports, the violence broke out in the Becongunj area near Yatimkhana after police baton-charged some locals. Hundreds of people had taken to the streets in protest.
Some locals were observing closure of shops and had taken out a procession over an alleged insult to Prophet Mohammad. Soon after, the clash broke out.While the situation had been brought under control, the violence resumed a little later with at least two shots being fired. According to available reports, police have sought additional reinforcement.
Sabrangindia has learned that violence broke out after a local community leader had called for shops in the area to be closed in the area to "protest " the objectionable remarks by BJP spokesperson Nupur Sharma against Prophet Mohammed. The few outfits belonging to the Hindu majority feared isolation and an attack by Muslims on the street and hence brick and stone throwing broke out. This was brought under control. Unconfirmed reports said that a 'bandh" call has now been given.
Kanpur District Magistrate Neha Sharma told the media that the situation has been brought under control.
Action will be taken against the culprits, she said, adding that additional police force has been deployed.
While Modi is giving his monologue in Kanpur, Hindus and Muslims are fighting it out on the streets of Kanpur! pic.twitter.com/siumk204Hx

— Ashok Swain (@ashoswai) June 3, 2022