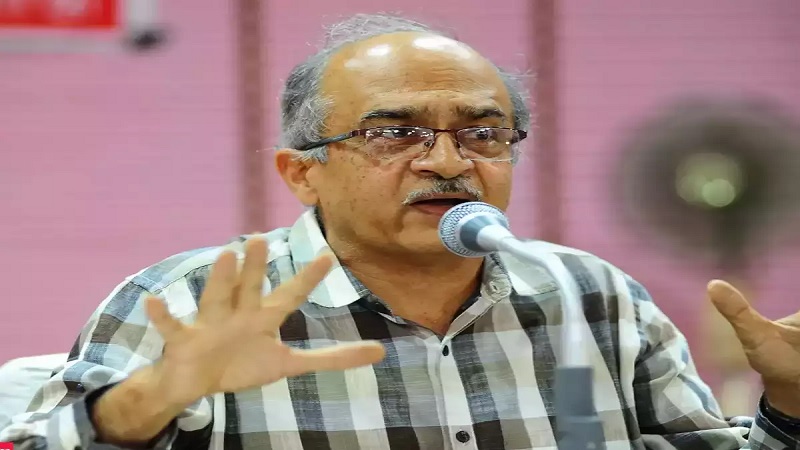 Image Courtesy:economictimes.indiatimes.com
Senior lawyer, and renowned civil rights activist Prashant Bhushan, speaking in solidarity with the three reporters who were attacked recently, said that India is witnessing a "virtual collapse of the rule of law on the street." Bhushan, no stranger to abuse, attacks and slander from Right Wing goons warned that mobs were now freely roaming the streets, "beating up journalists whose journalism they don't like. They beat up people of the minority community."
He was speaking at a press meet called at the Press Club of India, in Delhi on Thursday, to condemn and speak in solidarity with the three journalists of The Caravan who survived a mob attack in Subhash Mohalla in North East Delhi on August 11. The Delhi Police has not yet registered a First Information Report, and has instead sent a 'rejoinder to the magazine, by giving itself a clean chit, as the magazine's political editor Hartosh Singh Bal put it with candour. Other speakers included activist and author Arundhati Roy, senior journalist Anand Sahay, and the two of the reporters, Prabjut Singh and Shahid Tanrtay.
"This lynch mob that is seen on the street is also on social media," said Bhushan speaking about the abusive nature of TV debates these days. "We see vile abuse and threats on a daily basis, specially [towards] people who speak against the government, people who speak freely and openly about what is happening, especially from the minority community," he said. According to the senior lawyer, who is also active online, "hate and poison is being spread through social media." According to Bhushan the silence of the politicians in power, who have refrained from even commenting on this recent violent attack on the Media, is ominous too. "Unfortunately there has been no condemnation by the ruling party, they have not disowned it and not condemned this incident," he said, adding that this hinted at big connections.
He did not camouflage his words, and has held the Prime Minister responsible for encouraging online trolls. The trolls, reminded Bhushan, are the ones who then instigate hate and violence offline too. "This lynch mob on social media is controlled by the Prime Minister himself. He directs who is to be abused. All kinds of vile abuses are made by not just his followers, but people he follows, and people whom he invites for tea to his residence and they take photos with him," alleged Bhushan.
"We saw in mainstream media, yesterday, who is this fellow Sambit Patra? Just a vile abuser. He is a part of the lynch mob now in the mainstream media studios. And such lynch mobs are being allowed, and encouraged by mainstream media news channels," alleged Bhushan as he put the spotlight on the mainstream television media. A few days ago Congress Spokesperson Rajiv Tyagi died of a sudden heart attack after one such heated 'debate' with BJP's Sambit Patra. "RajivTyagi had a heart attack & died within an hour of getting up from a poisonous debate on #aajtak where he faced vile abuse by #sambit patra. In my view, he was murdered by these channels, anchors & spokesmen like Patra who thrive on hate & abuse," he had said soon after the tragedy.
#RajivTyagi had a heart attack & died within an hour of getting up from a poisonous debate on #aajtak where he faced vile abuse by #sambitpatra. In my view, he was murdered by these channels, anchors & spokesmen like Patra who thrive on hate & abuse

— Prashant Bhushan (@pbhushan1) August 13, 2020
On Thursday he equated this with violence in real life, alleging that the "police which is not only a bystander but participates in the violence." Bhushan's strong words which rang loud and clear. He said this incident also showcases what is happening in our country in general, "what has happened to the police, and to many other other institutions such as the judiciary." He said, while the politically affiliated mobs "beat up people who speak against the government, the police stand helplessly as bystanders, and sometimes as we saw in the delhi riots they sometimes participate in the violence inflicted on the helpless victims."
Days have passed since the attack, and the Delhi Police, state The Caravan reporters, is yet to register an FIR on their complaint. The Police reportedly wanted to hear/ examine 'both sides'. However, according to Bhushan the law is clear on the matter. He quoted a Supreme Court constitutional bench judgement in the Lalita Kumari case 2013, "as soon as a complaint of an offence is made it has to be registered as an FIR." He explained that a preliminary enquiry can only be done if there is a doubt whether the complaint amounts to a legal offence. In Caravan's case he said the reporters made a complaint alleging assault, "which every policeman knows is an offence under the Indian Penal Code." An FIR has to be registered immediately, asserted Bhushan. The fact that they have not registered an FIR till today shows that there has been a complete breakdown, he said, raising the question if "The police is not even willing to register an FIR against BJP people? This is the state of the police"
He has stressed on the role of Delhi Police in the Delhi riots investigations too, an issue that has been the subject of investigation even by The Delhi Minority Commission, apart from many media reports, and activists statements. "In the Delhi riots the same police which is supposed to be investigating the so-called conspiracy into the riots, have been seen on camera, breaking CCTV cameras, beating up people, throwing stones, breaking CCTV cameras to hide the evidence… the same fellows went inside, even in the library students at jamia, they were the people who escorted these goons inside JNU and escorted them out after they created mayhem inside," alleged Bhushan, adding that while "this is the same police that is supposed to be investigating, the whole investigation is in the nature of a conspiracy, to frame innocent people and to let off People like Kapil Mishra who were seen very clearly instigating the mob."
He said this was yet another example of "lumpenisation of our culture by the ruling party. It is a destruction of our law enforcing agencies like the police, and the judiciary" he alleged that both those arms of the law have "unfortunately done nothing, by and large, to stop this compte and brazen destruction of the rule of law, culture, civilised values of the country."
Speaking on the attacks on journalists, he said it was an attempt to "control, browbeat the media. And if a few stand up, there is an attempt to intimidate them by setting upon them enforcement agencies like they have done with NDTV, or beat up reporters like this."
The senior lawyer warned that "if we do not wake up now, then this is the end. We know what happens when rule of law breaks down… society descends into chaos and violence and ultimately everybody suffers."
#Live | Arundhati Roy, @pbhushan1, Anand Sahay, Shahid Abbas and @HartoshSinghBal at The Press Club of India, on the attack on three Caravan journalists in north-east Delhi https://t.co/dNdjH3s0FC

— The Caravan (@thecaravanindia) August 13, 2020
One of the reporters alleged that at the police station, he heard a police officer saying that "real freedom" had come "five or seven years ago, not in 1947."
Author and activist Arundhati Roy, said, "We are in a situation which will self-destruct as this hate-fuelled ideology tightens its grips on every institution, as it attacks every individual that stands up against it." According to Roy, the "hate-fuelled, fascist ideology" has now become "actionable public policy" and this included "annihilation of opposition." "We are a one-party democracy, which is an oxymoron to begin with," she said.
Roy said, even those who have studied, the history of fascism, even superficially, knows how propaganda is created. She said this propaganda was now "in the hands of the Hindutva ideology" and "No dissent, even down to the last individual will be tolerated," this she said was fascism. And if journalists in the National Capital faced such violence, "think about what's happening with small town journalists," she asked.
While reporters Prabhjit Singh and Shahid Tantray recounted their ordeal. The woman journalist's statement, read out. With her powerful words, she has This is the full text:
"First, I want to congratulate my colleagues Shahid and Prabhjit for their relentless courage and determination in pursuing stories on the anti-Muslim violence in northeast Delhi. I want to say that I am proud and will always be proud of being a part of The Caravan magazine.
What I went through on 11 August is the most traumatising experience of my life, but here, I want to highlight the courage of the Muslims of northeast Delhi, especially Shanno and her family, whose story we were reporting.
While interviewing these women about how the police molested them at the Bhajanpura police station, they recounted the ordeal they had to face from the locals, police and media. Their courage in facing all this was an inspiration. Shanno and her daughter are an inspiration for me.
Shanno's young daughter seemed exhausted but she was fearless when we asked if she would speak on record. Her eyes were bright and with a faint smile she said, "I am not afraid of speaking out the truth." There is nothing more courageous than this. Many Muslim women who reside in north Ghonda came out to help me and bravely asked the Hindu mob to back off as it was attacking me.
I urge all the journalists out there, who are not afraid of taking on this increasingly fascist government, to report more on Muslims of northeast Delhi and document their bravery. I also thank my editors and colleagues who are supportive and courageous and from whom I learned good journalism, at a time when the media is in such a dark state in this country.
Shanno kept repeating the word "insaaf" [justice] to us with tears in her eyes. It is still reverberating in my ears. As the media, we should do our duties fearlessly and pledge our solidarity to the brave women who are fighting for justice. This incident won't deter me from pursuing many more stories like this and I am not afraid to do so. I again thank my friends, colleagues, editors, and all who stood by us."
As more support pours in from the media fraternity from across the country, the journalists have reiterated that they were not afraid, and will continue doing their jobs.
Related:
Caravan journalists attacked viciously by murderous mob in Northeast Delhi
Bengaluru riot: 3 dead, journalists beaten up by cops
Hate offender Kapil Mishra accuses renowned journalists for biased reportage of Delhi violence
UN takes closer look at attacks on women journalists
Journalism is a hazardous profession in Uttar Pradesh