VIkas Fhatak aka Hindustani Bhau is famous on Twitter and TikTok for his abusive language and vulgar jibes against women

Image Courtesy: hindustantimes.com
In a bid to boost its TRP, the Bigg Boss house welcomed two contestants – one a controversial YouTuber and the other, a politician.
Salman Khan, the host of the show, gave a grand reception to TehseenPoonawalla, a self-proclaimed 'political analyst' who is married to Monica Vadra, Priyanka Gandhi's husband Robert Vadra's cousin. Tehseen is a regular on news shows and is known for his vociferous criticism of senior Congress leaders like Ajay Maken, Mani Shankar Aiyar and Jairam Ramesh. He has been a staunch opponent of some of the party's decisions but has believed that Rahul Gandhi is the man to lead the Congress to victory. He also ran a TV show called Bhai vs Bhai with his brother ShehzadPoonawalla.
He was also one of the staunch voices behind MASUKA – ManavSurakshaKanoon – which is a draft bill to begin a legal conversation against lynch mobs.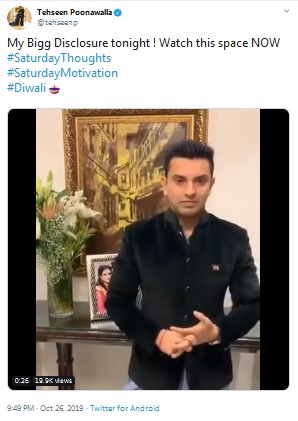 On the other hand, the other contest to enter the house is the vile, venom spewer, abusive VikasFhatak who has gained popularity on TikTok and YouTube through his videos where he is always using foul language and calling for sexual violence against Pakistani women. His videos on provocative political statements on India and Pakistan have become viral on social media platforms.
While not much of an uproar was caused regarding Tehseen's entry into the house, Tweeple expressed their anguish about the choice of Phatak to be a contestant.
Bigg Boss has always been synonymous with content that has been questionable. A current contestant in the show has also been picked up for his insulting and offensive language against women.
The show adapted from a UK version Big Brother, has today been adapted into different Indian languages. It lost its prime-time slot at 9 PM and was shifted for viewing till after 10 PM citing 'obscene' content.
Recently, the KarniSena had called for a ban on the show for misappropriating Indian culture when during show proceedings, a Muslim contestant was made to share a bed with a Brahmin girl. In regards with the same matter, the Confederation of All India Traders (CAIT) had moved the Internet & Broadcasting Ministry with an official complaint.
The BJP and its right-wing affiliates have opposed the content on the show, but it has only been about the matter mentioned above and in the interest of preventing 'love jihad'.
Why are these organizations silent about Hindustani Bhau's entry into the house? He claims to be a patriot. Is this the kind of nationalism and patriotism that is going to be promoted by the ruling party? His misogynistic comments against women definitely violate YouTube Community Guidelines which clearly state YouTube doesn't allow content that promotes violence or hatred against individuals or groups based on a number of attributes, including, but not limited to: age, race, gender, or religion. Yet, YouTube has awarded him with a silver trophy for crossing 100,000 million subscribers on his channel.
With easy access to the television and internet, the show can easily be viewed by children and minors who are at an impressionable age. The Bigg Boss team has crossed all limits of civility and decency by airing inflammatory content with an aim to push its TRPs on national television. It is now for Viacom 18, the parent company of Colors that airs Bigg Boss and YouTube to take cognizance of the matter and work against promoting such content on its platform.
Related:
Communal hate gets top nod? Modi and his ministers follow people who trend hate-filled hashtags on social media
Caste Slur by BJP State Minister against Vaddars threatens to snowball: Karnataka
Misogynistic Manohar: 5 times sexist Haryana CM Khattar put his foot in his mouth