NRC – What to do with it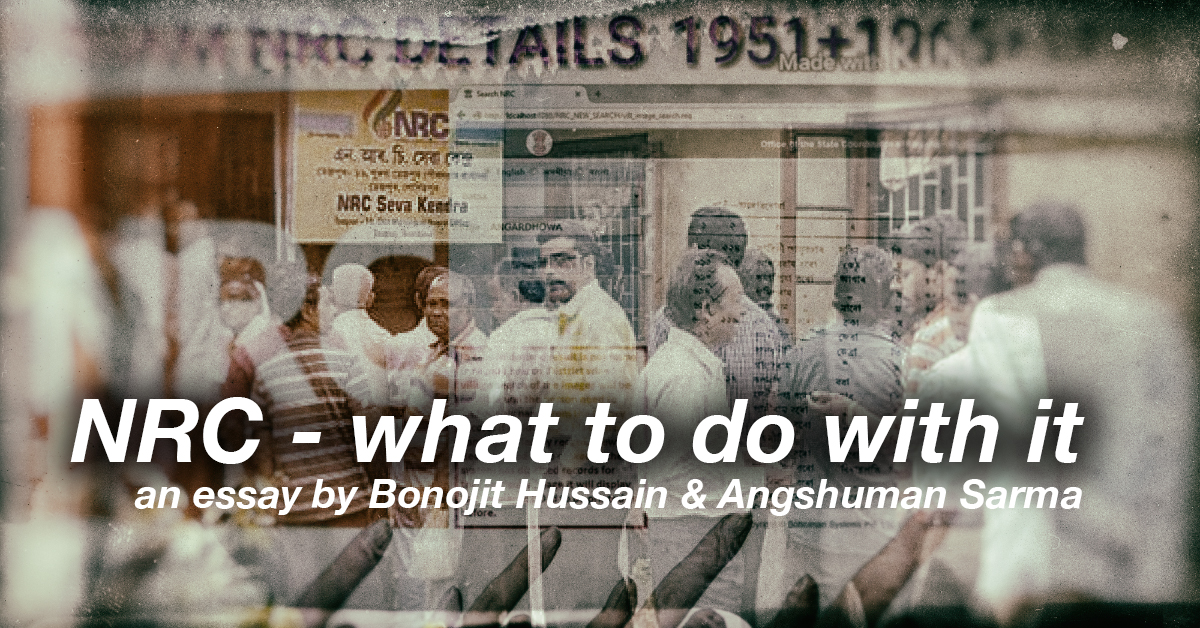 There have been many-sided arguments about the problems around National Register of Citizens (NRC) that is being updated in Assam for the first time since 1951, and its implications, especially for those who are socially profiled as illegal Bangladeshis. Updating the NRC is an attempt at bringing a closure to the vexed foreigners' issue in Assam, an issue over which thousands have lost their lives in Assam. Even though there are many daunting challenges after the final consolidated NRC is published by the end of this year and there are many loose ends to tie. There is a commonsensical understanding that people whose name don't appear on the NRC will be deported to Bangladesh; that is a hogwash, Indian government has not yet informed (even if informally) Bangladesh government that such an exercise has been taken up.
Though the official process of updating the NRC under the supervision of Supreme Court has started from 2015 it has been done with the mandate of tripartite Assam Accord 1985 signed by Government of India, Government of Assam and leaders of the Assam Movement. And in a rare moment, barring the Sangh Parivar, almost all organizations in Assam representing all ethnicities and communities, and political parties across the political spectrum were in agreement that there should be a fair and error-free NRC. Among various organizations, those representing the religious minority (of East Bengali origin) in Brahmaputra valley had also spent a tremendous amount of energy running awareness campaigns to educate people how to apply correctly for NRC updating. Religious minority (of East Bengali origin) are the ones for whom NRC is a matter of utmost importance as many believe that once they are recognized through NRC as legitimate citizens of India, their continued everyday harassment by chauvinist and xenophobic forces will cease. On the other hand, various organizations representing various tribes and other ethnicities of Assam wholeheartedly support the NRC process under the impression that such an arrangement will help identify illegal migrants who entered Assam post 24th March 1971 and settled the issue of illegal migrants once and for all – a cornerstone of Assam Accord.
It is a well documented historical fact that a large number of Muslim peasants from erstwhile East Bengal settled in Assam in early 20th century. But, over decades vested interests have tried to prove that their descendants today are illegal migrants. The rhetoric of "illegal" Muslim migrants flooding the region that is often parroted by rightwing groups is backed largely by what seems to be paranoid about the perceived growing numbers of Muslims, all of whom are assumed to be "illegal" migrants irrespective of when they or their ancestors settled in Assam.
***
Following Supreme Court directive a partial draft which included 1.9 crore names out of 3.29 crore who had applied for NRC was published on midnight of 31st December 2017. The complete draft of the NRC is slated to be published on 30th June 2018.
In the aftermath of the publication of the partial draft of NRC it was only some BJP leaders who had made polarising and rabidly communal statements much to the anger of all other organisations including the All Assam Students Union. And it seemed that some BJP leaders were also unhappy that any sort of violence didn't break out after midnight of 31st December and everything went ahead peacefully.
It is perhaps important to note that even prior to the publication of the partial draft many leaders of the ruling party were ever busy making comments for months that there will be "unprecedented violence" in 14 or 15 Muslim (allegedly of Bangladeshi) majority districts of Assam and that 45 companies of central paratroopers will have to be deployed.
Sangh Parivar has reasons not to be wholeheartedly in favour of a fair and error-free NRC. Firstly, if a fair and error-free NRC is completed under a non-polarised environment the parivar might just have to partially shut shop that invokes bogey of Bangladeshis for everything under the sun. Secondly, the final NRC might throw up 'unexpected' results; many have speculated that a large percentage of non-citizens will turn out to be Hindu Bengali immigrants from the neighbouring country who came to Assam after the cut-off date of 24th March 1971. That seems to be one of the reasons why several Assam BJP leaders made a dash for Delhi after Supreme Court ordered that partial draft have to be published by midnight of 31st December. They made the dash to Delhi to impress upon the central government to pass the communally motivated Citizenship Amendment Bill 2016 with renewed urgency so that the Hindu Bengalis found to be non-citizens can be granted citizenship.
Though, on 30th June, the complete draft list of NRC will be published, a narrative has been constructed, mostly by BJP leaders and the Sangh Parivar that 30th June will decide the fate of who is a citizen and who not. This narrative of finality has been spearheaded by powerful BJP minister Himanta Biswa Sarma who has been repeatedly saying that 30th June 2018 will decide 'friend or foe of Assam". This imposed narrative has, understandable, created anxiety and fear among many people, especially Muslims of East Bengali origin.
That being the situation, If any issue related to NRC is sensationalized without proper substantiation or due to lack of understanding of the nuances related to the process, one may unintentionally further strengthen the conspiracy of fear that is being spread by the Sangh parivar.
Unfortunately a section of International media along with few civil society organization based outside have also given currency to the myth created by BJP and the Sangh Parivar that 30th June is the culminating point of the NRC process and those people who do not find their names in the complete draft will become Stateless, ignoring the fact that there is to be a further process of claims, objection and correction of documents before the publication of the final consolidated NRC by the end of this year.
Recently on 11th of June four special rapportuers of the United Nations Office of the High Commissioner for Human Rights (OHCHR) had written a letter to the Ministry of External Affairs expressing "serious concern" exclusively over alleged discrimination of "members of Bengali Muslim minority in Assam" in getting "access to and enjoyment of citizenship status on the basis of their ethnic and religious minority status".
The OHCHR letter mentions 30th June as the date for publication of the complete draft, however the letter, based on information provided by civil society groups from India, further the same impression of the sense of finality around 30th June. Even a cursory glance at the letter makes it clear that the special rapportuers have not been provided with adequate information about the impending processes post 30th June.
The letter casts severe aspersion on the NRC process which is actually, at least on paper, not an attempt at officially determining who is Assamese or Bengali, Hindu or Muslim (that's the job of Census authorities and they have done that in 2011). Though at the ground level there might be biases in operation during the NRC process. Also the NRC exercise might not solve the ethnic tensions, vexed illegal foreigners issue, and everyday discrimination of a large section of Muslims of East Bengali origin, but NRC provides an window which needs to be optimally explored to solve many of the vexed problems that various communities residing in Assam faces.
The OHCHR letter has mentioned a Gauhati High Court judgment on 2nd may 2017 (WP(C) 360/2017) and also mentioned that on the basis of the order the State coordinator of the NRC issued two official memos.
The High Court judgment had said that
"…once a proceedee is declared to be a foreigner it would only be a logical corollary to such declaration that is brothers sisters and family members would be foreigner. Therefore it became the duty of the Jurisdictional Superintendent of Police (B) to cause enquiry in respect of brothers, sisters and other family members of the declared foreigners and thereafter, to make a reference to the competent foreigner tribunal against such brother, sister and other family member."
The two official NRC memo citing this High Court instructed the offices of Local Registrar of Citizens Registration to "keep eligibility status of all such persons (ie; brothers, sisters and other family members of Declared Foreigners) pending till decision on their Indian citizenship is confirmed by the concerned Foreigners Tribunal similar to procedure for D-Voters."
Till date 93,628 persons have been declared as foreigners by the Foreigners Tribunals in Assam. Out of those 15,000 have been found to have come to Assam between 1st January 1966 and 24th March 1971, so under Article 6(a), which was inserted into the Citizenship Act after the Assam Accord in 1985, they were retrospectively granted citizenship, hence they and their family members are eligible for NRC. 4,288 Declared foreigners have been found to have applied for NRC, and the rest of the Declared Foreigners are said to be "untraceable".
The OHCHR letter has expressed concern that the two above mentioned official NRC memo "may lead to wrongful exclusion of close to two million names from the NRC, without a prior investigation and trial".
While, in line with principles of universal human rights, the concerns expressed in the letter are well founded, but the question arises – how did the OHCHR special rapportuers or their Indian informants arrived at the figure of two million (20 Lakh). Where things stand today, the NRC status of family members of those identified 4,288 Declared Foreigner will be put on "Hold", even if we assume that of those families have 10 members each, their total numbers come close to 50,000, and if we add around 2.5 lakh declared D-Voter it totals upto 3 lakh.
For months now, in Assam, there have been unsubstantiated claims made by various quarters that 20 to 30 lakh Muslims of East Bengali origin will be dropped from the NRC. And we have already mentioned that some BJP leaders and people close to the government have been attempting at further polarization the already tensed situation by singling out Muslims of East Bengali origin in their political rhetoric.
Here we would like to assert that we are not trying to defend or reject the legal validity of the Gauhati High Court order or the concerned official NRC memos. We are of the opinion that the family members of the Declared Foreigners shouldn't have been excluded or put their NRC statuses on "Hold" adding to their anxiety, harassment and loss of livelihood. But, nonetheless, a responsible and respected office like that of the OHCHR falling into the trap of quoting unsubstantiated numbers is unfortunate, as it provides a semblance of credibility to those unsubstantiated number crunching that has already been in the rumour mills and further vitiates the already fragile political situation in Assam.
Apart from the family members of Declared Foreigners whose NRC status will be put on "Hold", our own observations from the ground suggests that several lakh of people's name will be missing from the complete draft NRC on 30th June. Reasons for that could be varied ranging from submission of faulty application and wrong pre-1971 legacy data to prejudices and alleged biases of NRC officials at the lower echelon. However, though numbers might greatly vary but names of people from communities other than Muslims of East Bengali origin will also be dropped from the complete draft NRC. The cases of the dropped names will be taken up during the "claims, Objection and Correction" process post publication of complete draft on 30th June, and this make the post 30th June process one of the crucial phases of the NRC updating process. The OHCHR letter fails to take cognizance of these important nuances.
Instead of falling into the trap of unsubstantiated claims, we are of opinion that, it would have been a far more fruitful intervention if the OHCHR letter had cautioned the Government of India that the "claims, Objection and Correction" process post publication of complete draft on 30th June be pursued with utmost diligence without any religious, racial or ethnic prejudices.
The OHCHR letter has rightly sought answers from the government on "… the implication for those individuals who will be excluded from the final NRC", in particular, "whether they will face detention or deportation". It is in this context, we feel, that the intervention of the special rapportuers could have been most useful. Various legal experts and human rights defenders have been pointing out the arbitrariness with which border police refers people suspected of being illegal foreigners to the Foreigners Tribunals, and the deplorable and inhuman condition of the detention camps where arrested Declared Foreigners languishes.
***
Vested interests are out to create confusion that if people's name doesn't appear on the complete draft on 30th June, they will be on the verge of becoming STATELESS. On the contrary, the fact is that even if someone's name is excluded from the final NRC due by the end of this year, that person will automatically not become stateless; however torturous the process might be, their citizenship will finally have to be decided in the Foreigners Tribunal and the higher judiciary.
NRC authorities have made it clear that the personal details and reasons for exclusion of names from the complete draft NRC will not be put in public domain; and as of today nobody is in a position to concretely predict numbers of exclusion and their ethnicities. By falling into the trap of making unsubstantiated claims, we will only be helping the vested interests who are bound to run propaganda campaign that all those whose names have been excluded in the complete draft NRC on 30th June are Illegal Muslim Bangladeshis.
All concerned and democratic forces should instead work towards exploring and optimally using the options available within the NRC process, which would mean providing legal and other necessary assistance during the "claims, objection and correction" process to those people whose names does not appear in the complete draft on 30th June due to discrepancies in application forms, faulty submission of documents, and alleged biases of NRC verification officials. And while doing so, we constantly need to raise the issue of arbitrariness with which border police refers people suspected of being illegal foreigners to the Foreigners Tribunals, and the deplorable and inhuman condition of the detention camps.
Courtesy: http://raiot.in/