Mumbai, June 05, 2023
A Joint Call from a Citizen's Collective, Civil Rights and Environment Groups on World Environment Day, June 5: Mega crore  infrastructure projects in Maharashtra – from Ratnagiri, Raigad, Palghar, Thane and Mumbai have endangered the Konkan, destroying forests and the coastline, causing severe air pollution, besides  displacement of scores of communities and loss of livelihood. People are now burdened with the loans taken for these projects.
Throughout May, the Indian Metrological Department (IMD) issued repeated warnings of a heatwave in Mumbai, Thane and parts of the Konkan. Barely a few months ago, citizens of Mumbai experienced the worst air pollution in years. Between January 29 and February 8, Mumbai overtook Delhi as the world's second most polluted city in terms of the global Air Quality Index (AQI).
We are reeling under the impact of climate change. We struggle to breathe clear air and dust particles from construction sites have caused chronic respiratory illnesses. The heat wave has been exhausting and at least 13 people in Maharashtra died due to heat stroke in April. For scores of citizens, travelling to their workplaces is daily torture.
Citizens are experiencing the ugly impact of the cutting down of hundreds of trees and forests for infrastructure projects, the displacing of scores of people and the destruction of traditional vocations and livelihood patterns in the name of development. These rampant destructive spate of activities do not align with the objectives of protecting and nurturing the environment and protecting the lives and livelihood of people.
We, civil society activists and environment protection activists have come together to speak about the negative impact of various 'development 'projects undertaken by the Maharashtra government. We ask "If not for the people of the state, for whom is this destructive development for? Who benefits from it?"
So far, a repressive government in Maharashtra has clamped down on voices of dissent who have been served with externment notices and FIRs. A Citizen's Collective from Environment and Right Based Peoples' Movements have come together to demand action from the Government to protect the Environment on Monday, June, 5on the occasion of World Environment Day. The Venue for the public meeting between 5-7 p.m. is 2nd Floor, Marathi Patrakar Sangha. Near Azad Maidan, Mahapalika Marg, Fort.
The Collective has put together a summary of the environmental impact of some of these destructive initiatives in the Konkan, Palghar and Thane district and Mumbai: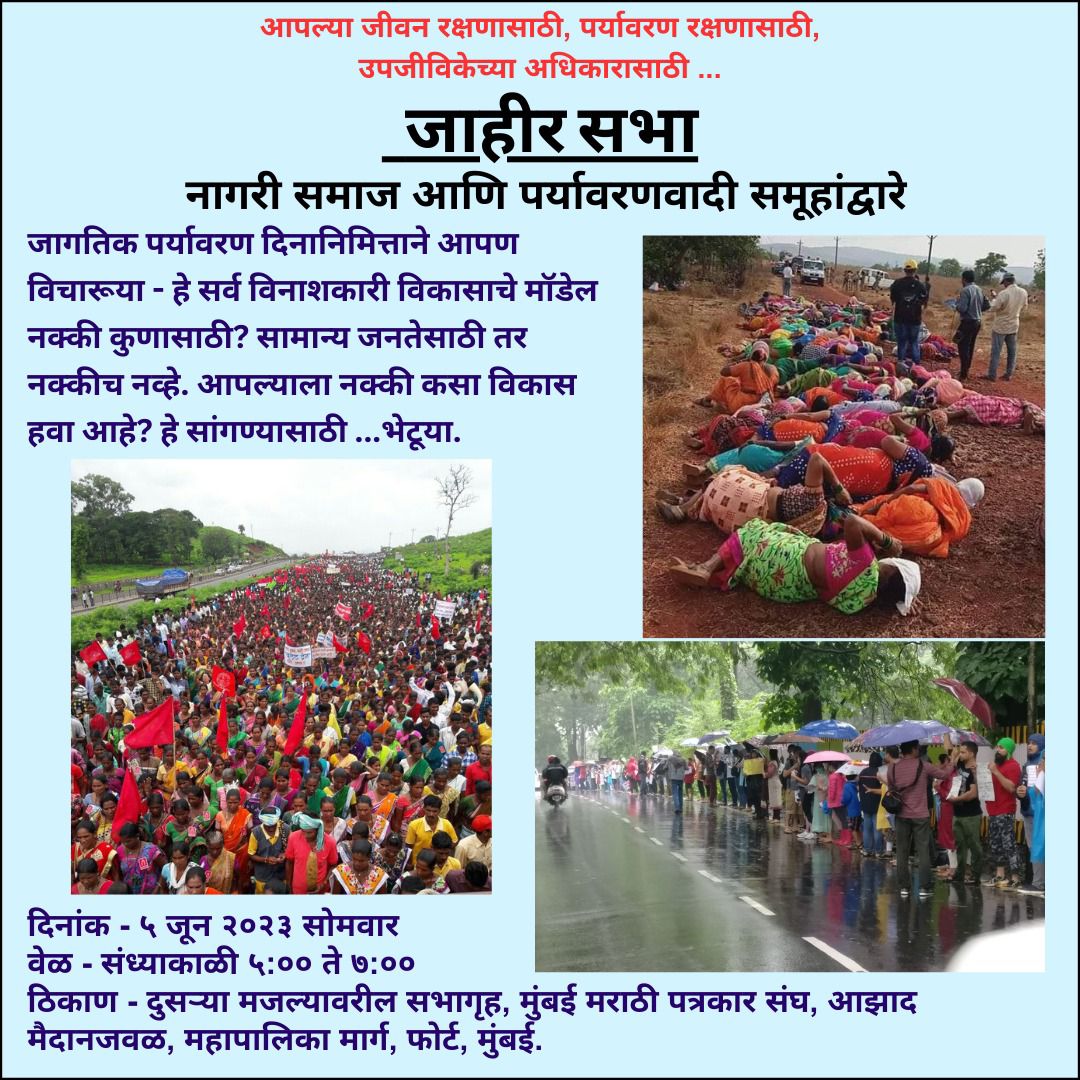 Barsu-Solgaon
Since April 23, 2023, the Maharashtra government has deployed unprecedented police personnel in Barsu Solgaon, Block Rajapur, District Ratnagiri to conduct soil testing and other tests for the Ratnagiri Refinery and Petrochemicals Ltd (RRPCL) project. Organised under the banner of the "Barsu Solgaon Panchkroshi Refinery Virodhi Sanghatana", the villagers have been opposed to the refinery's impact on their land and the destruction of the ecosensitive areas of the Konkan.
The refinery, an over Rs three lakh crore project, is a joint venture of Saudi Aramco, Abu Dhabi National Oil Company (ADNOC), Indian Oil Corporation Limited, Bharat Petroleum Corporation Limited, and Hindustan Petroleum Corporation Limited. In 2015, the project was proposed to be located in 17 villages in Rajapur taluka and Sindhudurg district but after stiff resistance from local villagers, it was shifted 20 kilometres from Nanar to Barsu-Solgaon in 2019.
The cynicism of planners in exploiting the natural resources of the area is obvious: Over 200 people, including government officials, journalists and others who had advance information on the refinery project, purchased land at cheap rates between 2019 and 2022!
Environmental activists have been arrested, face externment notices or threats to life. On February 7, 2023, Sashikant Warishe, a reporter with Mahanagari Times, was callously and deliberately mowed down by a land broker Pandharinath Amberkar. Warishe used to write on the irregularities in land acquisition and the adverse impact of the refinery. At least 45 women were detained (and arrested ?) when they protested the land surveys being conducted in the area.
Besides rice fields, the world famous Alphonso mango and cashew orchards, Barsu Solgaon has Mesolithic Age geoglyphs, depicting animals like the one-horned rhino, the tiger, and the elephant, which were perhaps found in this region thousands of years ago. In fact, the largest geoglyph in the Konkan, at least 57 feet wide by 17 feet high, is in Barsu.
Beside the threat to these ancient relics of human settlements, the villagers fear the destruction of natural resources, nature-based livelihoods and a rich cultural heritage and environment. Besides, the refinery will also result in disruption of fishing activities, with the setting up of a number of downstream petrochemical industries and a port at Ambolgan village around 24 km from Barsu, for unloading crude oil.
While the government claims the land is "barren", the villagers know better. They point out that the laterite plateaus of the Western Ghats are actually biodiversity hotspots that sustain them and, during monsoons, help preserve water that percolates into the porous rocky terrain and recharges aquifers at the base of the plateau.
Indeed, even the UNESCO recognises the entire Western Ghats are one of the world's eight 'hottest hotspots' of biological diversity. The forests of the site include some of the best representatives of non-equatorial tropical evergreen forests anywhere and are home to at least 325 globally threatened flora, fauna, bird, amphibian, reptile and fish species, of the 7,402 species of flowering plants, 1,814 species of non-flowering plants, 139 mammal species, 508 bird species, 227 reptile species, 179 amphibian species, 290 freshwater fish species and 6,000 insect species. The Western Ghats have immense geomorphic value, with their influence over monsoon patterns and the natural barrier of the mountains to the south-west monsoon.
Raigad
For several years now, farmers of Roha, Murud and Pen taluks of Raigad district have been struggling against mega projects that are set to transform the entire area. Currently, land acquisition, a majority of which is compulsory, is on at breakneck speed for several projects, including the JSW Dharamtar Port Ltd (JSWDPL) expansion, the Virar Alibag multimodal corridor, the Pharma park, the Navi Mumbai airport and the Sambarkund Dam project. A huge paper pulp industry is coming up at Shahapur Dherand in Alibag tahsil.
In the last two decades, due to mega projects, there has been the conversion of one lakh acres agricultural land to non-agricultural (NA) land and another 60,000 acres are about to be converted to NA land.
This is serious as it affects the environment at large, besides the livelihood of farmers. Local farmers are against these projects and have, time and again, outlined their detailed reasons why they oppose them. But their voices have fallen on deaf ears.
According to the official data, over the last 20 years, there has been a decrease in the area under paddy cultivation in Raigad district by 39,264 hectares i.e. 98,160 acres, due to urbanization and other projects. Also, with the land acquisition and land use conversion that is going on in the district, at least 52,062 acres of land is being diverted from agriculture to other purposes in a single year.
This is a huge loss of jobs, livelihoods, and the environment. Compared to that, new job creation is not seen. The carrot of employment generation is shown in every project prior to land acquisition but in reality it does not happen. Hence, the rate of migration is increasing.
According to Section 10 of the Land Acquisition Act (2013), the area under acquisition in districts should not be beyond certain limits. But this issue is not taken into consideration while issuing the acquisition notification. The government is working towards erasing the identity of Raigad district as a rice granary and is eliminating the peasantry here.
Land acquisition is a violation of Section 10 of the Land Acquisition Act, 2013. The said acquisition should be done in accordance with the Land Acquisition Act 2013, by which the project affected have the right to reject the project. But the government has surreptitiously tweaked the law in 2018. This is tyranny.
Whom do all these projects actually benefit? Why are Indian farmers being hit to benefit international companies? We are citing these examples to illustrate our point:
Pharma Park is a chemical and polluting project of Central Government and is adjacent to Eco Sensitive Zone and Phansad Sanctuary.
Virar Alibaug Multimodal Corridor is a 39,000 crore project and has no benefit to the local people. On the contrary, their survival is threatened by this project.
The JSW company has so far destroyed hundreds of acres of land due to pollution and intrusion of salt water into the ground and has caused massive land, water and air pollution. The government pollution control board has no control over the company. On the contrary, the government is doing its best to acquire more land as a reward to them.
The Zonal Atlas for Siting Industries Report has expressed concern over the increasing pollution in the district and recommended that no more polluting projects be sanctioned. Despite that, land acquisition for chemical projects and mega projects continues.
Palghar
Bullet Train, Vadhvan Port , Expressway and Coastal Road
Palghar district has a new name – District of New Infrastructure Projects.
Over the last few years, the Bullet Train Project, the Mumbai-Vadodara Expressway and the Delhi-Mumbai Freight Corridor (DDFC) have sliced up the district, destroying forests, fruit orchards and farmlands, reducing the predominantly tribal farmers to precarity and endangering their livelihood and culture.
The farmers may have eventually acquiesced to the land acquisition for the 110 lakh crore Bullet Train project, but it does not imply that they support it. The said Bullet train project is the epitome of misplaced development priorities, as it runs through the tribal area which is lacking in roads, medical and educational facilities. Shouldn't providing these facilities be the focus of development, instead?
The various infrastructure projects are inter-linked. The high speed "Bullet" Train, is expected to put Vadhvan Port, through the Station at Boisar, on the fast track. The cargo that will be offloaded at Vadhwan will be transported by both the DDFC and the Mumbai-Vadodara Expressway. A broad strip of land having a width of 100 -120 metres has been acquired for the Expressway. It has caused havoc to the daily life of those whose lands have been acquired. The recent inhuman incident at Dhanivari village exemplifies the irregularities in the land acquisition process. As land rights have not been recorded, many of the tribal cultivators were being denied compensation!
The Expressway has already caused irreparable damage to the forests and hillsides which have been cut away. But there will be far more damage due to the construction of a 25 feet high embankment on which the Highway will run. This will have a lasting impact on the ecosystem and environment in the region. Soil for the construction of the DDFC and the embankment for the Expressway is being sourced by unscrupulous contractors from the agricultural lands of tribals and the hillsides in tribal villages, causing irreparable environmental damage. Further, the proposed Vadhvan Port will be constructed on 4,000 acres of land that is to be reclaimed land offshore near Dahanu.
Various hillsides in Palghar taluka have been earmarked for sourcing the stone, rock and earth for the reclamation. This will destroy and change the geography and environment of the area permanently. Additionally, the 4000 acres of land to be reclaimed in the sea will push the sea waters into the coastal villages and will cause severe flooding of the coastal area, which anyway will have to deal with the rising sea-levels due to global warming.
The Coastal Road and the proposed Vadhvan Port, the largest Port in the Asian continent will destroy the livelihood of the fishing communities. The site of the proposed port is rich in marine diversity and is one of the few breeding grounds for ghol and other varieties of fish. The quality of bombil that is caught in this area is exceptional.
The area is rich in various types of corals.
Vadhwan also has very strong cultural significance for some communities as the Port will encompass the Shankodar temple which is believed to be the place where Lord Rama performed the last rites of his father.
The fishing community will also be impacted; thousands of Adivasi fishworkers will also lose their employment. Orchards which produce vegetable and fruit for the Mumbai and overseas market will be destroyed. The local die-making industry which provides self-employment to almost every household in the area will be overrun by the port activities. The alternative employment that the mechanised and ultra-modern port will offer will be far less than the existing employments and livelihoods that will be destroyed.
The local villagers are opposing the Project tooth and nail, but the government appears to be hell bent on pushing it through.
Thane
Thane, once known to be the city of lakes and also as a green paradise, has seen detrimental environment degradation over the years. The destruction has been brought about at all fronts, especially due to the unhindered urbanization. It's Creek, Forests, Trees and Lakes are all under unprecedented attack by several forces.
While the Thane Creek continues to see loss of mangrove due to encroachment, dumping etc, the Lakes are concretized and unscientifically beautified. Thane Municipal Corporation's apathy towards the upkeep of trees and distribution of cutting permissions with no transparency and scope for public participation has caused massive tree cutting across the city.
The city is also blessed with a national forest called Yeoor within its limits. However, that too has been in danger due to Hotels, encroachment, parties, unregulated traffic, political nexus and more.
The above loss has been causing air pollution which is met with unscientific mitigation measures such as mist sprays that only vanishes tax payers money in air.
Mumbai
Metro Project and Aarey
Of the major infrastructures projects executed in Mumbai over the last decade, the mega crore Metro project has caused the most disruption in the daily lives of Mumbaikars. The slogan written on the barricades erected by Mumbai Metro Rail Corporation says Mumbai is Upgrading. But have these projects improved the quality of citizens' lives? And what about the monumental environmental and fiscal cost of the entire project?
While citizens have put up with the inconvenience, hoping for better, more efficient and clean transport, the construction of the car shed for Metro 3 in Aarey forest has had the most damaging environmental impact. But it is not the only one.
The Metro 3 Car Depot has destroyed the homes of tribal families, threatens the very catchment and floodplain of Mithi, a critical river for Mumbai, decimated forests and endangered a thriving ecosystem that sustains animal and avian life. Tribal families were falsely projected as encroachers by MMRCL. Their homes were demolished and land was snatched away for Metro 3 Car Depot. More than 2500 trees have been cut in Aarey forest for this project. The Mumbai Metro Rail Corporation (MMRCL) did not disclose the correct number of trees to be felled to the Apex Court.
Metro line projects attract huge amount of capital investments as well as operational costs. Why is there such a shocking lack of planning that will ensure optimal utilisation of all resources, including precious land, to benefit citizens?
The saga of the Metro car shed in Aarey is a story of how planners wilfully disregard environmental considerations, despite expert recommendations and public protests to preserve natural resources and seek alternatives to destruction.
In the DPR of Metro Line 3, land in Kalina and BKC were considered as options for construction of Metro 3 Car Depot. Both these substantial parcels of land, in the possession of the State Government under MMRDA, have close proximity to the alignment of line 3 and are in the middle of the route, thereby reducing the distance of running of empty rakes. In 2015, a Technical committee report had suggested Kanjurmarg as an alternative location for Metro 3 Depot.
In 2015, Environment experts submitted a dissent note against use of Aarey location for Metro 3 depot stating Aarey as a contiguous forest land rich in Biodiversity and the catchment area of Mithi River. This note also says that destruction of this catchment area will result into flooding.
Nevertheless, the BKC land was dismissed stating tremendous commercial potential of the land and the Kalina land was not considered stating that it was only 20 ha and therefore inadequate for a car shed and would hamper the future expansion of Bombay University.
In 2020, meetings held in MMRCL confirmed that 30 ha land is available in Kalina. A design of Metro 3 Depot was prepared by MMRCL for Kalina location. The measurement of the land done by MMRCL on Google Earth revealed availability of 30 ha land in Kalina.
Across the world other commercial and residential projects have been constructed on Metro Yards( for e.g. New York and Hongkong) for optimum utilisation of the land. Mumbai is a landlocked city and hence more care should be taken for proper utilisation of land as a resource.
A report was prepared by MMRDA for integration of Metro Line 3 with 6 to move the Metro 3 Depot to Kanjurmarg to Build an integrated depot for Line 3,4 and 6. Since November 2020 till end of 2022, the land in Kanjurmarg was stuck in litigation and was unavailable for construction of an integrated depot. Land from this same Kanjurmarg location now has been recently allotted to Metro Line 6 to build a Car Depot.
Metro Line 7 and 2A was budgeted at 12700 crores. According to news reports, the actual expense has increased by 7 to 8 % while the budget for Metro Line 6 is 6,700 crores. The budge estimation for Metro Line 3 was 23,136 crore which increased to 33,405 crores. Some of the reasons mentioned for cost escalation are erection of steel deck for road traffic and increase in excavation cost due to presence of basalt rock. Did not Mumbai Metro Rail Corporation (MMRCL) know that Mumbai has basalt rocks underneath?
As per the 2011 Detailed Project Report (DPR), the Metro Line 3 route alignment initially had its last station at SEEPZ. The detailed project report of Metro Line 3 did not have any stations in Aarey Forest but after a public hearing in 2012, a station was introduced in Aarey on the bank of Mithi River. For whose benefits has this station been introduced in a forest area ?
The Colaba Bandra SEEPZ metro line has now been renamed as Colaba Bandra Aarey Metro Line. Metro line 7 has a station names Aarey on the west end of Aarey and Metro Line 3 has another station named Aarey on the east end of Aarey, though the line terminates at Andheri East. In 2015, a letter written by the Managing Director of MMRCL in 2015 to the town planning department spoke about FSI 3 for the Depot area in Aarey.
Are these Aarey stations an invitation for realtors to bring luxury projects in Aarey Forest? As it is, tribal Hamlets in Aarey and Film City have been served slum rehabilitation notices. The adivasis oppose this rehabilitation plan. Already, so many tribal hamlets, with their trees and their unique connection with the environment, have given way to high rise SRA projects and luxury buildings.
Coastal Road
Coastal road is another capital-intensive project budgeted at 25000 crore. The reclamation and permanent alteration of the coastline has totally disregarded the eco-sensitive intertidal zone, destroying coral reefs, artisanal fishing and fish spawning grounds.
Despite long struggles and litigation, the critical warnings of experts, research and reports of rising sea levels, city policy makers and the BMC have gone ahead with the coastal road project – which is nothing more than a road project for private cars.
While public transport has been sorely neglected, take a look at this fact: both Metro Line 3 and Coastal Road run from south to north. Metro Line 3 promises to take off 4.5 lakhs vehicles off the road, decongest the roads and reduce Carbon Footprint where in Coastal Road also promises to decongest the road. If Metro Line 3 is going to decongest the road, then where is the need for such an expensive Coastal Road? Whose interests will it serve? Who will pay for the cost to the environment?
GMLR and Thane-Borivali Twin Tunnel
Two very expensive projects are Goregaon Mulund Link Road (GMLR) and Thane Borivali Twin Tunnel. Budget for both these projects are 10,100 cr and 10,000 crore respectively. Project proponent for Coastal Road and GMLR are Bombay Municipal Corporation. BMC's 23-24 budget for Mumbai City is 52,619 crores.
Of the 11.84 km-long road project, there will be 10.8 km of twin tunnels beneath the Sanjay Gandhi National Park (SGNP) and One Km of approach roads on both ends (Magathane's Ekta Nagar in Borivali and Tikuji-Ni-Wadi, Manpada in Thane). It will necessitate the acquisition of 16.54 hectares of private land and 40.46 hectares of land within the Sanjay Gandhi National Park.
In 2021, both projects were exempted or delisted from scrutiny by the Ministry of Environment, Forest and Climate Change's (MoEFCC) expert appraisal committee (EAC) on grounds that, since the roads are not state or national highways, they do not require an environmental clearance! There was no attempt to even acknowledge that they pass under the national park and they will cause disruption and possibly permanent destruction of the unique ecosystem of the SGNP, which shelters an astounding variety of flora and fauna – an estimated 1300 species of trees and flowering plants,274 species of birds, 170 species of butterflies and 35 species of mammals.
These are only some of the major projects that will permanently alter the environment and destroy lives and livelihoods in Maharastra. Let's not forget that people from different parts of Maharashtra have lost their lives and homes in floods. At least 36 million hectares of crops was lost in Maharashtra due to climate crisis in last five years.
Despite the threat of more "natural" calamities due to Global Warming and human- made tragedies, our state Government's primary focus has been to execute several
capital intensive infrastructure projects a breakneck speed, destroying our forests and coastline, valuable ecosystems and biodiversity. These projects have also resulted in the displacement of people and loss of livelihood.
Undermining Environmental Laws
Hitherto, India has a fairly robust set of Environmental and other related Laws. But the Modi government and the BJP have looked upon these Acts as impediments to development and to "ease of doing business". During the past nine years, the government has diluted or tried to dilute a number of these laws to basically make it easier for the capitalists to do business (and conversely to destroy the environment and livelihood of the poor). It has been overzealously proposing or making amendments to laws and policies relating to land acquisition, forest conservation, wildlife protection, environmental protection, biological diversity, and mining laws.
Earlier, it was mandatory to take Gram Sabha consent prior to diversion of forest land for projects at the initial or in-principle approval stage (Stage 1) of a Project Proposal. But after the Amendment to the Forest Conservation Rules 2022, the Gram Sabha, which is statutorily empowered to manage its forest resources is to be contacted only after Final approval is already granted by the Central Govt!
Further, by virtue of the Forest Conservation Amendment Bill 2023, certain types of land (eg. Upto 100 kms from international borders) are to be exempted from the purview of the Act, implying that Projects in these fragile Himalyan mountain areas do not require any forest clearance nor have to abide by any regulation.
Additionally, by virtue of the new Bill private companies can now raise plantations in the Adivasi and tribal areas on degraded forest land, waste land, and revenue land.
These amendments inform us that the state is moving towards consolidating its command and control over forest land, and forest resources, at the cost of forest dwelling communities, to serve the interests of capital, and big business. Therefore, it is intentionally sabotaging the democratic self-governance framework envisaged under the Constitution which give the Gram Sabha the power to govern and manage its forest, resources, and land for the greater good of all.
As concerned citizens and members of civil society and environmental groups, we are together in trying to raise our voice against such mindless and destructive projects. Some of us have been served with externment notices and face multiple FIRs in different parts of Maharashtra. The government is bent on criminalising our dissent.
On the occasion of World Environment Day 2023, we come together to express our rejection of these destructive projects and to call upon citizens to unite to protect their lives and their livelihood, to nurture trees and forests and the animals and birds that depend upon nature for their survival.
To the government, we demand :
 An immediate halt to all environmentally destructive projects
The withdrawal of all the FIRs and cancellation of externment notices filed against all activists protesting these projects  and demand a consultation with residents
 Restoring the land and livelihood of people who have borne the brunt of reckless projects and a just compensation of their loss
An economic, social and environmental audit of all projects Identification of alternative sites for projects with full and transparent
Immediate withdrawal of all recently passed anti-people and anti-environment amendments to environment and forest laws (eg. Forest Conservation Act and Rules)
All projects be approved only after consent of the gram sabha/local community. We believe it is still not too late to halt this mindless destruction. But if we do not do
so now, it will indeed be too late.
Several organisations have endorsed this appeal. On Monday June 5 a public function to articulate these demands will be held at
Adivasi Hakka Sanvardhan Samiti, Mumbai
Aarey Conservation Group and Save Aarey Movement
Barsu- Solgaon Panchkroshi Refinery Virodhi Sanghtana
Bharatiya Muslim Mahila Andolan
Bhoomi Sena – Adivasi Ekta Parishad
Citizens for Jutice and Peace
Fridays For Future Mumbai
Justice Coalition of Religious, West India, JSA-Mumbai
Kashtakari Sanghatana/ कष्टकरी संघटना
कामगार एकता युनियन, महाराष्ट्र.
Kamgar Ekta Union, Maharashtra.
Mulbhut Adhikar Sangharsh Samiti (MASS )
Muse Foundation
National Alliance of People's  Movements, Maharashtra (NAPM)
ओबीसी एकीकरण समिती.
पर्यावरण संवर्धन समिति, वसई.
Paryavaran Sanvardhan Samiti, Vasai.
People's Union for Civil Liberties, Maharashtra (PUCL)
SAPACC, Maharashtra.
Sarvahara Jan Andolan
Related:
#NoToBarsuRefinery: Protestors manhandled and arrested, activist re-arrested after attaining bail
SC reprimands Mumbai Metro on its bid to fell additional trees in Aarey, imposes Rs 10 lakh fine
Niwari's Women Farmers Lead the Efforts for Sustainable Farming and Protection of Environment
A path towards combined protection of the environment and workers' livelihoods