Bowled over by the news this past year, one can be forgiven for grasping for the crutches of historical analogy. Indeed, a number of eminent historians of inter-war Europe have discerned thunderous echoes of the 1930s.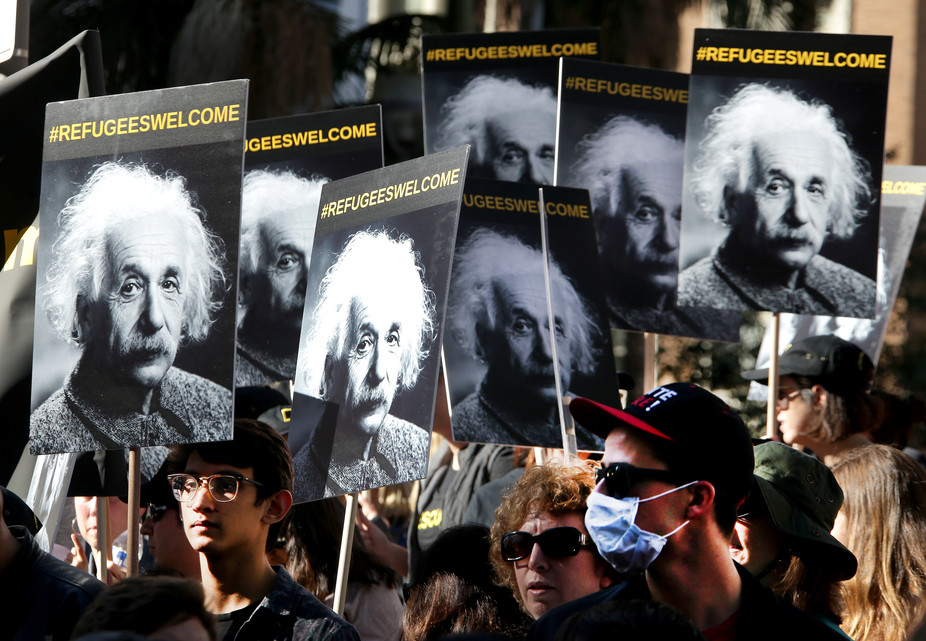 Demonstrators march on international migrant day 2016. EPA
On December 31 1937, Cambridge classicist and man of letters F L Lucas embarked on an experiment. He would keep a diary for exactly one calendar year. It was, as he put it: "an attempt to give one answer, however inadequate, however fragmentary, to the question that will surely be asked one day by some of the unborn – with the bewilderment, one hopes, of a happier age: 'What can it have felt like to live in that strange, tormented and demented world?'"
Lucas sought to preserve an affective archive, and to write about how it felt to live in an era of spiralling crisis.
As someone who wasn't born in 1938 I cannot help but feel that Lucas' solemn hope that his generation was living through the worst of it – and that lessons would surely be learned – have been well and truly dashed. Has 2016 been 1938 all over again?
Bowled over by the news this past year, one can be forgiven for grasping for the crutches of historical analogy. Indeed, a number of eminent historians of inter-war Europe have discerned thunderous echoes of the 1930s.
At present, as in the "Devil's Decade", we are experiencing the capricious convergence of historical forces: the fall-out of economic crisis and the extreme polarisation of the political spectrum from far-right to hard-left – the centre doesn't hold. A tidal wave of refugees is being met by proportionately more xenophobia than compassion. Militant isolationism is thriving. Doors are being closed and walls built. Culture wars are punctuated by attacks on "experts" and intellectuals. 2016 has even seen open an unashamed airing of anti-Semitism.
The historical parallels between 2016 and 1938 are abundant. There are important differences in detail, in time and place, but the pattern of events, and of cause and effect, is striking.
Civil war raged in Spain then – as it rages in Syria today. Then as now, these internecine conflicts provide mirrors to existing fissures in international relations and deepening ideological antagonisms. By the end of 1938, and after Abyssinia, Spain, Anschluss, and Kristallnacht, not much faith was left in the ideal of internationalism or in the League of Nations – and this too sounds all too familiar.

The aftermath of the Kristallnacht. Bundesarchiv, CC BY-SA
The rescue of refugee children through the Kindertransports was just as symbolically important, yet as negligible, a solution to an immense humanitarian and moral crisis as has been the response to lone children refugees holed up in Calais this year. And what of Aleppo? Shame was, and is, a dominant feeling.
Where next?
The Munich Agreement of September 1938 was perceived by many of its British critics as an act of national suicide. The Brexit decision has likewise, again and again, been described as an act of self-harm, even of national hari-kari.
Writing at the end of the year, contemporary historian R W Seaton-Watson had no doubt that 1938 had "resulted in a drastic disturbance of the political balance on the Continent, the full consequences of which is still too soon to estimate". Treaties weren't worth the paper they were written on in 1938 – and at the end of 2016 it is worryingly unclear where Britain will stand after triggering Article 50.
Meanwhile, George Orwell's assessment of the disarray of the political left post-Munich could just as well apply to Momentum and Jeremy Corbyn's Labour party. As Orwell saw it:
Barring some unforeseen scandal or a really large disturbance inside the Conservative Party, Labour's chances of winning the General Election seem very small. If any kind of Popular Front is formed, its chances are probably less than those of Labour unaided. The best hope would seem to be that if Labour is defeated, the defeat may drive it back to its proper 'line'.
Full circle
One could go on seeking coordinates but the sum total would still be the same. The rug has been pulled out from under the assumed solidity of the liberal democratic project. A delicate tapestry of structures and ideas is coming apart at the seams.
Even more specifically, it is the psychological experience, the search for meaning, and the emotional cycle, the feelings – collective and individual – of 1938 that are uncannily familiar.
Post-truth politics is anti-rational. Emotion has unexpectedly triumphed over reason in 2016. Love and/or hate has beaten intellect. That's true for Hillary Clinton's "love trumps hate" slogan as much as it is for her opponent.

The referendum result shook many. PA
New political technologies render older ones obsolete. In both Britain's referendum campaign and in the American election, traditional opinion polls failed to capture the emotion being expressed across social media platforms.
Back in 1938, it was British Gallup and the rival Mass-Observation that were the innovative political technologies. Using very different techniques, each offered fresh insight into the psychology of political behaviour and tried to unseal the stiff upper lip of the British electorate.
Mass-Observation tried to get into people's heads, and diagnosed an increasing occurrence of "crisis fatigue" as a response to nervous strain and "a sense of continuous crisis".
Almost immediately after the EU referendum, therapists reported "shockingly elevated levels of anxiety and despair, with few patients wishing to talk about anything else". And the visceral nature of the US election campaign contributed, tragically, to the exponential increase of calls to suicide helplines. National crisis is inevitably internalised.
Reflecting on the psychological fallout of the Munich Crisis, novelist E M Forster observed that: "exalted in contrary directions, some of us rose above ourselves, and others committed suicide."
As 1938 drew to a close, serious conversations were dominated by the verbal and physical expressions of fatalism, anxiety, sickness, depression, and impending doom. Lucas wrote in his diary:
The Crisis seems to have filled the world with nervous break-downs. Or perhaps the Crisis itself was only one more nervous break-down of a world driven by the killing pace of modern life and competition into ever acuter neurasthenia [shell shock].
It is too simplistic to say that history repeats itself. And yet, throughout this past year I could not escape the feeling that we have been here before. We share with those who lived through 1938 overwhelming sensibility of bewilderment, suspense, desperation and fear of the unknown. I can't help but wonder what future historians will make of 2016.
It's probably sage advice to go see a good movie over the holidays – and La La Land, already tipped to win an Oscar, may provide just the kind of escapism that is needed. However, when someone comes to make the movie of 2016, the soundtrack will probably be the late Leonard Cohen's You Want it Darker. It certainly feels like 1938 all over again. Time to start keeping a diary.
(Julie Gottlieb is Reader in Modern History, University of Sheffield).
(This story was first published on The Conversation).