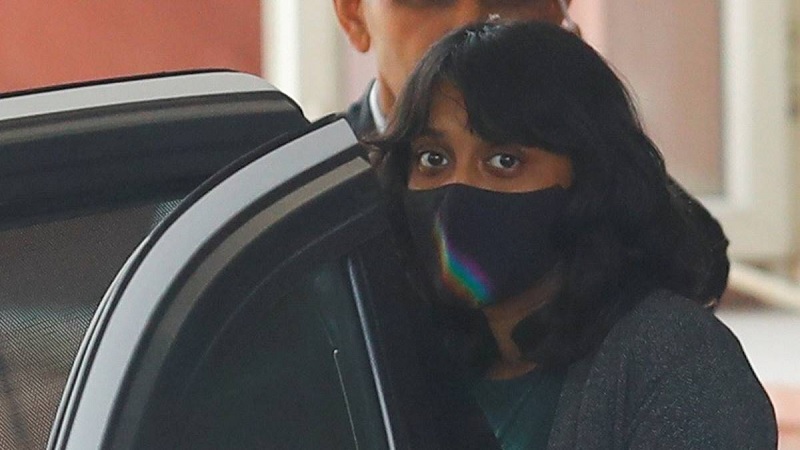 Image Courtesy:indianexpress.com
The young climate activist Disha Ravi who was arrested by Delhi Police in Bengaluru and brought to Delhi in an infamous 'toolkit case' seems to have been incarcerated for nothing. The case had received much media glare calling it the 'toolkit case' during the farmers' protests which was in full swing and was creating much pressure on the Central government earlier this year. Disha remained in jail for a period of 10 days before she was granted bail by a Delhi court which observed that police action against her was based on 'scanty and sketchy' evidence.
The Indian Express learnt from sources that the investigation has hit a roadblock, with neither Google nor Zoom responding to queries by investigators; which means that police will most likely not file a chargesheet against Disha.
Ravi was arrested by the Delhi Police on February 13, for editing a manual that highlighted methods which one could use to support the farmers' protests against the farm laws. Disha was accordingly booked for sedition as well as criminal conspiracy as the police had alleged that the 'toolkit' was edited by Disha along with advocate Nikita Jacob and engineer Shantanu Muluk having connections with a 'pro-Khalistani' organisation called Poetic Justice Foundation.
In the FIR lodged by Delhi Police against the creators of the toolkit, it was alleged that its contents made it evident that the January 26 "violence" in Delhi during a tractor rally by farmers was a "pre-planned conspiracy" aimed at attacking India's "sovereignty" and "security".
A senior officer told IE, "We had found that Ravi and Nikita Jacob were allegedly on a Zoom call with PFJ's Mo Dhaliwal, who is based in Canada, before the January 26 Red Fort violence, and needed details of the call, but officials in the US haven't replied. We can't send them any time-bound notice because they are not in India. Jacob and Shantanu both work for the UK-based organisation Extinction Rebellion. We tried contacting their organisation as well, but that too led nowhere." Basically the investigation seems to be going nowhere since they have not received any information from either Zoom or Google which are international organisations.
However, in response to this report from IE, Anil Kumar, Additional PRO/Consultant, Delhi Police clarified that the news is groundless as no such decision has been taken by the investigating agency and that investigation is still in progress.
After her release from jail, Disha had issued a statement that she was not aware whether or not she had any legal representation when she was remanded to police custody by the Magistrate after her arrest. There were reports that she was not provided with a lawyer during this hearing before the Magistrate and the same was widely condemned.
While seeking additional custody in the days prior to her bail a Delhi police officer connected with the case while justifying the demand reportedly said, "We didn't make any unnecessary PC (police custody) remand plea. It is not a petty case. It is a transnational case. It is a complex case. Our endeavour is to finish the investigation ASAP (as soon as possible)."
Her arrest had created quite a stir as many circles called her arrest illegal. The Delhi High Court Women Lawyers Forum wrote to the Supreme Court condemning her arrest and also, delegation of civil rights organisations of Karnataka met with the then state Home Minister, Basvaraj Bommai, seeking action against her arrest
Related:
Scanty and sketchy evidence: Delhi court grants Disha Ravi bail
K'taka: Civil society, trade union leaders seek action against illegal arrest of Disha Ravi
Bar and Bench cannot watch silently: Women lawyers on Disha Ravi's arrest