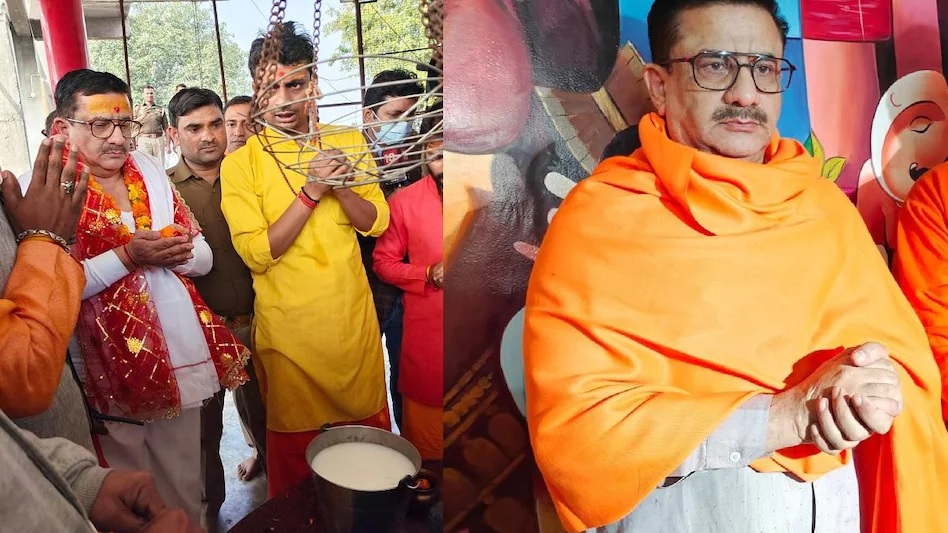 Wasim Rizvi, the former chairman of Uttar Pradesh's Shia Waqf Board as 'quit' Islam, and converted to Hinduism. He will now reportedly be known as Jitendra Narayan Singh Tyagi.
A month ago, when he was still Wasim Rizvi, he had as a part of his deeply communal and Islamophobic diatribe, published a book titled "Muhammad," purportedly on the life of the Prophet Mohammed, one of the most revered figures in Islam. At the book launch ceremony, Rizvi was seen in the company of fellow hate offender Yati Narsinghanand, the priest of Dasna Devi temple in Ghaziabad. Now Rizvi has become "Jitendra Narayan Singh Tyagi" at the Dasna temple, and reportedly has been blessed by Narsinhanand.
According to Hindustan Times report, Rizvi "offered milk on the Shiva Linga installed at Dasna Devi temple as part of the ritual" on Monay morning, in the presence of the chief priest Narsinghanand and, "Vedic hymns were chanted as Rizvi quit Islam and entered Hinduism after a yagna."
This in a way formally seals his association with Narsinghanand who has cultivated an ecosystem of hate, with his followers feeling empowered to spew hate with impunity. As soon as he converted, Tyagi-Rizvi began his anti-Islam speeches reffering to the faith as a "terror cult" among othe things. He told the media that he "chose the holy day of December 6 to convert to Hinduism as on this day, the Babri mosque was demolished in 1992," and that he "will work for Hinduism from today. The votes of Muslims never go to any party. They only cast their votes to defeat Hindus," Livehindustan quoted Tyagi-Rizvi.
इस्लाम धर्म छोड़कर हिंदू बने वसीम रिजवी, गाजियाबाद के डासना मंदिर में धर्म परिवर्तन किया

वसीम रिजवी का नया नाम- "हरबीर नारायण सिंह त्यागी" हुआ #wasimrizvi #UPElections2022 pic.twitter.com/0clYwtd4IJ

— News24 (@news24tvchannel) December 6, 2021
In March this year, he filed a petition in the Supreme Court seeking that "26 verses of the Quran be removed". According him the Quran, the holy book of Muslims, has "some verses that are used to promote terrorism, violence, jihad". In an interview to Aaj Tak, Rizvi claimed that these verses were added to the Quran later. This had added fuel to the dangerous anti-Muslim narrative spread by right-wing politicans and influencers. Waseem Rizvi did not enjoy support within the Muslim community itself. He was in fact disowned and boycotted by both the Shia Clergy and laity in the past. He had also produced 'Ramjanmbhoomi', a deeply provocative and communally polarising film in 2018.
Last year, he verbally abused women protesting the Citizenship Amendment Act (CAA) and National Register of Citizens (NRC) in Lucknow calling them "Badkirdaar auratein" or characterless women.
It is interesting to note that in November 2020, the Central Bureau of Investigation (CBI) registered cases against Waseem Rizvi, for alleged illegal sale, purchase and transfer of Waqf properties in Uttar Pradesh. The state government had ordered a CBI probe in 2019 into the alleged illegal sale and transfer of Waqf properties by the UP Shia Central Waqf Board and UP Sunni Central Waqf Board. Based on the Uttar Pradesh government's recommendation, the central probe agency registered two cases against Rizvi, the former chairman of the Uttar Pradesh Shia Waqf Board, and others. The CBI invoked charges of cheating, criminal intimidation and breach of trust. Uttar Pradesh Police had registered two First Information Reports (FIRs) against Rizvi and others in Prayagraj and capital Lucknow, in 2016 and 2017 respectively, based on two separate complaints.
Related:
Wasim Rizvi releases book full of Islamophobic diatribe
Shia Waqf Board meets Hindu parties involved in Ayodhya case, reiterates support for Ram Mandir
Jamiat slaps Rs 20 crore defamation suit against UP Shia Waqf Board Chairman Waseem Rizvi
Withdraw comments against Quran, apologise: National Commission for Minorities tells Waseem Rizvi
What will Waseem Rizvi gain by antagonising the Muslim community?