Video evidence of how quickly the winds change in politics.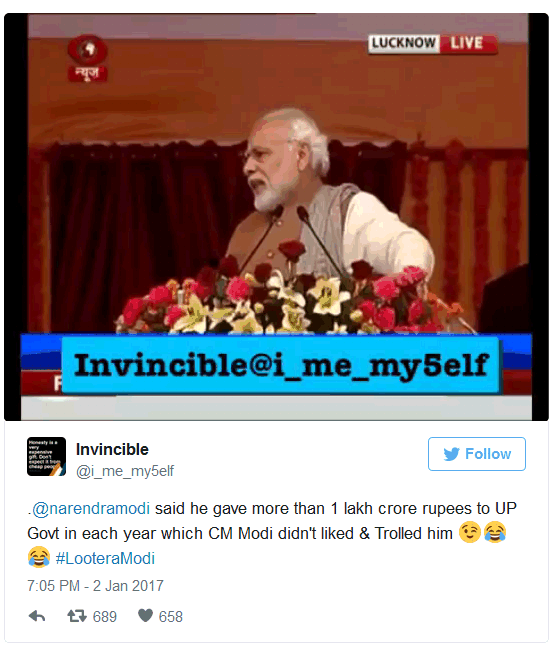 "This money does not belong to a party, to any government. This is the people's money," Narendra Modi, then the chief minister of Gujarat, told a crowd of cheering supporters. "You keep reiterating that you've given money. I want to know if the money came from your uncle." Modi was referring to claims made by the UPA government of having provided Rs 10,000 crore in funds to Gujarat.
Modi didn't know then that this would amount to pre-trolling his own speech as prime minister in the future. At the Parivartan rally in Lucknow, Uttar Pradesh on Monday, he declared, "Since we have formed the government in Delhi, we have provided the UP government Rs one lakh crore each year. And one lakh crore is not a small sum. In two years, it has been Rs 2.5 lakh crore."
The video above makes note of these contradictions and features a mashup of Modi's political discourse.
It's another matter that UP Chief Minister Akhilesh Yadav has sent a 15-point letter to Finance Minister Arun Jaitley stating that funds were yet to be received for many schemes, and demanded compensation for the losses in revenue the state had suffered because of demonetisation.
In the rest of the rally (video below), Modi attacked Rahul Gandhi, the Bahujan Samaj Party and the Samajwadi Party in trademark theatrical style.
"One party is trying to establish its son for the last 15 years and has not succeeded," he said. "Another party is worried where to store their black money. It is looking for banks to hoard their money. Then there is a third party whose complete strength is dedicated to saving the family."
He also went on to outline how the problems in Uttar Pradesh could be solved. "We want India to march ahead, want poverty to be eliminated, illiteracy to end, diseases to end. But all these dreams will be fulfilled only when the fortune of UP is changed."
In 2015, a similar mashup had been created when Modi announced a "special package" which amounted to Rs 1.25 lakh crore for development in Bihar. The announcement had more than a slight resemblance to Oprah Winfrey's iconic "You get a car! You get a car!" segment on her talkshow.

Courtesy: Scroll.in